Top 10 NFT Marketplaces On Sui Blockchain
Explore the top 10 NFT marketplaces on Sui Blockchain, buy, sell, and trade unique digital assets with ease. Start your NFT journey today!
Introduction
Non-fungible tokens (NFTs) have taken the world by storm, offering digital artists and collectors a new way to monetize and trade unique digital assets. Sui Blockchain, a relatively new blockchain platform, has emerged as a popular choice for NFT marketplaces due to its scalability, low transaction fees, and ease of use. In this article, we've rounded up the top 10 NFT marketplaces on Sui Blockchain, each offering a unique selection of NFTs and features to cater to different preferences and needs. Whether you're a seasoned NFT collector or just getting started, this list has something for everyone.
TradePort

TradePort is your go-to platform for seamlessly aggregating NFTs across Stacks, NEAR, and Sui. Their user-friendly interface offers a zhassle-free experience, empowering users to discover exciting projects, enhance trading strategies, and effortlessly manage their collections. With advanced metrics and wallet compatibility spanning three platforms, TradePort will be the ideal NFT Marketplace to simplify the NFT journey for users.
Official Link: Twitter | Website
Sui Gallery

Sui Gallery is a rapidly growing NFT marketplace that runs on the Sui Blockchain, having been launched on the early Devnet. The platform has seen a remarkable rise in popularity, with over 30,000 users creating and minting NFTs. The developers behind Sui Gallary have successfully grown the Turkish Sui community through their outreach efforts. Recently, Sui Gallery has been recognized as one of the top 20 Sui Builder Heroes, cementing its status as an essential player in the Sui Blockchain ecosystem. With its user-friendly interface and growing community, Sui Gallery is a platform worth exploring for anyone interested in the world of NFTs.
Official Link: Twitter | Website
Clutchy

Clutchy is a gaming and marketplace platform built on the SuiNetwork, featuring a launchpad function. The platform facilitates the exchange, purchase, and sale of properties related to Web3, NFTs, and gaming projects. The platform is currently running on Devnet, offering various sui chain games, and a weekly NFT launchpad is in progress. Despite not being as prominent as some other projects like BlueMove or Sui Gallery, Clutchy has consistently excited the community with airdrops.
Official Link: Twitter | Website
KeepSake
Keepsake is a revolutionary NFT marketplace that focuses on the utility and discoverability of NFTs within the realm of web3 gaming on the Sui blockchain. As a marketplace built for games, Keepsake is an ideal platform for game developers looking to integrate NFTs into their projects. With Keepsake, in-game items like clothing can be transformed into NFTs, giving players the ability to inventory, trade, and sell these items. The platform's unique approach has earned it recognition as one of the 20 Sui Builders Hero.
Official Link: Twitter | Website
BlueMove

BlueMove is a community-driven NFT marketplace on Aptos and Sui Blockchain that incentivizes traders, collectors, and creators to actively participate in the platform. Since its early days on Sui's Devnet and Testnet Waves, BlueMove has become a popular use case for Sui, making it easy for people to experience the benefits of the blockchain. The platform's commitment to its community has earned it recognition as one of the 20 Sui Builders Hero. If you're looking for an NFT marketplace that puts the community first, BlueMove is the perfect platform to explore.
Official Link: Twitter | Discord
Hyperspace

Hyperspace, an NFT marketplace operating on Sui, distinguishes itself with its unique Non-escrow feature. This feature empowers users to list their NFTs on Hyperspace while retaining ownership in their wallets until a successful sale occurs. This means users can continue to enjoy the benefits of their NFTs while they remain securely within their wallets.
Moreover, Hyperspace takes a user-friendly approach by implementing low fees across the board. There are no listing fees, 0% buyer fees, and just a minimal 1% seller fee for all NFT transactions on the platform. This commitment to cost-efficiency ensures that users can engage in NFT trading on Hyperspace without worrying about excessive expenses, making it a top choice in the world of Sui's NFT marketplaces.
Official Link: Twitter | Website
Somis

Somis is a cutting-edge NFT marketplace built on the Sui blockchain that offers lightning-fast speed and instant finality. With transparent ownership, you have complete control over your NFTs, which are held in your account rather than any smart contract. This marketplace is designed to support and nourish communities while facilitating easy and quick trades. Moreover, NFTs minted on Somis can be freely composed and utilized within Sui-based games. The platform is user-friendly and incredibly fast, allowing you to maximize your exposure by trading on it.
Official Link: Twitter | Website
Souffl3

Souffl3 is a NextGen Smart Trading NFT Marketplace that provides users with a hassle-free experience by aggregating all necessary information and trading options in one place. It also offers a comprehensive smart trading system with high-speed and competitive NFT analytical tools to help users discover gems across the market faster. By facilitating faster discovery of opportunities, Souffl3 enables users to buy and profit more quickly, leading to higher spending desire for users on the platform. Overall, Souffl3 provides a streamlined and efficient platform for NFT trading and discovery.
Official Link: Twitter | Website
OzOzOz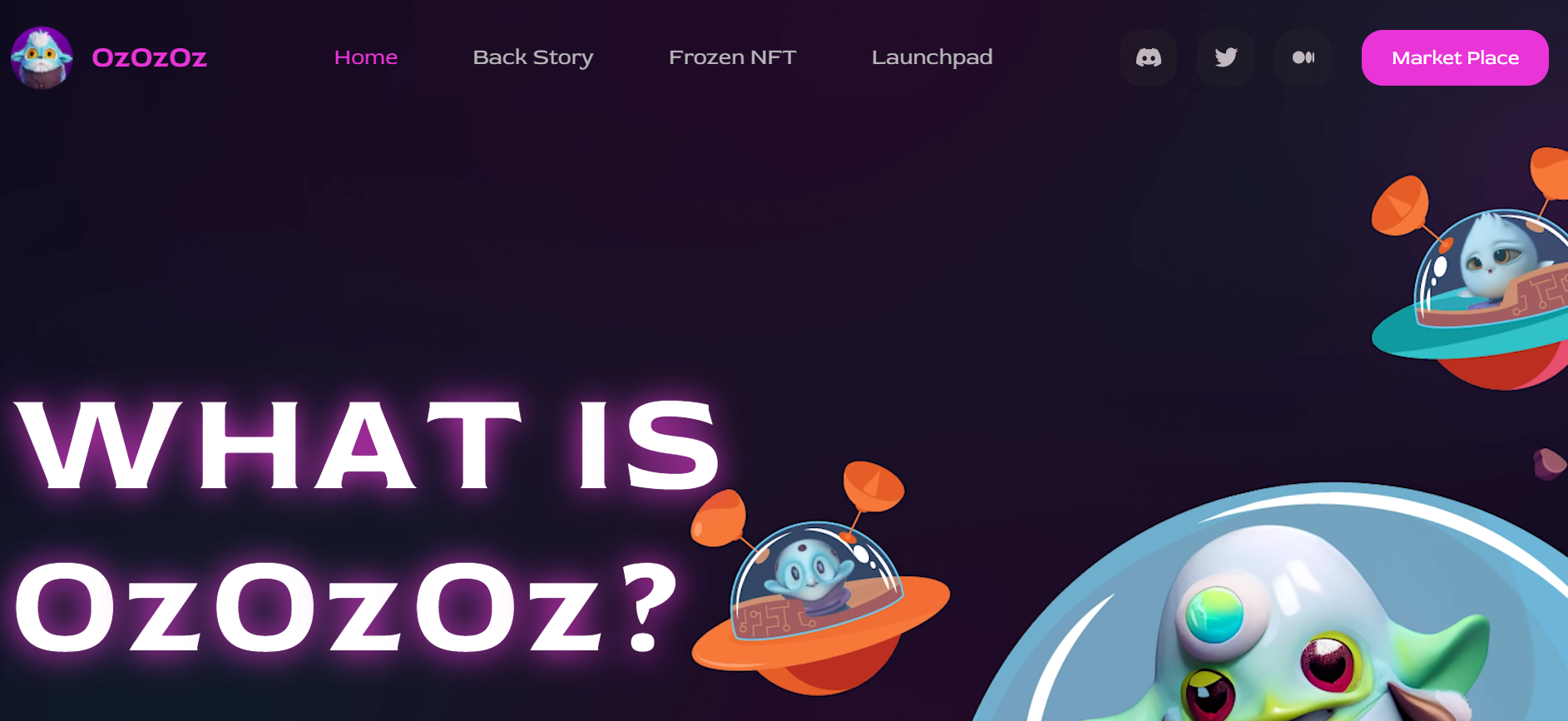 OzOzOz is a groundbreaking NFT marketplace built on Aptos and Sui, offering mint-to-earn features and providing users with the ability to trade and mint NFTs on-chain without the worry of manipulation by a centralized party. With a focus on innovation, OzOzOz aims to deliver an exceptional experience to its users, granting holders the opportunity to gain a significant edge in trading and earn passive income through royalties from its NFT Collections and other market fees. Join OzOzOz today and explore the limitless possibilities of the first mint-to-earn NFT marketplace on Aptos and Sui.
Official Link: Twitter | Website
Dragon SUI
Dragon SUI is a vibrant and innovative NFT marketplace built on Sui Blockchain. With a focus on digital creators, the platform offers a diverse range of NFT collections that are sure to captivate and inspire. Whether you're a collector or a creator, Dragon SUI provides an excellent opportunity to explore and engage with the world of NFTs. As one of the top NFT marketplaces on Sui Blockchain, Dragon SUI is leading the charge in creating a more decentralized and community-driven ecosystem for digital art and collectibles.
Official Link: Twitter | Website
Wrapping Up
In conclusion, the world of NFTs has revolutionized the way digital assets are traded and collected, offering unique opportunities for creators, collectors, and gamers alike. The Sui Blockchain has emerged as a popular choice for NFT marketplaces, offering scalability, low transaction fees, and user-friendliness. This article has explored the top 10 NFT marketplaces on Sui Blockchain, each providing a unique range of features and NFTs to cater to different preferences and needs. Whether you're an experienced NFT collector or just starting, there is something for everyone in the exciting world of NFTs. Start your journey today!
Now, you have had all the information about NFT marketplaces on Sui, read on top Sui Blockchain games to know what NFT to buy and sell on these marketplace.
Be sure to check out Suipiens website and social media channels to stay up-to-date on all things about Sui Blockchain!