A Complete Guide To Use Morphis Wallet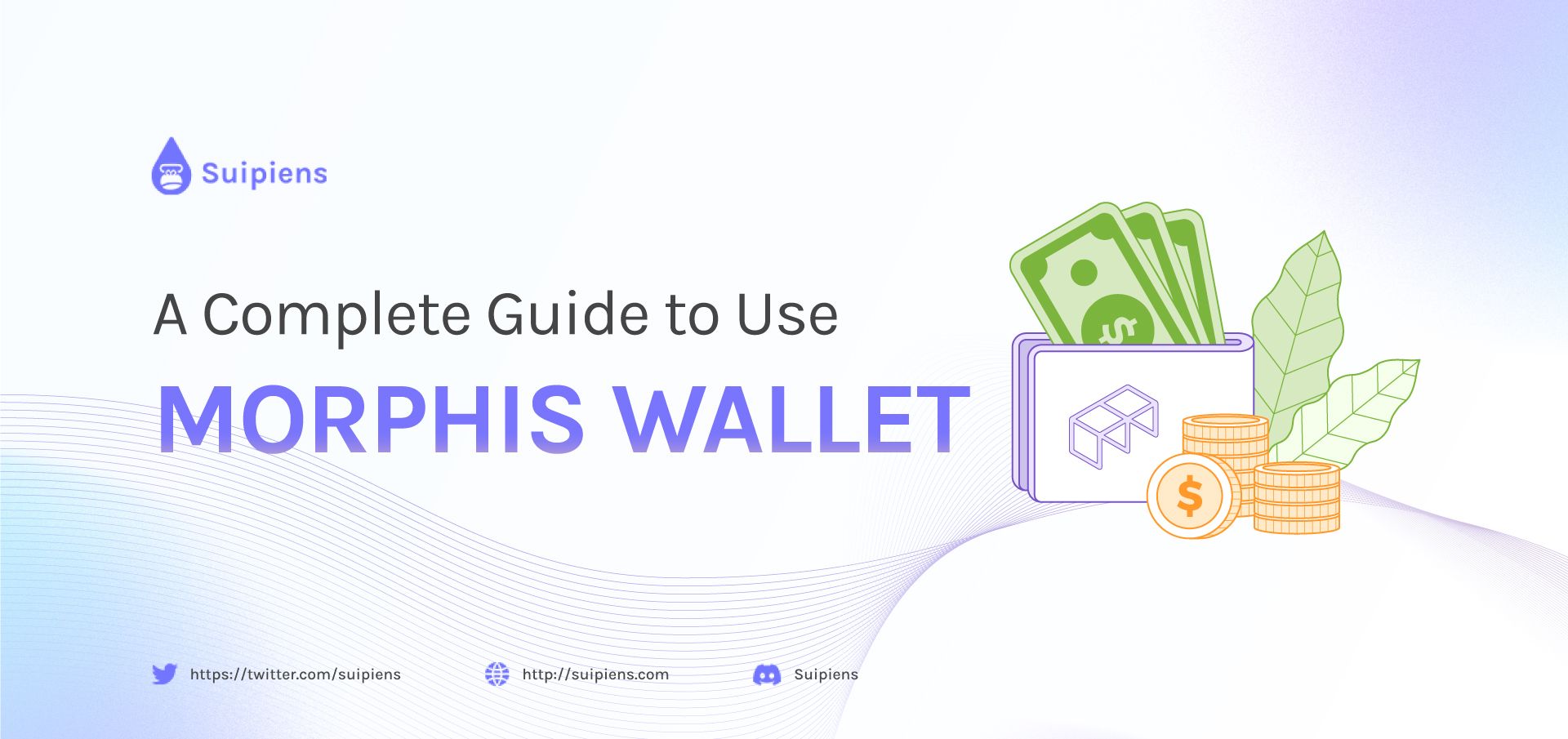 With a beginner's guide, we provide an overview of the features within Morphis Wallet that make it one of the top choices for storing cryptocurrencies today.
Introduction
Are you looking for an easy way to make digital payments with confidence? Morphis Wallet provides all the features necessary for making online transactions quick and safe without sacrificing user-friendliness. Our beginner's guide will provide a step-by-step overview of what Morphis Wallet has to offer and what makes it unique for new investors and experienced crypto enthusiasts alike to take full control over their finances.
What Is a Morphis Wallet?
Morphis wallet is a simple wallet that will get you started on your web3 journey. Morphis allows you to manage all of your web3 assets, from tokens and NFTs to game assets and your gateway to thousands of dApps, in one place. Morphis will be your single point of entry into the web3 world's limitless potential.
What Makes Morphis Wallet Unique?
Morphis Wallet is one of the web3 wallets built on the Sui blockchain with some unique features.
The everyone, everything, everywhere App
Morphis Wallet features an app-like platform that is open to everyone and everything, everywhere. It's designed to keep you connected with the world around you. With its unique design, Morphis Wallet allows users to securely connect with transactions.
Manage all your assets in one place
Morphis Wallet is an innovative and secure cryptocurrency wallet that allows users to store, manage, and transfer multiple digital assets in one place. With its advanced features, Morphis Wallet provides a powerful yet user-friendly solution for anyone looking to take control of their crypto investments.
Manage, trade and mint NFTs
Morphis Wallet stands out from other wallets due to the unique features that make it an ideal choice for managing, trading, and minting NFTs. The Morphis wallet is built using the latest security protocols and utilizes cutting-edge technology to ensure the maximum safety of your assets. Moreover, it offers a wide range of features specifically designed to facilitate the efficient management and trading of digital assets.
Hundreds of Dapps at your Fingertips
Morphis Wallet is the only wallet that gives you access to hundreds of decentralized applications (Dapps) with a single touch. With Morphis, users can explore and use apps in various industries such as finance, gaming, entertainment, and more.
How To Create A Morphis Wallet?
Following the step-by-step instructions, you can easily create a new Morphis Wallet.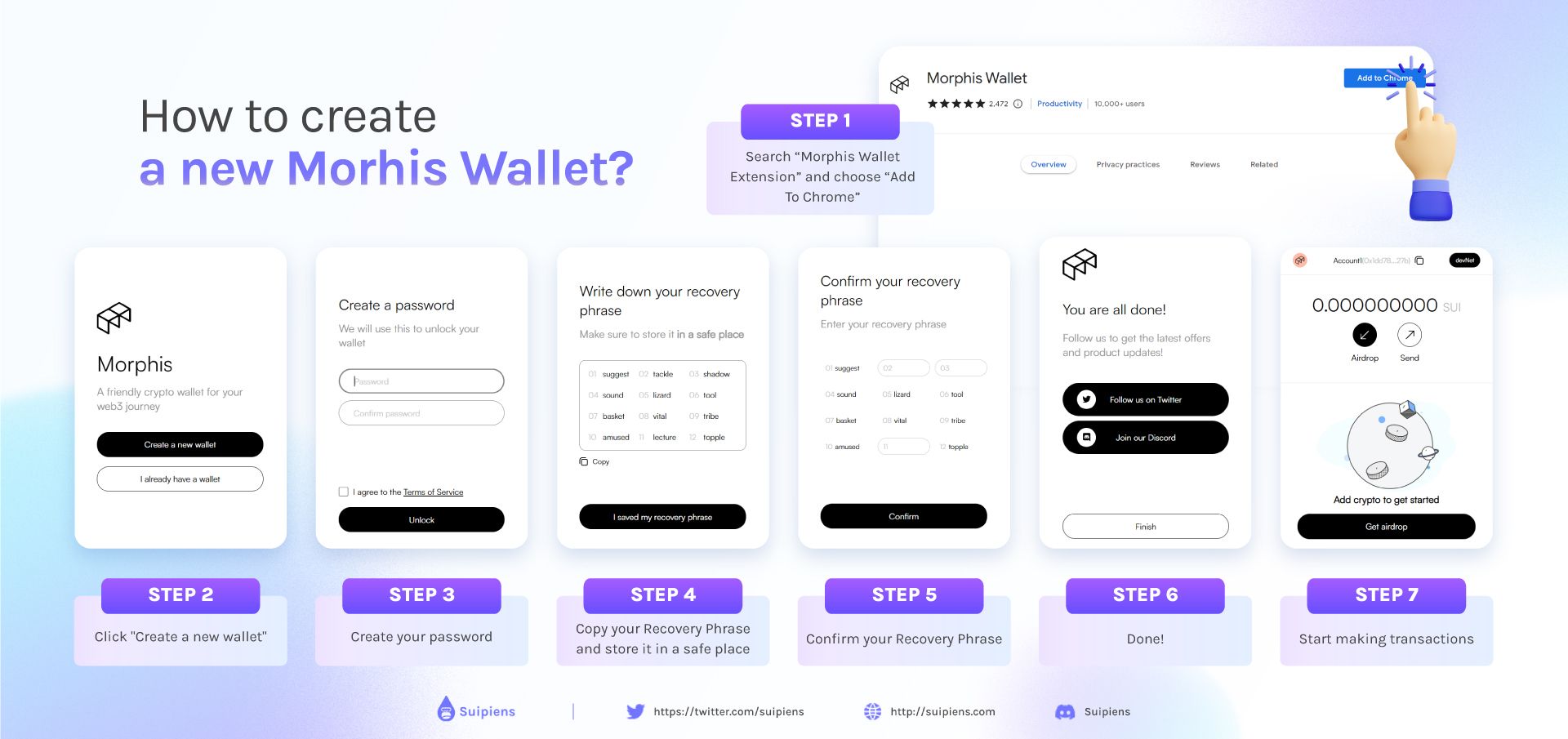 Step 1. Search "Morphis Wallet Extension" and choose "Add To Chrome".
You can access to the link to download.
Step 2. Click "Create a new wallet".
Step 3. Create a password.
Step 4. Copy your Recovery Phrase and store it in a safe place.
Step 5. Confirm your Recovery Phrase.
Step 6. Done!
Step 7. Start making transactions
Final Thought
Morphis Wallet is a great way to store and manage your digital assets, offering you peace of mind. With the built-in security features, you can be sure that your coins are safe and secure. Plus, this wallet is easy to use, so even beginners will quickly get up and running. Furthermore, there are also tutorials and support available for those who need help learning the platform. Besides Morphis Wallet, Sui Blockchain can be experienced by other potential wallets like Bitkeep Wallet and Coin98 Wallet. Try now the featured wallets on Sui for the best experience.
Official links about Suipiens: Website | Twitter | Discord