A Complete Guide To Use Coin98 Wallet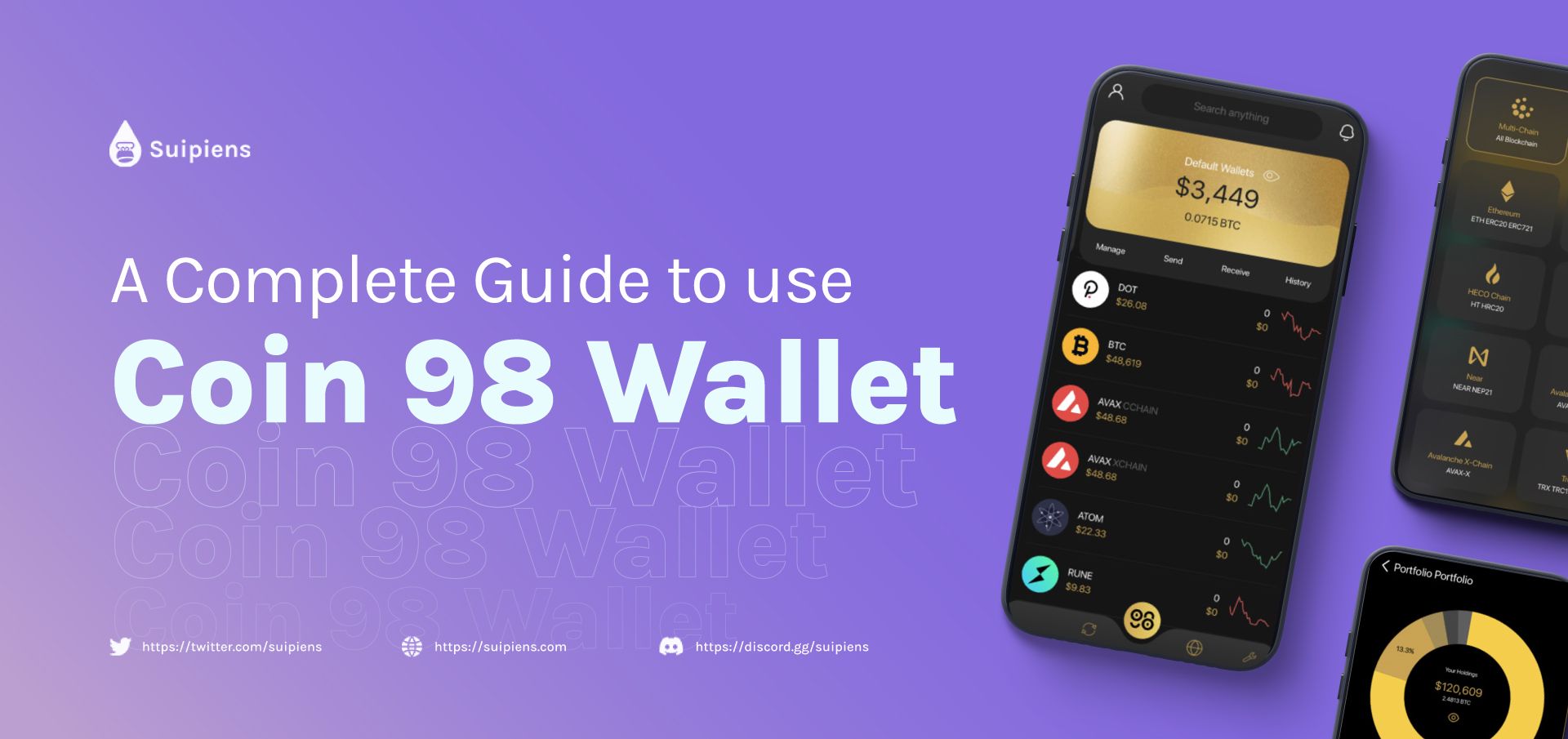 Are you looking for a secure and convenient way to store your cryptocurrency? Coin98 Wallet might be the perfect option for you!
Introduction
Coin98 Wallet is revolutionizing the way people manage their crypto assets. With a secure, user-friendly interface and innovative features, actions like buying cryptocurrency or sending them to others can be done quickly and easily. Whether you're just getting started with crypto investing or are an experienced trader, this guide will explain how to get up and running on Coin98 Wallet in simple steps so that you can start managing your digital currencies efficiently.
What Is a Coin98 Wallet?
Coin98 offers a comprehensive and trusted ecosystem of essential services to global users, including non-custodial multi-chain wallets for storing NFTs and cryptocurrencies, decentralized exchanges, a Cross-chain Bridge & DApp Browser, a Terminal with all-in-one tools, and exciting rewards programs, giveaways, and featured events.
Coin98 Wallet currently supports over 50+ blockchains including Bitcoin, Ethereum, TomoChain, Tron, Binance Smart Chain, Solana, Polkadot, Kusama, HECO Chain, Near, Avalanche X-Chain & C-Chain, Binance Chain, Celo, BandChain , Kava, Terra, Cosmos, ThorChain, Fantom, Polygon, Persistence, xDai Chain, Ronin, KardiaChain, Sui, Aptos... and dozens of other custom networks.
What Makes Coin98 Wallet Unique?
The following standout characteristics define what makes Coin98 Wallet unique.
Fast and simple money transfer
Coin98 Wallet makes sending crypto and NFTs easier than ever. With its fast, secure, and simple-to-use platform, users can send tokens like they would a message to anyone, anywhere in the world. With the Coin98 wallet, you don't need a complicated wallet address. All you need is the recipient's Coin98 username and you can transfer money instantly.
The Coin98 wallet now allows users to experience a more streamlined and secure way of sending cryptocurrency assets. In addition, Coin98 now supports Ethereum Name Service (ENS) and Solana Name Service (SNS), enabling users to send their crypto through .eth and .sol domains directly on the Coin98 wallet app.
High security
Coin98 Wallet allows you to securely store and manage your digital assets with utmost privacy. You can be sure of the safety of your funds as the Private Key and Passphrase of the wallet are managed solely by you, without any involvement from coin98. Furthermore, coin98 never collects any personal data associated with your wallet account.
The coin98 wallet is now even more secure with the launch of the Cloud Sync product in version 11.3.2. This revolutionary new product allows users to sync their coin98 wallets across multiple devices and platforms, ensuring that all their data is securely backed up, no matter where they are or what device they are using.
Easily manage numerous assets
Coin98 wallet is the perfect way to safely store, manage and use your cryptocurrency. With our easy-to-use wallet, users can quickly create or restore a coin98 wallet and be sure their digital assets are kept secure. Our multi-currency support allows you to easily swap between different coins within the same wallet.
Multi-send functionality
Coin98 Super App supports sending ETH and ERC-20 tokens on Ethereum, SOL & SPL tokens on Solana, BNB & BEP20 tokens on BNB Chain and tokens belonging to blockchains Polygon, HECO Chain, Klaytn, GateChain, Celo, OKExChain, Tomochain, Avalanche (C-chain), Fantom, Kucoin Community Chain, Arbitrum on XDai simultaneously to many different wallet addresses with unlimited number of wallets. This feature will be implemented in many other blockchains on the Coin98 Super App in the near future.
Gas fee optimization
Coin98 Wallet allows users to optimize their transaction costs and speed automatically. At the same time, the coin98 wallet also provides users with an option of manually adjusting the gas fee according to their needs by simply pulling the gas fee bar located in the wallet interface. This feature helps users to conveniently adjust the gas fee without having to go through third-party services or back-end coding.
Support hardware wallet connection
Coin98 provides a secure and convenient way for users to store cryptocurrencies without compromising the security of their assets. With Coin98, users can easily connect to popular hardware wallets such as Ledger NanoS / NanoX and Trezor One with just one click. Its unique Bluetooth connection feature helps further ensure users' asset safety while providing improved convenience.
Other function
Coin98 Wallet includes a lot of additional capabilities in addition to the primary feature of a cryptocurrency storage wallet to provide you the finest DeFi experience possible: Custom Networks, Custom Tokens, Solana Migration, Wallet Approval, Solana Claim,...
How To Create A Coin98 Wallet?
Following the step-by-step instructions, you can easily create a new Coin98 Wallet.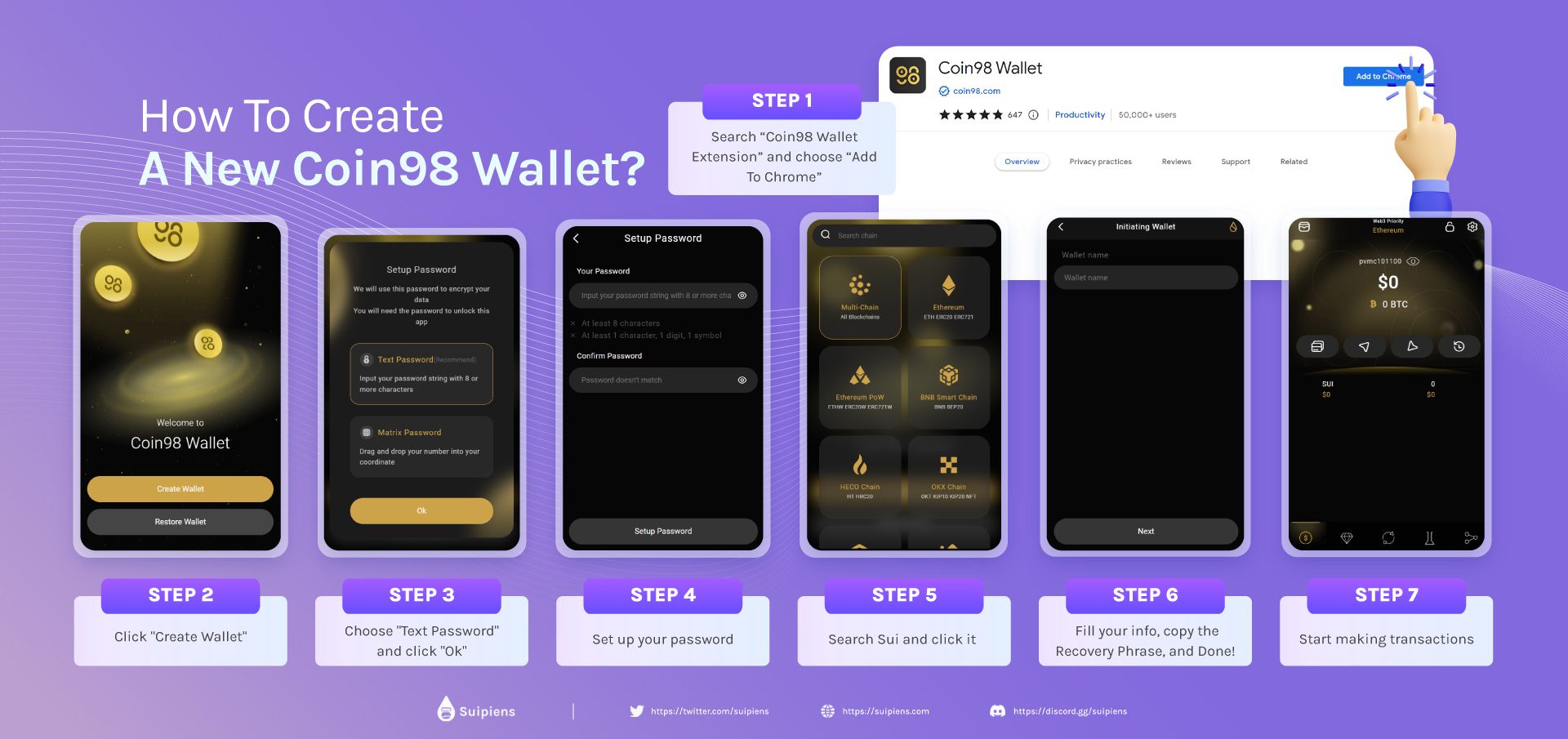 Step 1. Search "Coin98 Wallet Extension" and choose "Add To Chrome"
Access to the link to download.
Step 2. Click "Create Wallet"
Step 3. Choose "Text Password" and click "Ok"
Step 4. Set up your password
Step 5. Search Sui and click it
Step 6. Fill in your info, copy the Recovery Phrase, and Done!
Step 7. Start making transactions
Don't miss the exciting event taking place with Coin98 Wallet!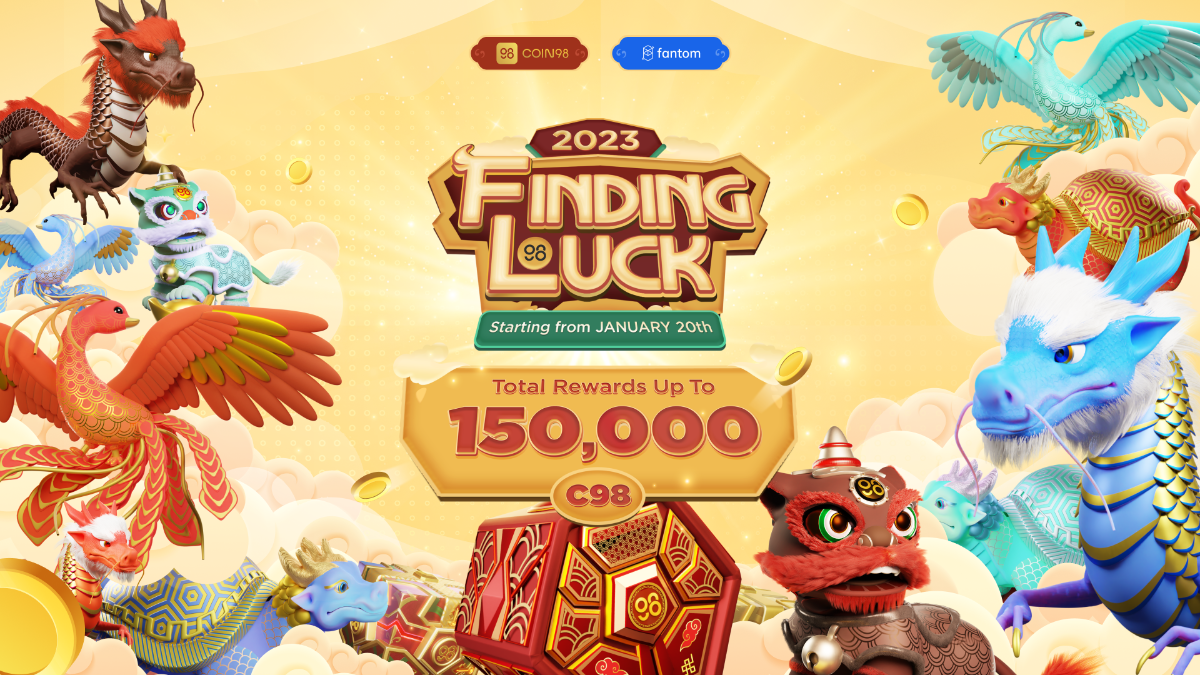 Be sure not to miss the "Finding Luck" event with Coin98, which runs through February 18th, 2023.
Coin 98 continues to present the Finding Luck 2023 event on the Coin 98 Super App following the success of "Finding Luck" season 1 in 2022. Players who participate in season 2 of the Finding Luck series of events will have the chance to win tempting prizes worth up to 150,000 C98.
Go to the Finding Luck section if you've already had a Coin98 account with at least 501 X-points. (Ways to earn X-point). If you don't have enough X-point, you can get more by participating in the Flow To Earn and Fantom Swap To Earn events, or you can just swap directly through the Swap option on the Coin98 Super App.
If you are interested, details on the Finding Luck 2023 program can be found at: Coin98 Finding Luck 2023.
Final Thought
Overall, Coin98 Wallet is the ultimate wallet for all your cryptocurrency needs. With its easy-to-use interface, secure system, and a wide variety of features, you can trust it to keep your digital assets safe and secure. Being an all-in-one cryptocurrency platform, it doesn't get any better than this. So what are you waiting for? Try using Coin98 Wallet now and experience the world of cryptocurrencies like never before.
Ethos Wallet and Surf Wallet are another best excellent Sui Blockchain wallets that you should not overlook. Experiment now to determine which wallet is best for you!
Be sure to check out Suipiens website and social media channels to stay up-to-date on all things about Sui Blockchain!
Official links about Suipiens: Website | Twitter | Discord