A Complete Guide To Use Surf Wallet
Our complete guide to using Surf Wallet will provide you with detailed instructions step-by-step to ensure that your experience with the popular digital wallet application is fast and efficient.
Introduction
Do you want to join the ever growing trend of digital currency users? Surf Wallet allows its users to securely access a wide range of digital currencies and tokens. This comprehensive guide will help you understand everything there is to know about using Surf Wallet, including how it works, what benefits it offers, and how you can use it for secure transactions. Get ready to navigate securely into the world of digital currency!
What Is A Surf Wallet?
Anyone can succeed in web3 thanks to Surf Wallet, which is the most reliable and usable wallet. Surf envisions a time when owning and managing your money is as easy as writing an email, and trading and investing is no different. With MPC wallet cryptography, users can wave goodbye to time-consuming installations and manual initialization and quickly restart, pay, and invest.
You can also manage smart funds for the Sui DAO and protocols using the Surf multi-signature wallet, which was initially introduced on Sui. Surf multi-sig wallet enables DAO to expand your company in a secure manner. To create a sense of shared treasury ownership and trust, establish team permissions and make team decisions. DAOs with multiple signatures and configurable workflows. Payroll is also more secure and effective when done online with Surf. DAOs can use smooth and secure bitcoin transactions to compensate groups or communities.
What Makes Surf Wallet Unique?
The following standout characteristics define what makes Surf Wallet unique.
Surf on the Go!
Surf Wallet is designed to make investing in digital assets simpler and feel more accessible. It allows users to go on-ramp, pay with their preferred payment methods, and invest in just a few clicks. Surf Wallet not only ensures secure storage for crypto assets but also provides various tools that help users stay informed about current market trends.
Security Like Never Before
Say goodbye to the days of remembering complex seed phrases with Surf Wallet! Surf Wallet brings industry-leading MPC wallet cryptography, so you never have to worry about losing access to your crypto. Surf Wallet offers an unmatched level of security and reliability for your digital assets, providing a secure platform for managing and transferring your funds.
Privacy Assurance
Surf Wallet is committed to protecting your privacy and keeping your data secure. Surf does not track any personally identifiable information, account addresses, or asset balances. Surf's servers are protected by strong encryption protocols that ensure your data remains safe and secure.
All-in-One for Your Crypto
Surf Wallet is the perfect solution for cryptocurrency holders looking to maximize their returns. Surf Wallet provides an easy way to pay with crypto, earn up to 5% yield on your crypto balance and discover thousands of decentralized applications (Dapps) all in one place.
How To Create A Surf Wallet?
Following the step-by-step instructions, you can easily create a new Surf Wallet.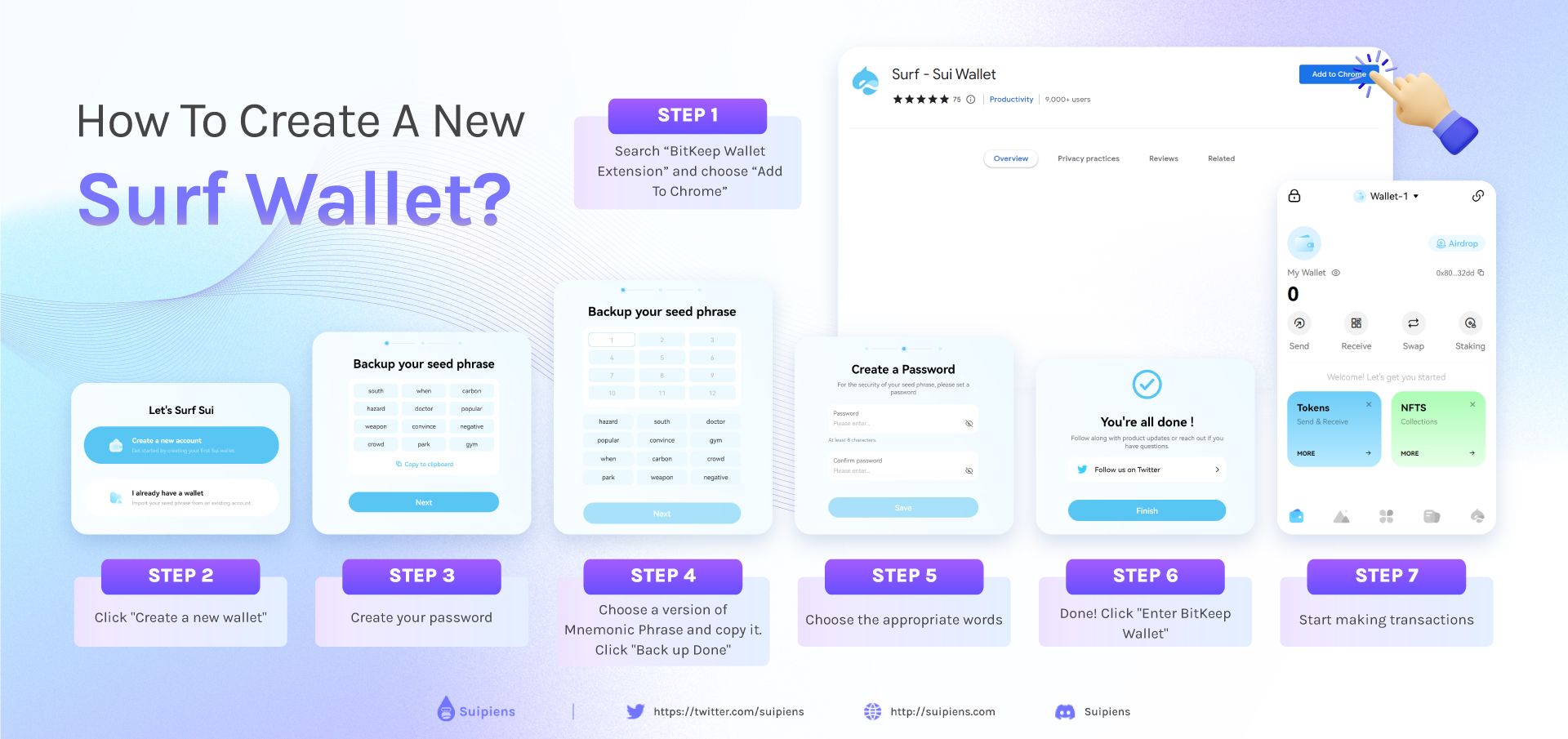 Step 1. Search "Surf Wallet Extension" and choose "Add To Chrome".
Access to the link to download.
Step 2. Click "Create a new wallet".
Step 3. Copy your seed phrase.
Step 4. Backup your seed phrase.
Step 5. Create a password.
Step 6. Done!
Step 7. Start making transactions.
Final Thought
Altogether, the Surf Wallet app is a great way to keep track of your finances with ease. It has an array of helpful features that make it one of the most reliable resources out there when it comes to budgeting and keeping tabs on your earning and spending habits. With its user-friendly interface and great customer support, there's no doubt that you'll get plenty of use from this app. So if you're looking for a comprehensive tool to manage your money, we highly recommend checking out Surf Wallet today!
Fewcha Wallet is one of another best wallets on Sui Blockchain that you should not overlook. Experiment now to determine which wallet is best for you!

Be sure to check out Suipiens website and social media channels to stay up-to-date on all things about Sui Blockchain!
Official links about Suipiens: Website | Twitter | Discord