Discover WispSwap - the Home of DeFi on Sui
Discover how WispSwap is transforming the DeFi landscape with its comprehensive suite of financial products and innovative features on the Sui blockchain. Explore the unique mechanisms, exclusive NFT collection, and mission to democratize access to global yields.
Welcome to WispSwap, where decentralized finance meets limitless possibilities on the Sui blockchain. In this blog article, we will dive into the transformative ecosystem of WispSwap, a decentralized exchange and DeFi platform that is reshaping the way we interact with digital assets and financial markets. Join us as we explore the key features, groundbreaking mechanisms, and future prospects that make WispSwap a game-changer in the world of decentralized finance. Get ready to unlock new opportunities, maximize returns, and participate in an inclusive and borderless financial ecosystem.
Introduction
WispSwap is a decentralized exchange and DeFi platform on the Sui blockchain. Offering a wide range of financial solutions such as trading, lending, farming, staking, prediction markets, and a launchpad, WispSwap serves as an all-inclusive destination for DeFi users. By incorporating groundbreaking and intricately crafted mechanisms, the platform aims to enhance user experience and optimize returns for its users.
Features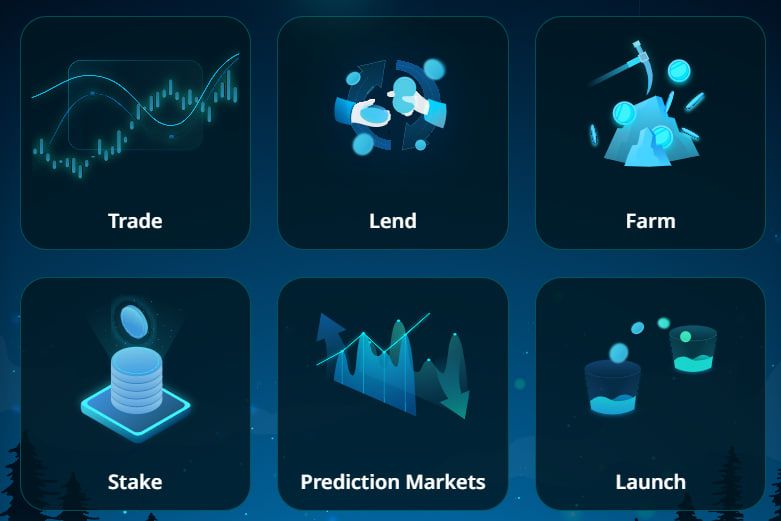 WispSwap offers a range of key features that enhance the DeFi experience for users. These features include:
Trading: WispSwap enables users to explore the world of DeFi and execute trades quickly and affordably. With its intuitive interface and seamless execution, users can trade a wide range of cryptocurrencies without the need for intermediaries.
Pool & Farm: Users can participate in liquidity and farming pools on WispSwap to earn trading fees and additional incentives. By providing liquidity to these pools, users contribute to the overall liquidity of the platform while earning rewards for their participation.
Stake: WispSwap offers a flexible staking system that allows users to stake their WISP tokens. By staking $WISP, users gain access to additional features and utility within the platform, unlocking various benefits and rewards.
Lend: Through the lending feature, users can borrow or lend their tokens to earn interest. WispSwap provides a platform for individuals to engage in lending activities, facilitating the borrowing and lending of assets in a decentralized manner.
Launch: WispSwap hosts special launch events for newly released tokens, offering users early access to promising projects. This feature allows users to seize investment opportunities at an early stage and be part of the growth of emerging tokens.
Prediction: WispSwap introduces prediction markets, where users can predict cryptocurrency prices and real-world events. This innovative mechanism allows users to make educated predictions on cryptocurrency prices and real-world events.
WispSwap brings forth an innovative solution known as the Asymmetric Concentrated Liquidity Market Maker (A-CLMM) with dynamic parameter adjustments. This cutting-edge mechanism provides unparalleled protection against impermanent loss and significantly enhances capital efficiency for liquidity providers.
"Wisp of The Forest" NFT Collection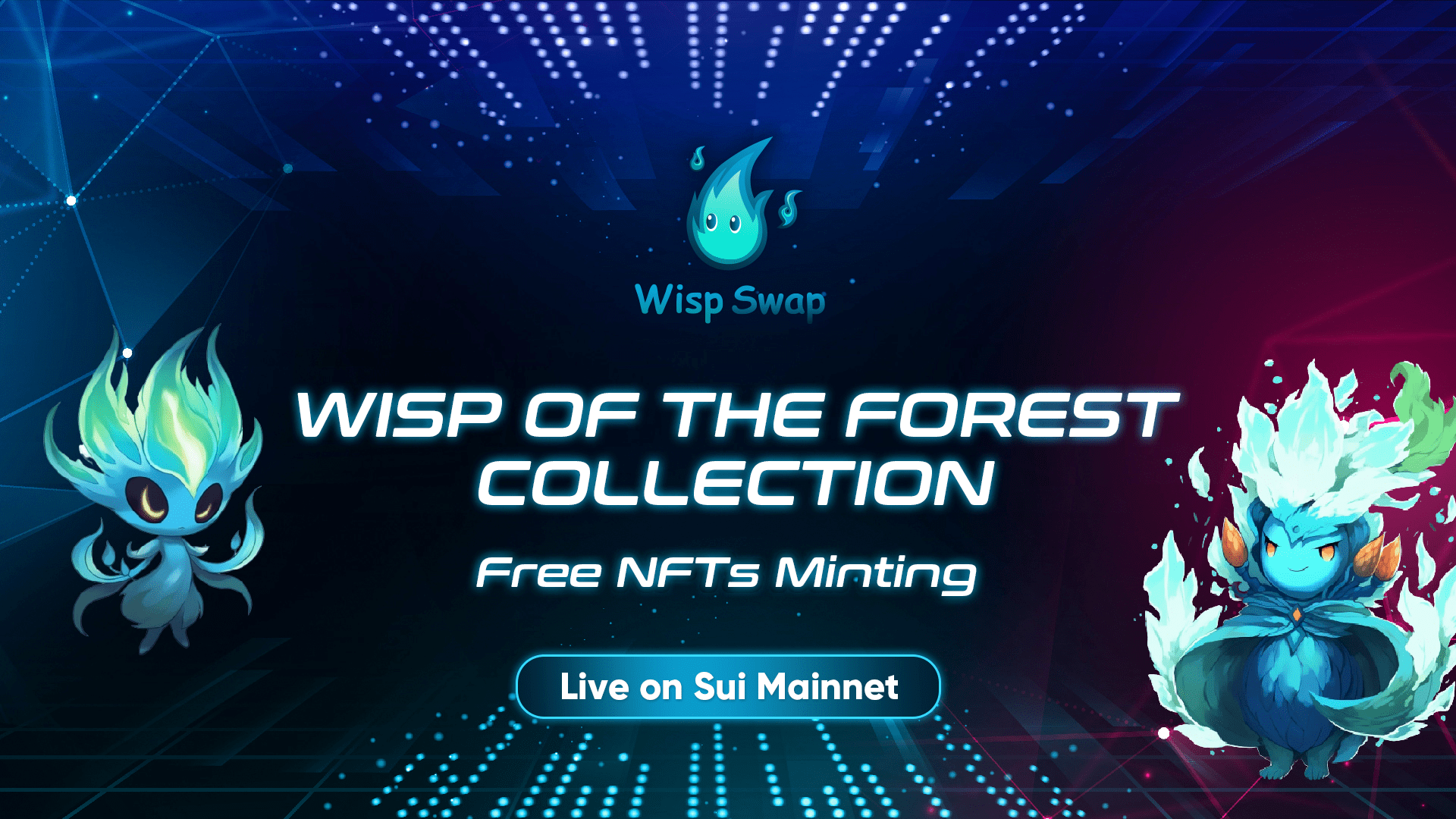 In an exciting collaboration with talented artists, WispSwap has introduced the "Wisp of The Forest" NFT collection. This unique collection serves as a token of appreciation for the dedicated WispSwap community, whose contributions have been instrumental in the platform's growth and success.
The "Wisp of The Forest" NFT collection goes beyond being a symbol of pride; it grants exclusive access to a range of exciting utilities within the WispSwap platform. NFT holders are bestowed with special privileges, including enhanced yield farming opportunities, cashback rewards in prediction games and leverage trading, farm boosting, and even the ability to utilize their NFTs as collateral in Wisp-Lending. These utilities are just a glimpse of the innovative features and benefits that WispSwap aims to bring to its community members.
The launch of the collection signifies WispSwap's commitment to continuously enhancing the platform and providing unique opportunities for its community. It showcases the dedication to exploring new avenues of growth, improving the user experience, and delivering additional utility and value to WISP token holders.
Mission and Future Plans
At the core of WispSwap's vision is the mission to democratize access to global yields and provide trustless, permissionless, and borderless services to users worldwide. The platform is committed to breaking down barriers and ensuring that anyone, regardless of their location or background, can benefit from the opportunities offered by decentralized finance.
WispSwap recognizes the importance of continuous improvement and remains dedicated to exploring new growth avenues. The platform is constantly evolving, with a focus on enhancing user experience, expanding its product offerings, and introducing innovative features that bring further utility to WISP token holders.
By actively engaging with the community and incorporating valuable feedback, WispSwap aims to refine its protocols, optimize performance, and address the evolving needs of DeFi users. The platform's commitment to open governance ensures that decisions are made collectively, with the participation of the community, allowing for a more inclusive and transparent ecosystem.
Looking ahead, WispSwap has ambitious plans to expand its reach, forge strategic partnerships, and explore new possibilities within the decentralized finance space. The team is dedicated to fostering an environment of innovation, where users can leverage cutting-edge technologies and financial instruments to unlock the full potential of their assets.
Tokenomics
Ticker: $WISP
Total Supply: 100,000,000

WispSwap operates with its native utility token, WISP, which plays a crucial role in the platform's ecosystem. The tokenomics of $WISP are designed to incentivize long-term holding and active participation in governance, fostering a strong and engaged community.
WispSwap's economic model is designed to strike a balance between incentivizing token holders, liquidity providers, and the sustainable growth of the platform. Ongoing research and development, smart contract audits, and exchange listings are some of the areas where funds raised from token sales and the community are allocated.
Partners
With strong partnerships including Onemind, Martian, OKX, Wormhole, Sui Global, and more, WispSwap is ready to revolutionize the DeFi landscape in Sui.
Official links
Summary
WispSwap is a leading decentralized finance platform on the Sui blockchain, offering a wide range of innovative financial products and features. With its focus on maximizing returns, enhancing user experience, and democratizing access to global yields, WispSwap has established itself as a trusted platform for DeFi enthusiasts. By introducing unique mechanisms like the Asymmetric Concentrated Liquidity Market Maker and launching the "Wisp of The Forest" NFT collection, WispSwap is dedicated to providing exclusive utilities and opportunities to its community. As WispSwap continues to grow and improve, it is ready to shape the future of decentralized finance and empower users worldwide.
Important note: The information provided here is for informational purposes only and should not be construed as financial investment advice. It is essential that you conduct thorough research (DYOR - Do Your Own Research) and exercise caution before making any investment decisions.
Be sure to check out Suipiens' website and social media channels to stay up-to-date on all things about Sui Blockchain!