Top 8 Infrastructure Projects On Sui Blockchain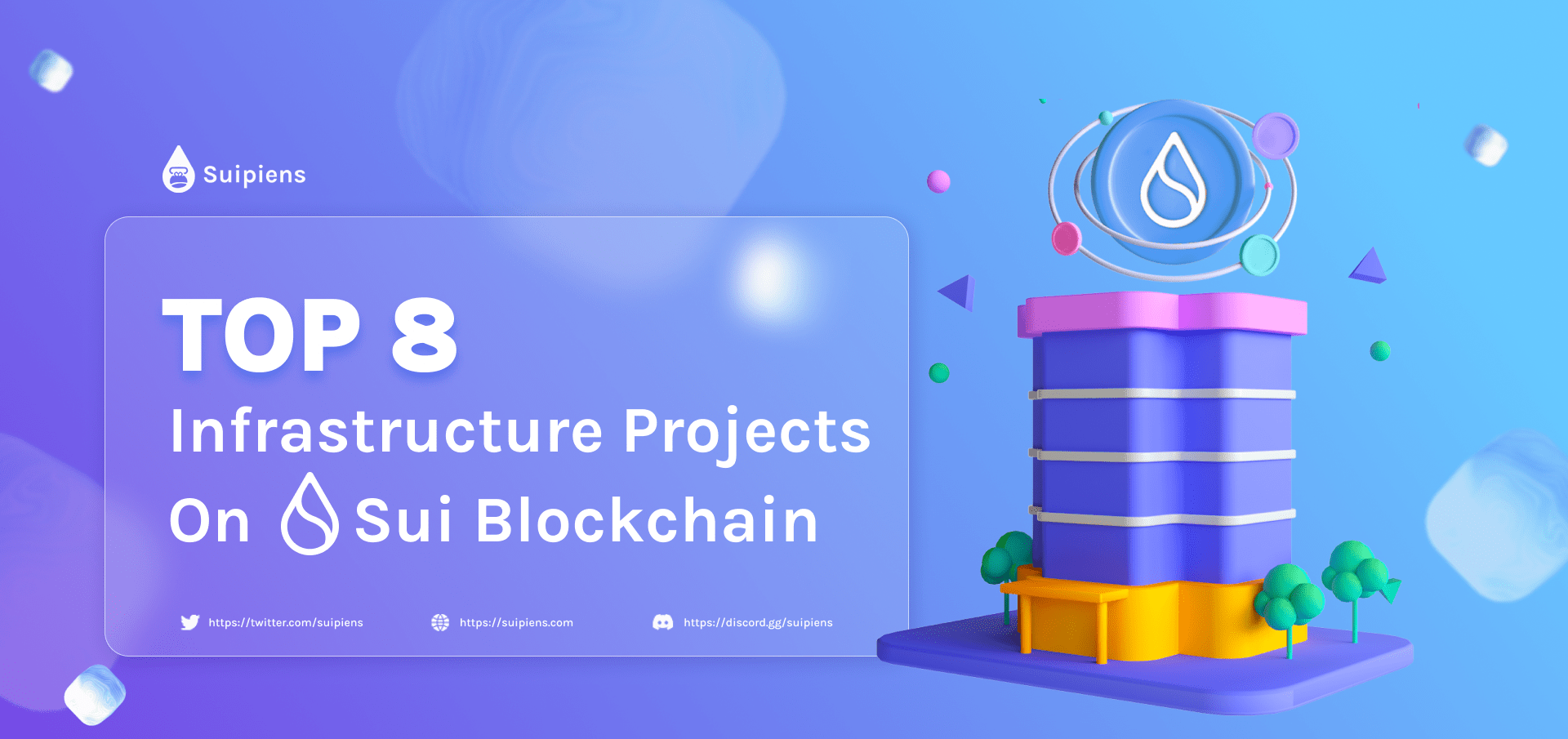 Uncover the top 8 game-changing infrastructure projects on Sui Blockchain. Stay informed and inspired as the future of Sui Blockchain takes shape!
Welcome to our blog article on the top 8 game-changing infrastructure projects on Sui Blockchain! As the future of blockchain technology unfolds, Sui Blockchain has emerged as a prominent player, offering innovative solutions and paving the way for a decentralized future. In this article, we will explore the top 8 most remarkable infrastructure projects on Sui Blockchain that are revolutionizing various industries and shaping the future of blockchain technology. Get ready to be inspired and witness the transformative power of Sui Blockchain!
Pyth Network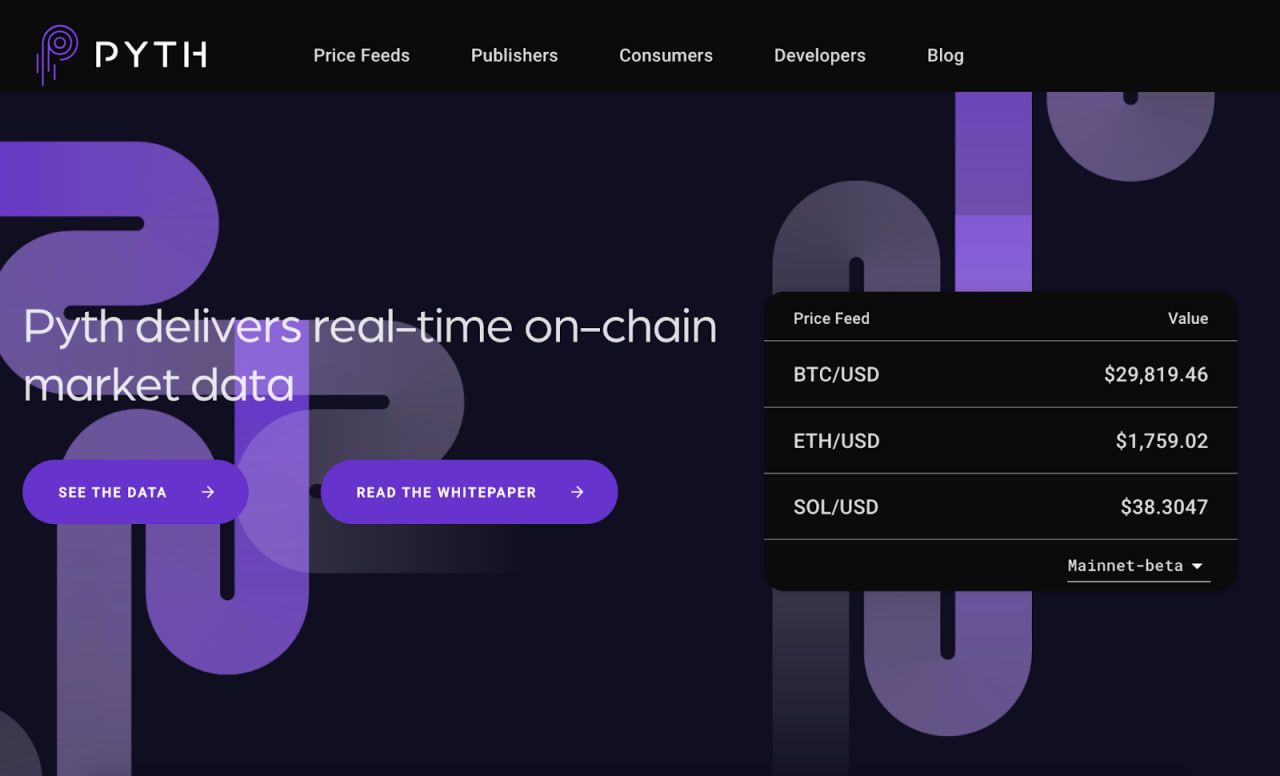 Pyth Network is a renowned oracle that disseminates financial market data to numerous blockchains. They have established collaborations with over 80 reputable first-party publishers, encompassing prominent exchanges and market-making firms globally. Their comprehensive range of price feeds encompasses various asset classes, such as US equities, commodities, and cryptocurrencies. These price feeds deliver a robust aggregate of publisher prices, updating multiple times per second.
The Pyth Network revolutionizes the concept of oracles with its groundbreaking low-latency pull oracle design. This design empowers users to retrieve price updates on-chain whenever required, enabling seamless access to this data point for all participants within the blockchain ecosystem.
Consequently, developers on Sui will enjoy unrestricted access to real-time prices sourced from Pyth's extensive catalog of over 200 price feeds spanning major asset classes, including US equities, metals, forex, and, naturally, cryptocurrencies.
Pyth Network official links: Twitter | Website | Discord
Shinami
Shinami is a leading company focused on developing the fundamental developer platform for Sui. Their suite of products is specifically designed to facilitate faster app development, improve user experience (UX), and minimize unnecessary burdens:
Node Service: This offering provides enterprise-grade infrastructure that allows seamless reading and writing operations on the Sui blockchain. It ensures robust performance and reliability for developers working on Sui-based applications.
Gas Station: Shinami's Gas Station abstracts gas fees from the user experience, simplifying the process of sponsoring transactions. By taking care of gas fees, developers can enhance the overall user experience by eliminating the need for users to manage transaction costs.
In-App Wallet: With Shinami's In-App Wallet solution, developers can fully abstract the complexities of web3 interactions from the user experience. It handles third-party wallet connections, gas fee management, signing popups, and seed phrases, allowing developers to create a seamless and user-friendly environment within their applications.
Shinami official links: Twitter | Website
ChainX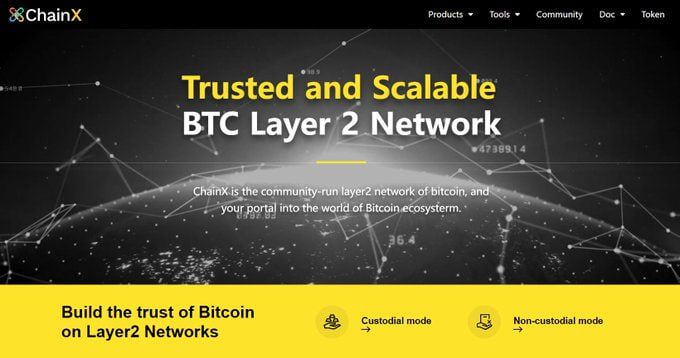 ChainX is a trusted and scalable BTC Layer2 Network, serving as the gateway to the Bitcoin ecosystem. It offers users several key features and benefits: Migration at the lowest cost, Compatibility with standard tools and plug-ins, Solidity Smart contract support, Web3RPC, and H160 accounts.
With its trusted infrastructure and seamless integration with Ethereum-based tools, ChainX offers a reliable and accessible solution for developers and users seeking to connect with the Bitcoin ecosystem. Its low-cost migration, compatibility with common tools, support for Solidity smart contracts, and interoperability with Ethereum technologies make ChainX a valuable platform for leveraging the potential of BTC Layer2 networks.
ChainX official links: Twitter | Website
Suiscan

Suiscan is a comprehensive block explorer and analytics platform designed specifically for SUI, a scalable and high-performance Layer-1 network that facilitates parallel transaction execution.
As an organization registered in the United Arab Emirates under the legal name Era Networks (soon to be rebranded from Staketab to Era Networks), Suiscan provides a feature-rich experience for users. The team consists of 17 dedicated professionals, including backend and frontend developers, DevOps experts, analysts, writers, and more. With their combined expertise, the team strives to create a fast and high-quality explorer that meets the users' needs.
Their team has extensive experience in developing both backend and frontend applications using languages such as Java, JS, React, and others. The team specializes in various areas, including developing explorers, Name Service, the operation of relayers, and creating and providing network snapshots.
Suiscan official links: Twitter | Website
BlockVision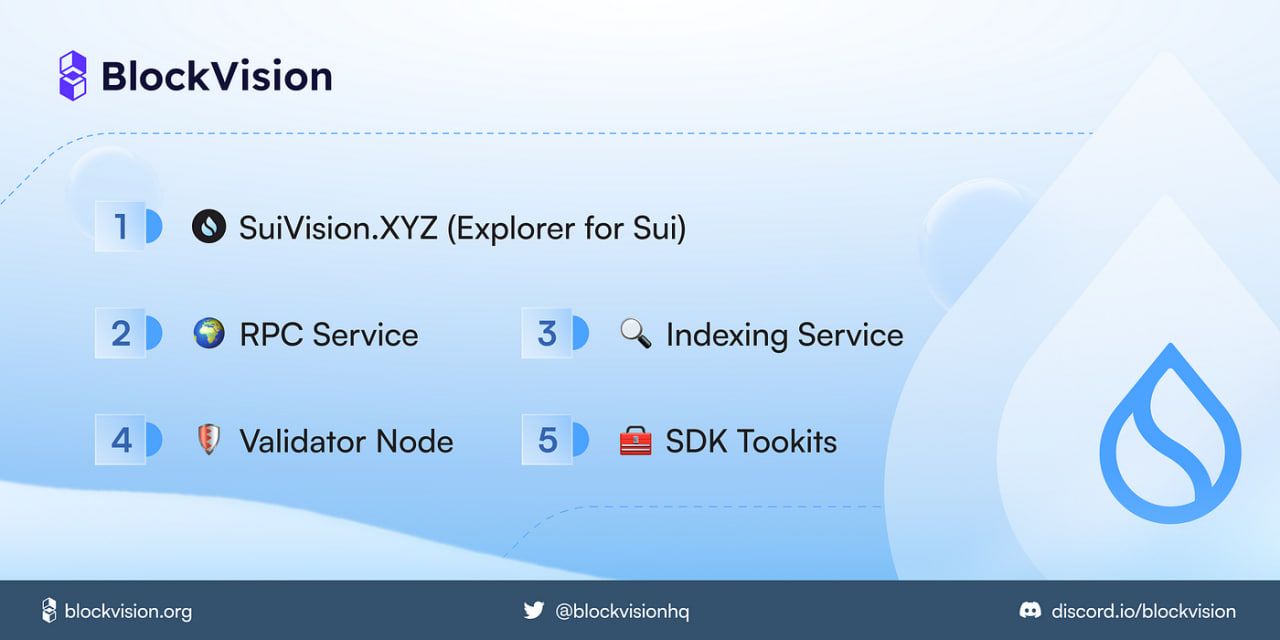 BlockVision is a premier provider of data infrastructure and enterprise solutions in the blockchain and Web 3.0 domains. BlockVision's real-time, decentralized indexing and syncing system guarantees data availability and accuracy. BlockVision serves as a validator, providing RPC services, indexing services, SDK toolkits, and SuiVision explorer in EVM and Sui ecosystems.
Having extensive expertise in validators and indexing services for the EVM ecosystem, BlockVision has established itself as a trusted validator since the early stages of the Sui ecosystem's Testnet. In addition to validator services, BlockVision offers a comprehensive range of RPC node services tailored for public, private, and enterprise applications. Furthermore, the team takes pride in presenting SuiVision.xyz, a dedicated Sui explorer developed on their own. To facilitate developers' entry into the Sui ecosystem, the team consistently provides and updates the SDK toolkits, simplifying the process and reducing entry barriers. With active participation in over 20 projects within the Sui ecosystem, the team actively contributes expertise and knowledge to drive various initiatives forward.
BlockVision official links: Twitter | Website | Discord
Switchboard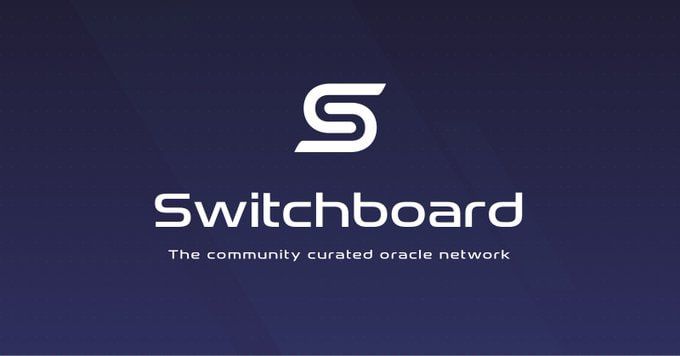 Switchboard is an open and decentralized oracle protocol that facilitates the seamless transfer of secure and reliable off-chain data to on-chain smart contracts. It operates across multiple chains, including Aptos, CoreDAO, NEAR, Solana, Starknet, and Sui, ensuring trustless integration for developers. By leveraging Switchboard, developers can confidently create robust and feature-rich dApps with utmost flexibility.
The current expansion of Switchboard's oracle services to support Sui entails two key features:
Explorer: The Explorer enables developers to effortlessly access and integrate live data feeds into their contracts. By simply inputting the feed address, developers can easily read and utilize the data, streamlining the integration process.
Publisher: The Publisher feature offers developers the advantages of permissionless functionality and customization. Within Switchboard application, developers can construct, finance, and manage their own data feeds without any obstacles or unnecessary complexities
Switchboard official links: Twitter | Website | Discord
MetaOracle
MetaOracle is the first decentralized oracle and prediction market built on Sui. Within the MetaOracle prediction market, the selection of results is determined by users who possess MetaOracle governance tokens. These users stake their tokens on the observed outcomes and receive settlement fees from the market. The governance mechanism and incentive structure of MetaOracle are meticulously designed to foster honest and accurate reporting, providing the most advantageous choice for governance token holders.
MetaOracle's robust protocol stack and system architecture are specifically designed to cater to the diverse and extensive requirements of the prediction market. Moreover, MetaOracle actively encourages eco-partners to participate and contribute by offering decentralized product-as-a-service/platform-as-a-service solutions to users, thereby further enhancing the platform's offerings.
MetaOracle official links: Twitter | Website | Discord
Koizumi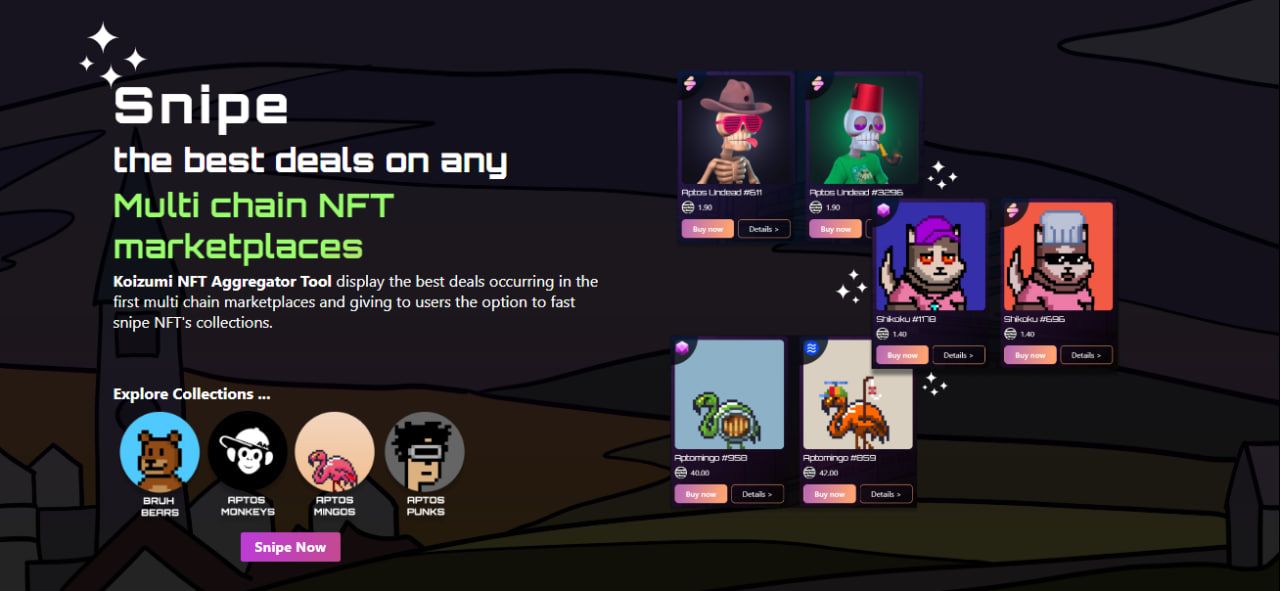 Koizumi emerges as an innovative DeFi protocol and NFT Aggregator Tool. It offers a platform for individuals who hold non-fungible tokens (NFTs), as well as $KOIZ token holders and liquidity providers, to generate yield.
The governance token, $KOIZ, assumes responsibility for overseeing, managing, and adjusting the protocol's parameters. Notably, Koizumi operates in a fully permissionless and decentralized manner, devoid of any central authority. By prioritizing the development of modern NFTs, DeFi solutions, and an NFT Aggregator Tool, Koizumi strives to enable users to earn yield on their holdings while also assisting Degens in discovering optimal solutions.
Koizumi official links: Twitter | Website | Discord
Wrapping up
In conclusion, Sui Blockchain is making significant strides in revolutionizing various industries through its game-changing infrastructure projects. From enhancing supply chain management to transforming financial transactions, Sui Blockchain is poised to revolutionize the way we interact with technology. The projects we've covered in this article are just a glimpse of the immense potential and impact that Sui Blockchain holds for the future. As the blockchain landscape continues to evolve, it is exciting to witness the advancements and innovations that Sui Blockchain brings to the table. Stay informed, stay inspired, and be part of the transformative journey as Sui Blockchain takes shape!
If you're interested in the Sui Ecosystem, you should also know about the Dapps on Sui and Lending platforms on Sui. Suipiens articles will provide comprehensive information to meet all your informational needs.
Be sure to check out Suipiens' website and social media channels to stay up-to-date on all things about Sui Blockchain!