Sui Builder House In Seoul has officially opened the registration form!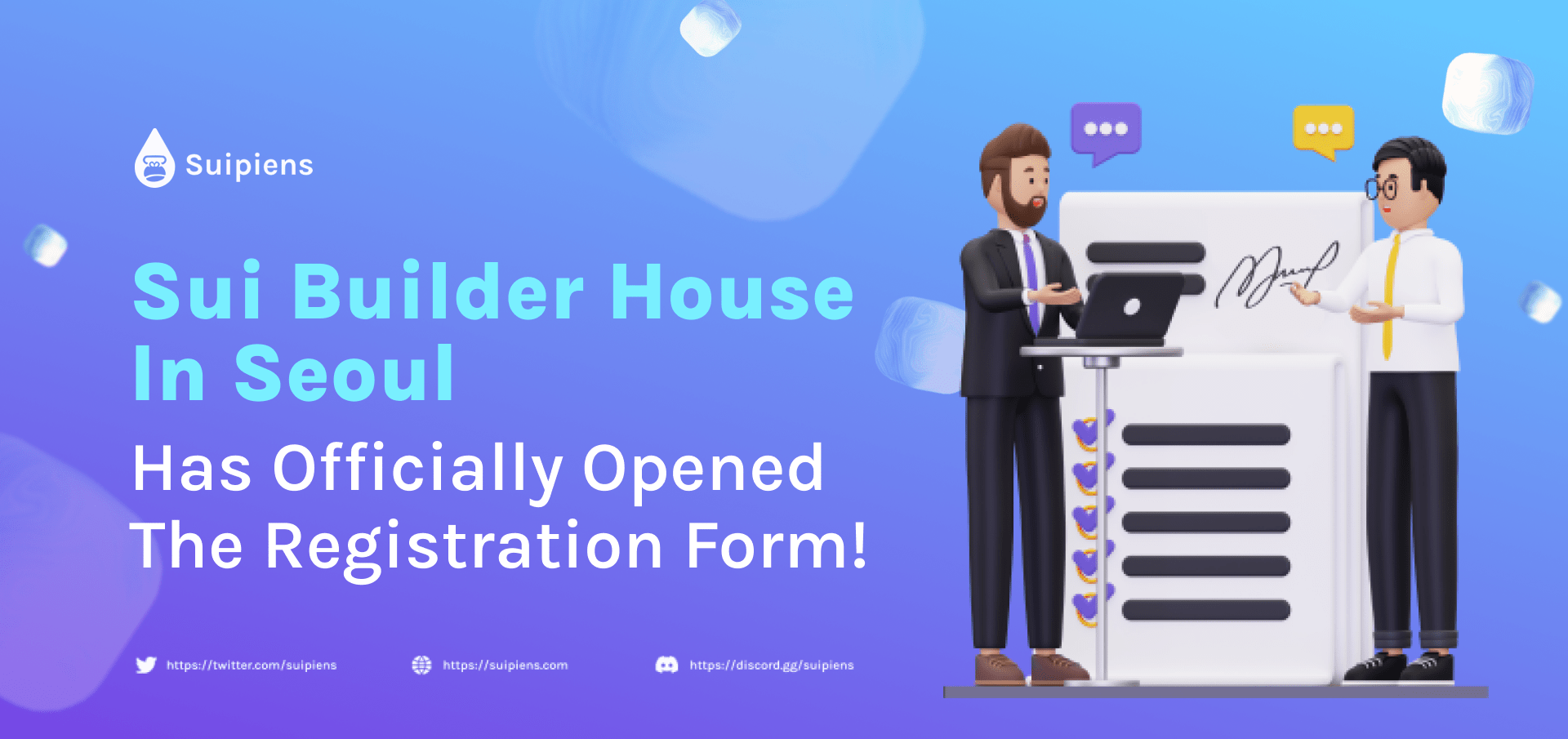 The Builder House Tour is heading to Seoul from June 3-4 and has officially opened the registration form!
What is Sui Builder House?
Sui Builder Houses are the vibrant core of the Sui Ecosystem, where creativity flourishes. It's a place where builders from around the world come together to connect, learn, and collaborate. They will experience the latest technologies and updates for building on the Sui platform. Sui Builder Houses are where innovation comes alive, offering endless possibilities for builders of all levels.
The goals of Sui Builder House
The first post-Sui-mainnet event will be dedicated to the vibrant community of supporters and builders. The Builder House will be a captivating experience filled with a diverse set of presentations and workshops led by subject matter experts, ecosystem projects, partners, and the esteemed Sui Engineers themselves. There will be more exciting updates as the Sui Foundation team unveils special announcements specifically tailored for the Seoul Builder House experience.
Why should you attend this event?
Enhanced Experience: We value the feedback we've received from previous Builder Houses and have made improvements to provide an even better experience. In Seoul, we'll kick off the weekend with a Sui Ice Breaker meetup, allowing attendees to connect with fellow community members and the Sui Foundation team before diving into the structured elements of Builder House.
Celebrating Mainnet: Mainnet is a significant milestone for Sui, and we intend to celebrate it with captivating presentations and workshops led by industry leaders in the Sui community. This will give us a chance to reflect on our progress so far and collaborate on what lies ahead.
Discover Sui's Unique Features: Sui stands out from other Layer 1 solutions in the market due to its innovative features. During the event, there will be an opportunity to delve into how these features work and why they are game-changers in the world of web3.
Special Announcement:  A special announcement is in store for APAC projects and developers seeking to expand their knowledge and business acumen in an enjoyable and rewarding way.
Networking and Relaxation: Builder House isn't solely about work; the Sui Foundation Team planned several events specifically designed for open conversations and enjoyment. Plus, there will be good food and drinks too.
The full program will be released in the next week or two. Don't miss out on this incredible opportunity!
Sponsors
Sui Builder House in Seoul event has many generous sponsors including the Global Tour Sponsor, Jump Crypto, Seoul Builder House Platinum Sponsor, Cosmostation, and Seoul Builder House Gold Sponsor, Onbuff.
How to Register?
Seoul Builder House is open to everyone, but the slots are limited. Register now to improve your chance of getting a slot!
If you can't make it to Seoul, check out the schedule of Sui Builder Houses occurring around the world throughout the rest of the year.
Wrapping up
In conclusion, don't miss the chance to register for the exciting Sui Builder House event in Seoul! From June 3-4, immerse yourself in the vibrant core of the Sui Ecosystem, connecting with builders globally and discovering cutting-edge technologies. Limited slots are available, so seize this incredible opportunity to join the advancement. If you can't make it to Seoul, explore other Sui Builder Houses happening worldwide throughout the year. Register now and be a part of the innovation and community-building in the Sui Ecosystem!
Before attending the Sui Builder House in Hong Kong, you can update the Vietnam Sui Builder House highlights to prepare well for the upcoming event.
Be sure to check out Suipiens' website and social media channels to stay up-to-date on all things about Sui Blockchain!