What is Sui Foundation? Overview Of the Developer Grant Program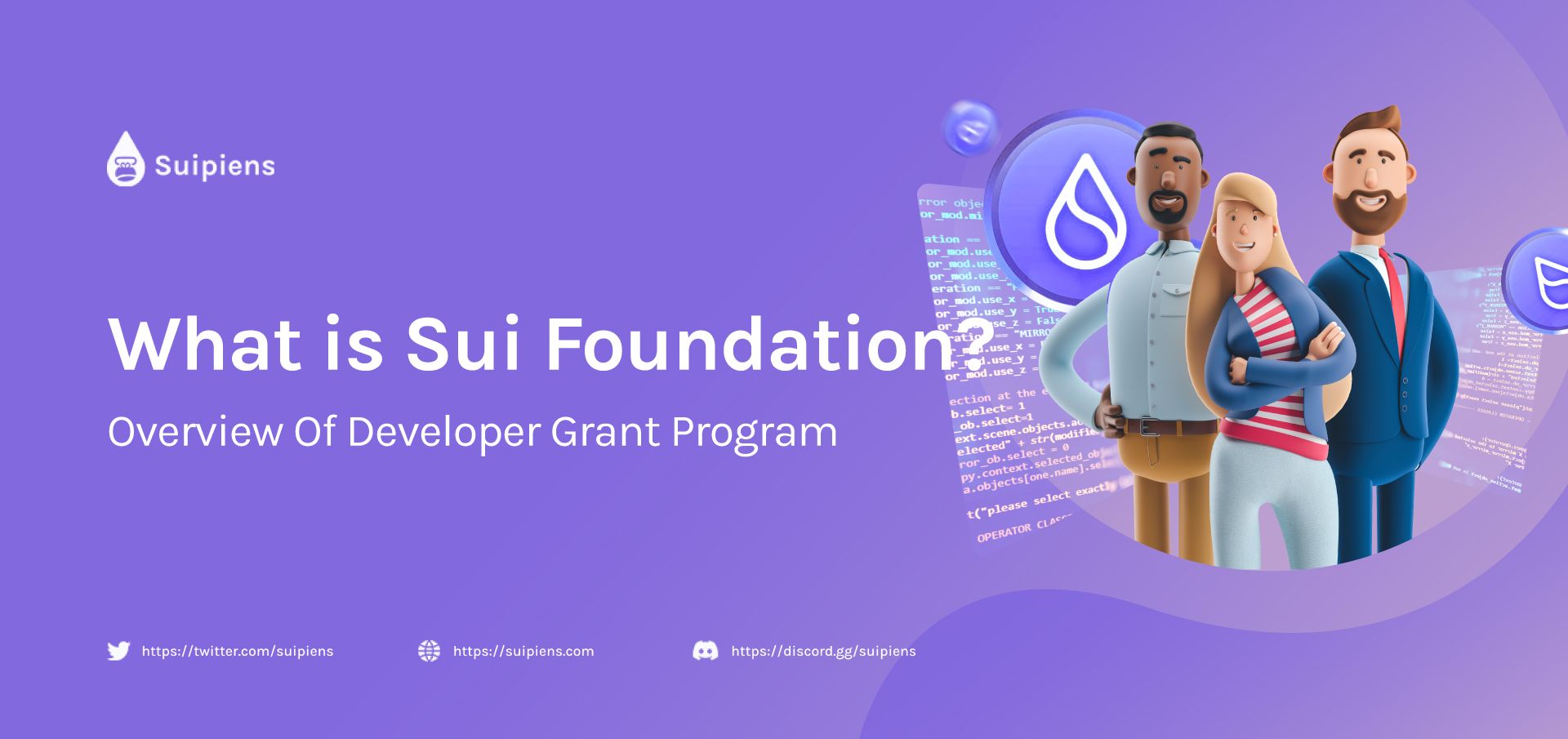 This blog will be updated with all the information you require regarding the Sui Foundation and Developer Grant Program.
Introduction
The Sui community was rocked by programs that allow you to get Sui tokens early as soon as the Sui Foundation unveiled the SUI Token Community Access Programs. Among these, the Developer Grant Program is an outstanding program for developers looking to accelerate web3 adoption via Sui. So, what is Developer Grant Program? Sui Foundation is what kind of organization? Let's find out with Suipiens in the following article.
What Is Sui Foundation
Sui Foundation (Founders of Sui Blockchain) was founded to create, promote, and grow long-term values in the SUI ecosystem. The Sui Foundation provides products that enable individuals and creators to reclaim control over their data and content. The Foundation aims to reach and bring one billion users to Web3 by advancing and globalizing the Sui blockchain.
What Is The Sui Foundation's Goal?
Here are the objectives the Sui Foundation consistently pursues:
Promote transparency and equality
The Foundation will create its initiatives with a fair, transparent, and democratic funding distribution system in mind. All Sui members will have a place to call home, and the organization will make sure that everyone has equal access to the programs and abides by the same regulations.
Open communication and a culture of trust
The Sui Foundation will consult the community before making decisions and be open about them. The network's long-term interests are always put first, and the organization will always make sure that all Sui community opinions are heard.
Ensure community participation
The Sui Foundation makes sure that the community is involved in the management and governance of the network, whether it be as a stakeholder in the Sui Foundation's stake proxy selection process or as an application reviewer for the Fund's Endowment Program.
The Sui Foundation makes use of its resources to fund projects that expand on Sui and aid in the development of an ecosystem that will be widely adopted over time. The Foundation, in particular, gives the correct incentives to the ecosystem's creators, builders, and developers so that the ecosystem can work fully.
Overview Of The Developer Grant Program
The Developer Grant Program is being introduced by Sui Foundation. Sui Foundation funding, including SUI tokens, is distributed through this initiative. Grant applications are examined to identify the ones that best support the long-term objectives of the Network. This is a program to find programmers to create the SUI ecosystem. The goal of the program is to grant program cash to developers to aid in the creation of a decentralized future, as well as to speed up the adoption of web3 through Sui.
According to the responses made in the registration form below, developers will have the chance to be chosen, with an emphasis on cutting-edge initiatives that help the Sui ecosystem. Selected registrants will get a small grant to get going and more money as certain goals are reached.
The Developer Grant Program's key aspects are:
Censorship and Governance
Censorship and State Resistant Content
Decentralized Documents
Decentralized Lists
Decentralized Signing + Verification
Voting + Governance
Commerce & Digital Goods
Auctions
Consumption-Based NFTs
Coupons
Goods Marketplace
Massive Airdrops
Ratings and Reviews
Rebates
Referrals
Loyalty Programs
Streaming Rewards
Tickets
Time-Released Gift Cards
Tokenized "Influence"
Data & Legal
show-hide-icon
Decentralized Data Repository
Digital Identity
Encrypted Personal Data (e.g. Activity, Health, Traffic)
Internet of Things
Massive Airdrops
Job Listings
Legal Contracts
Proof of Existence (e.g. Certificates, Degrees, Legal Ownership)
Developer Tools
SDK
Simulators
Test Framework
Internet of Things
Finance
Aggregated Liquidity
Bridges
Decentralized Exchanges
Derivatives
Fiat On/Off-Ramps
Lending, Collateralized
Lending, Under/Un-Collateralized
Liquid Staking
Oracles
Order books
Price Quotes
Risk Management
Gaming
Betting
Decentralized Lottery
Leaderboard
Quest System
Random Number Generator
Tournament
Payments
Confidential P2P Transactions
Cross-Border Payments
Digital Remittances
Humanitarian Aid
Merchant Tooling + Adoption
P2P Transactions
Productivity
Personal Password Manager
Social
Chat Rooms
Forums
Governance Records
Public Bulletin Boards
Social Media
Tokenization
Creator Tools
Location NFTs/Data
Minting Tools
Off-Chain Tokenization
User-Generated NFTs
Final Thought
All funds will support open-source initiatives that will aid the Sui community. If chosen, applicants undergo an identification check and screening before being awarded a grant. The size and value of Sui Foundation grants vary depending on the strength of the application and the opportunity. Grants will range from 10,000 to 100,000 USD, with a potential SUI token bonus.
Be sure to check out Suipiens website and social media channels to stay up-to-date on all things about Sui Blockchain!
Official links about Suipiens: Website | Twitter | Discord