Paris Sui Builder House Highlights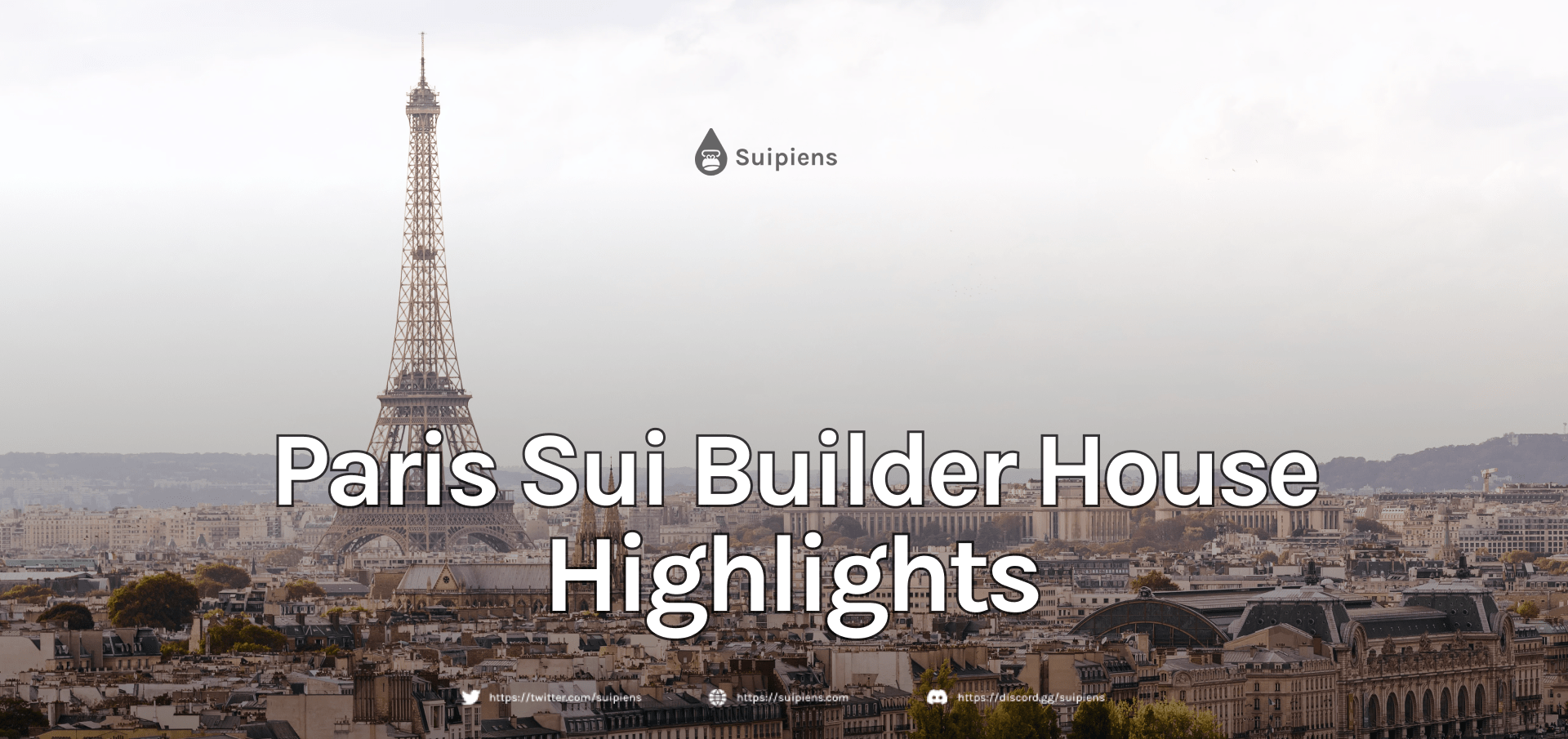 Discover the exciting highlights of the Sui Builder House event in Paris from July 18 through June 19.
The Sui Revolution made waves at the recently concluded Paris Builder House event, where tech enthusiasts, community members, and industry experts gathered to witness the potential of Sui's decentralized network in solving real-world issues. The two-day event featured enlightening presentations, interactive workshops, and exciting demonstrations that underscored the power of Sui in revolutionizing various sectors. Here are some notable highlights from the event!
Inspiring Messages for Change
The event commenced with an inspiring keynote address by Greg Siourounis, the Managing Director of the Sui Foundation. Greg shed light on how Sui has the potential to bring about positive change in the world. He emphasized the staggering fact that although there are 15 billion cell phones globally, 6.8 billion people in developing countries lack access to vital services like healthcare and banking. Sui's decentralized network and digital asset ownership offer a promising solution to bridge this gap, empowering underserved populations and enriching lives worldwide.
Mysten Labs' Contributions and Goals
Sam Blackshear, the Co-founder and CTO of Mysten Labs, delivered a compelling ending keynote, outlining three pivotal goals post-Mainnet launch. The first goal is to ensure the robustness of Sui's network, aided by the Bug Bounty program that identifies and resolves potential issues. The second goal involves minimizing developer pain points, streamlining the Sui Move platform, and enhancing gas fee tuning for improved performance. The third goal revolves around making Sui more accessible to users by simplifying the wallet installation process through innovative features like zero-knowledge login.
Insights from Mysten Labs
During the event, George Danezis, the Chief Scientist and Co-founder of Mysten Labs, provided valuable insights into Sui Lutris, the distributed system protocol powering Sui. He elaborated on Sui's consensus mechanism, allowing single-owner transactions to bypass traditional consensus, ensuring low latency and high throughput. Moreover, George presented encouraging network results that showcased Sui's stable gas fees even with increased transaction volume, making it an affordable choice for mass user adoption.
Sui Move Advancements
Damir Shamanaev and Todd Nowacki, Move engineers at Mysten Labs, offered a glimpse into the evolution of Sui Move and its groundbreaking features. Damir demonstrated the power of Sui NFTs through SuiFrens, an app that enables users to generate, trade, and customize cartoon characters. Meanwhile, Todd highlighted the latest improvements, including receiver syntax, a new typed macro function, private types, and enums, empowering developers with enhanced capabilities when building Sui apps.
Community Showcase
The event was enriched by the participation of various community members who showcased their contributions to the Sui ecosystem. Shinami CEO, Nikhil Chari, demonstrated a gas station service that facilitates sponsored transactions, providing a frictionless onboarding experience for users and new revenue models for builders. Irvin C of OpenDive Technologies unveiled Sui Kit, an SDK that simplifies the creation of native mobile iOS and MacOS Sui apps using Swift, promising further development for Android and Unity SDKs in the future. Additionally, AWS presented its support for Sui, offering infrastructure services for Sui Validators and nodes, along with technical and business assistance to Web3 builders.
Wrapping up

The Paris Sui Builder House event was a huge success! People from different backgrounds came together to explore the amazing possibilities of the Sui network. This network is like a pathway to the future of blockchain and decentralized systems.
As the Sui network keeps growing and improving, it has the potential to change how decentralized technologies work. With its ongoing progress, Sui is all set to bring new ideas and innovations to the blockchain world.
Now, get ready for an exciting event in Singapore! From September 15 to 16, 2023, the Sui Foundation is hosting the next Builder House event. You can join in to learn, see demos, and take part in interactive activities. It's a fantastic chance to connect with the founders of Sui and other developers. Don't miss out on these great opportunities! Let's register now!