Top 10 NFT Projects On Sui Blockchain
By looking at some of the top NFT projects on Sui blockchain, we can get a better understanding of their features and value propositions so we can make informed decisions about our own strategy when investing in them.
Introduction
Are you looking to get involved in the world of non-fungible tokens (NFTs)? On Sui Blockchain especially, some revolutionary projects have been popping up that promise groundbreaking solutions for artists, creators, and decentralization in general. In this blog post, we will be taking a look at 10 of these emerging NFT projects on Sui Blockchain that can make an impact down the road. So if you're curious about what's shaking up the space and how you could benefit from it all - read on!
4 Tips To Find Potential NFT Project
Keep working on your previous favorite projects
You can follow your favorite project to get updates on future editions. This advice will assist individuals who do not wish to monitor or update a large amount of information in the NFT domain. So, whenever you are interested in a project, find out who the excellent Alphas are for that project and make sure you are one of the first members to know the information. information about the new collection.
Follow in the hunter's professional footsteps
To track activity from wallets, you can utilize dedicated apps such as Flip or Context. Users can use these applications to find and track professional NFT investors. You can also follow Discord or Twitter to quickly collect information leaked by experts.
Catching the trends
You should pay special attention to NFT projects whenever they are released if they have the potential to start trends due to their originality or the compelling narratives behind them. Because each project is special, it will draw a lot of interest, which will cause the price of NFT collections to soar soon. All you have to do is join the free-to-mint and get with the program. The subject of articles and discussion on forums will be an NFT project that is growing in popularity.
Updating information constantly
The quickest approach for you to stay current with the newest NFT initiatives will be through constant updates. You shouldn't lose contact with the information source for too long because the NFT ecosystem is always being updated and modified. Reading, updating, and researching fresh sources of knowledge is always required, regardless of your level of experience or familiarity with the cryptocurrency market. It will also serve as a foundation for you to recognize the ideal opportunities to join any NFT project.
10 NFT Projects On Sui Blockchain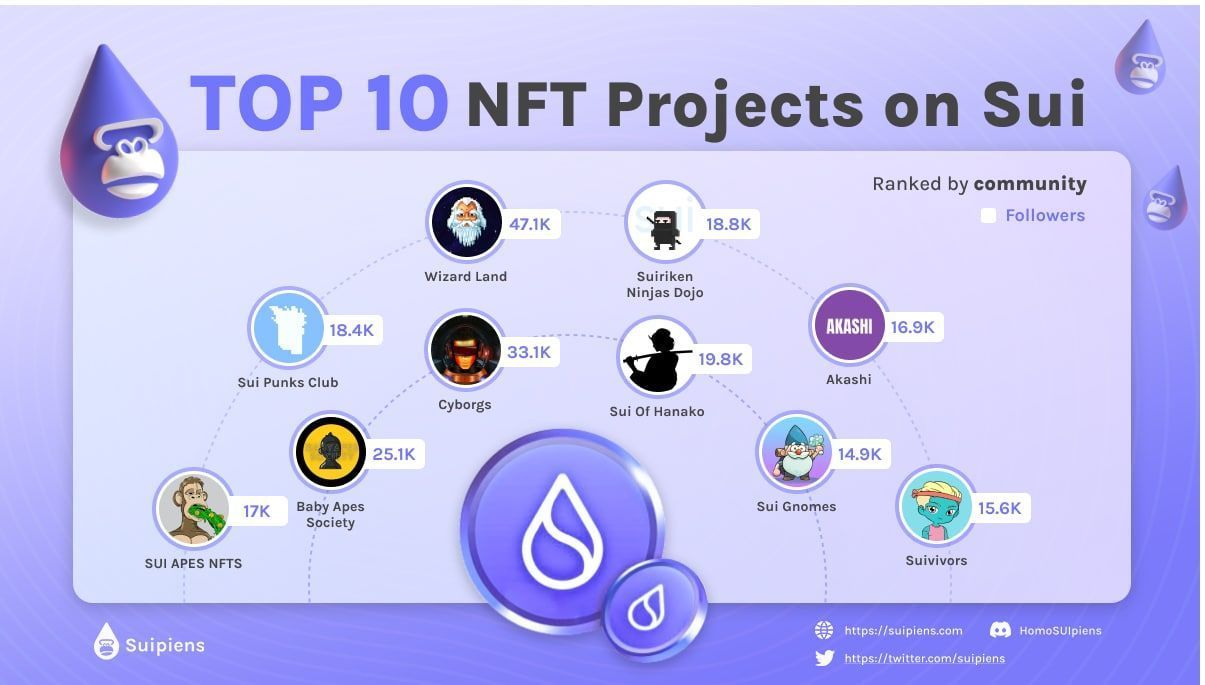 Here are 10 NFT projects that are in the Sui ecosystem:
Wizard Land
Launched on November 4, 2022, Wizard Land offered 2,222 NFTs on Sui Network at opening. A sacred ritual utilizing the ruins of the Wizarding Lands served as the inspiration for the NFT Wizard Land Sui collection. Wizard Land currently has 52.8k followers on Twitter, making it become the most followers NFT project on Sui Blockchain. This Discord channel has just over 53,5k members.
Baby Apes Society
Baby Apes Society is the second-largest community on our list, with 42.7k Twitter followers and 29.4k Discord members. On the SUI blockchain, Babyapessociety is a rare and limited collection of 2500 PFPs. You may fully unlock real-world gadgets with your NFT and gain access to the one-of-a-kind babyapessociety Nation community by becoming a babyapessociety.
Cyborgs
Cyborgs has 20.8k Discord members and 33.2k Twitter followers. As of right now, Cyborgs is still being built, and not a lot of information has leaked.
Hanako
The NFT Hanako collection, which is influenced by Japanese culture, debuts as works of art on SUI Blockchain. Beyond PFP, this collection has many more uses. Sui Of Hanako now has 10.1k Discord members and 21.9k Twitter followers.
Punks Club
Punks Club has 4.2k members on Discord and 19.9k followers on Twitter. On the Sui Ecosystem, there are 5000 different Punks Digital collectibles in this collection. A group of artists working on the project entirely redrew the punks and added their own special touches. All NFT holders will receive daily advice, long-term investment ideas, and daily speculation, according to Punk Club.
Suiriken ninjas dojo
Currently, Suiriken Ninja Dojo has 2.2k Discord players and 19.2k Twitter followers.
SUI APES NFTS
SUI APES NFTS now has 34.7k Discord players and 51k Twitter followers. As soon as Sui is up on the Mainnet, all holders of SUI APES NFTS will be able to claim duplicate NFTs there. Additionally, all Sui NFT collection owners will be able to access Puke 2 and begin playing the game Earn NFT on Sui. NFT's originality was a heated topic at the time of its introduction.
Akashi
Currently, Akashi has 586 Discord players and 16.4K Twitter followers. Akashi is a chapter-based collection with a six-person leadership team that aims to introduce its customers to Web 3. The project will be finished in several stages and enthrall the neighborhood with unforgettable stories!
Suivivors
Suivivors has 5.5k Discord followers and 17.8k Twitter followers.
Sui Gnomes
17.2K people are following Sui Gnomes on Twitter right now. Dwarves are naturally curious beings who frequently fail to observe their surroundings because they are so eager to learn. The NFT Suo Gnomes line is playful and vibrant and was inspired by gnomes.
If you want to see more NFT on Sui Blockchain projects, read on: Top 10 NFT Projects On Sui Blockchain (Part 2)
Final Thought
Although the world of NFTs is still in its early days, projects built on Sui are leading the way in terms of innovation and adoption. With a wide range of applications spanning from digital art to gaming, it's exciting to see what new use cases will be developed on Sui in the coming months. We'll be keeping an eye on these 10 projects as they continue to push the boundaries of what's possible with blockchain technology.
Visit our top 10 largest Sui NFT projects if you want to keep up with the newest and biggest NFT collections currently.
Be sure to check out Suipiens website and social media channels to stay up-to-date on all things about Sui Blockchain!
Official links about Suipiens: Website | Twitter | Discord