MyNFT - New Noticeable NFT Marketplace
Mynft is a team focused on NFT product development, which has been invested from the seed round by major funds like HashKey, Dapperlabs, SevenX, EVG, and Y2Z.
Currently, the project has two main products:  Mynft.io and Suia.io. So let's find out in detail what these two main products are.
📚 1. SUIA
1.1 Introduction
Suia.io is the first POAP application of Suiverse. Suia comes from "Sui Attendance" in the Social segment. The project wants to provide Web3 brands and users with a unique sense of interactivity, ownership, and new ways to play.
1.2. Why Suia?
Permissionless: Everyone can create events permissionless.
Ownership: Thanks to Move's resource-oriented programming model, users truly own their Suia assets.
Composability: Sui's unique architecture allows different Suia to be combined to create more ways to play.
High Performance: Sui's high performance and low latency allow for large-scale user participation.
1.3. Activity
Total Users: 174,779
Brands: 36
Total Events: 56,910
Total Transactions: 1,005,615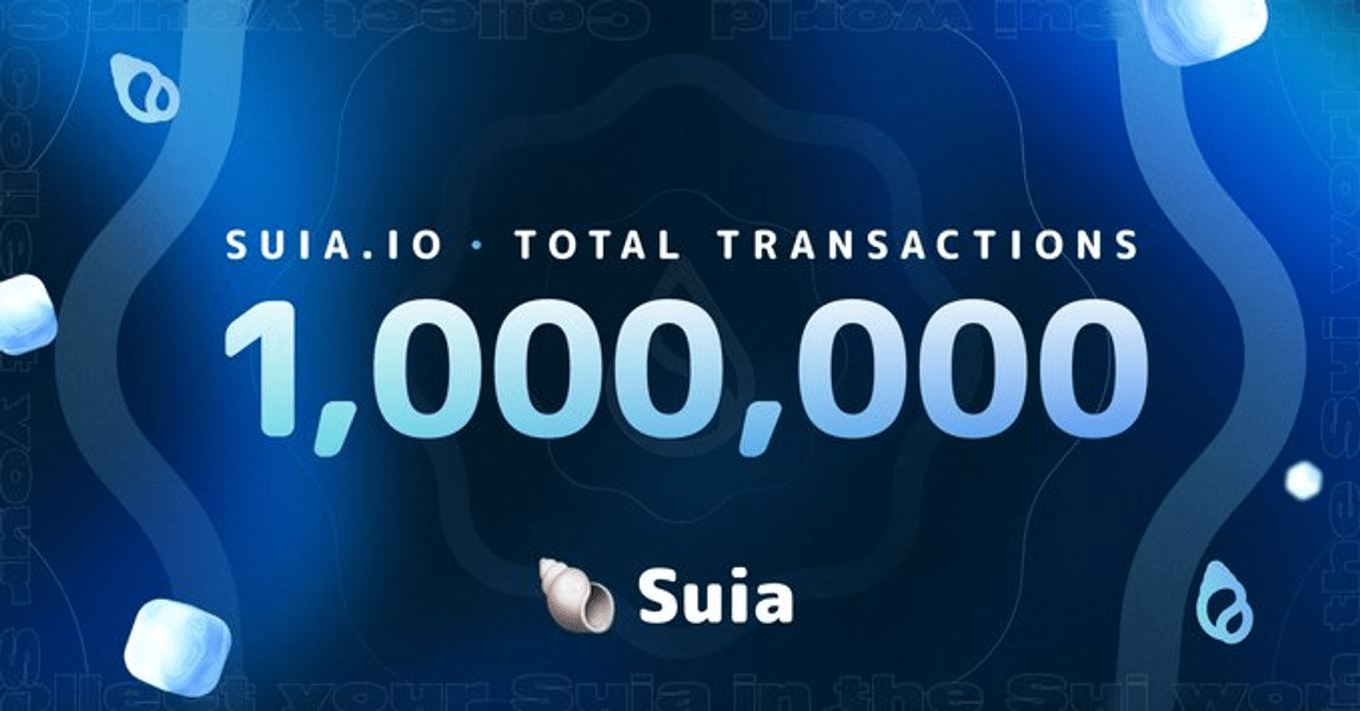 1.4. Partners
Currently, the project is implementing many campaigns to attract big partners such as Suiet, Ethos, Movex, BitKeep, Clutchy, etc.
FIFA World Cup Qatar 2022 Predictor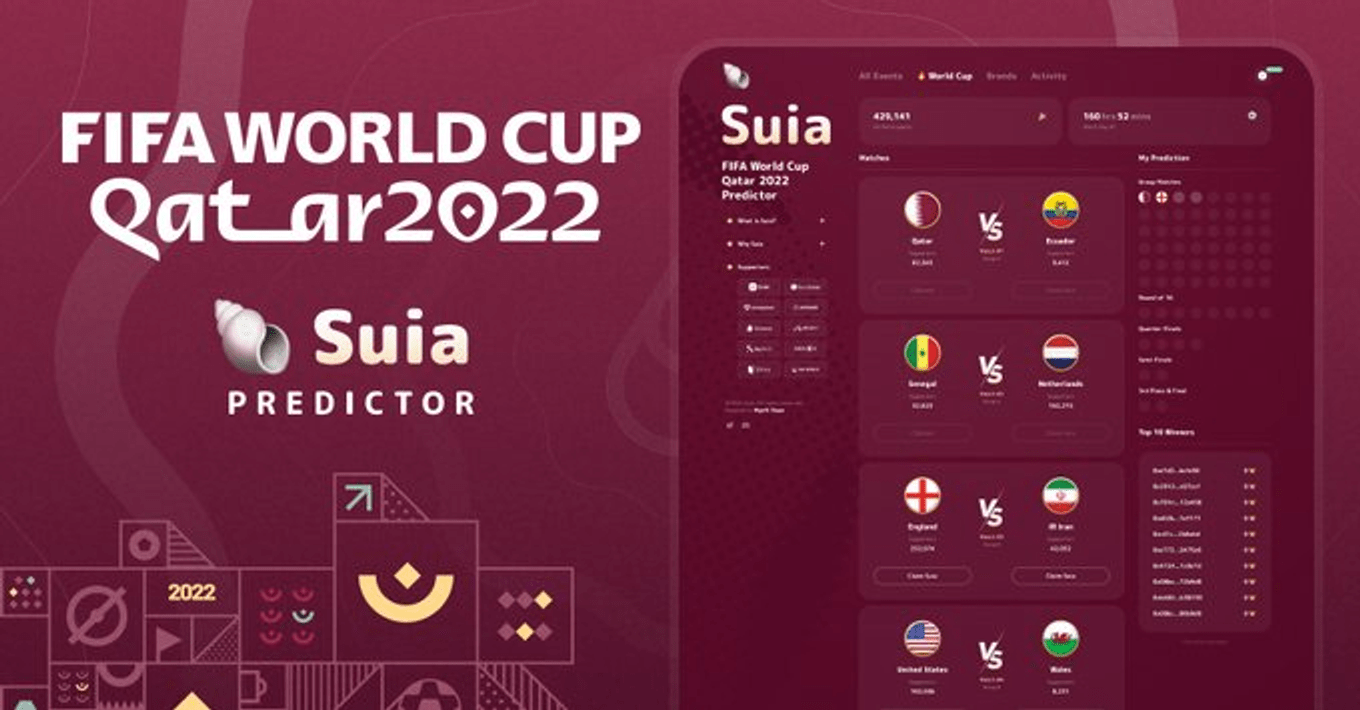 1.5. Summary
Suia wants to provide Web3 brands and users with a unique sense of engagement, ownership, and new ways to play. Suia has many uses such as event tickets, contribution medals, arts, gamification, etc. Currently, the project is running in the Sui Devnet network.
2.1. Introduction
Mynft.io is the first Vote to Earn platform in Web3. The aim of the project is to give creators and followers a whole new way to grow and raise capital. Currently the project is already integrated with Flow and Ethereum, and more will be integrated in the future.
The most prominent feature of Mynft is the voting mechanism. This mechanism creates a new route for creators to gain exposure and rewards. Followers participating in staking $MY can vote on how rewards are distributed among creators. In return, they receive a $MY incentive for collecting NFTs and voting for creators.
$MY has many use cases. For example, holders stake $MY to determine rewards allocation and participate in platform governance. $MY is also needed in Voting fees, earning transaction fees, NFT minting, and curating, among others.
Creator: Creators can mint NFTs on Mynft, and share in MY rewards. NFTs are minted on the Flow blockchain, and the metadata will be stored in the Arweave.
Voter: Users can vote for their beloved creators and earn from voting.
Collector: Users can purchase their favorite NFTs on Mynft with $FLOW and share in MY rewards
2.2. Voting
MY release via voting:
A total of 50,000,000 (50% of the total issue) MY will be rewarded to creators, voters, and collectors via the voting mechanism.
500,000 MY (0.5% of the total supply) will be released every epoch. In total, there are 100 epochs.
The voting mechanism
There are three roles:
Creators create NFTs
voters vote for their favorite creators
collectors buy NFTs
The more votes a creator receives during each epoch, the higher rewards they and their supporters will share. Below is a detailed explanation of the voting mechanism:
Voting procedure
Mynft announces a voting epoch begins:
Creators create NFTs at the cost of 1 FLOW, and 100% of the minting fees will go to the Community Vault.
Voters vote with MY for creators. The voted MY will be locked during the voting epoch and unlocked along with rewards at the end of the epoch.
Settlement procedure
Creators and supporters will receive MY pro rata. For example:
Total votes for all creators during an epoch are 100 MY, and total rewards are 500,000 MY.
Creator A gets 20 votes
Creator A, A's voters, and collectors of A's NFTs will share: (20/100) * 500,000 = 100,000 MY
Distribution among participants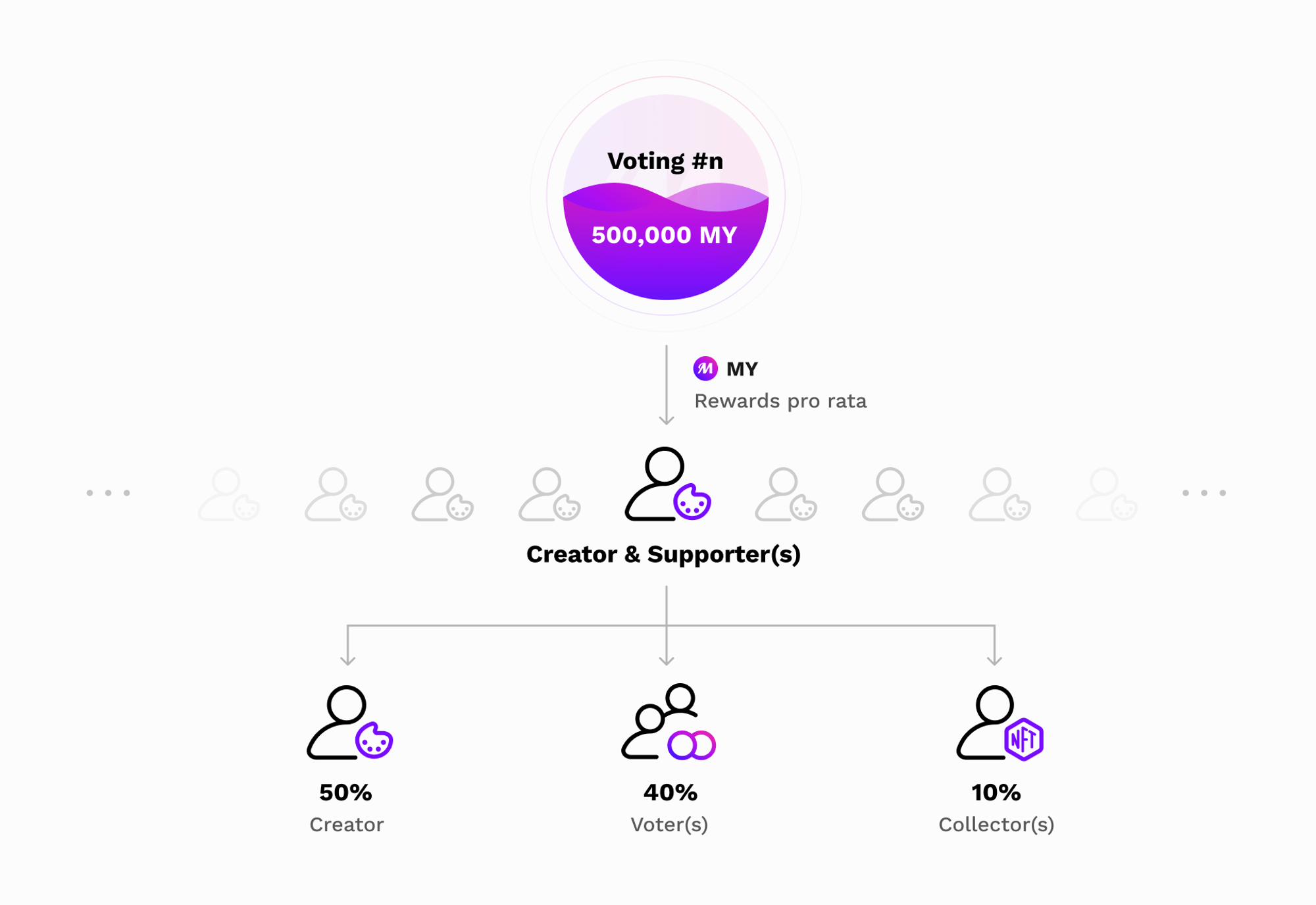 50% goes to creator A: 100,000 * 0.5 = 50,000 MY
40% will be shared by voters. If a voter has put in 1 MY, the voter gets: 100,000 * 0.4 *(1/20) = 2,000 MY
10% will be shared by collectors proportional to their NFT holdings. If there are 2 collectors of creator A's 2 NFTs, each will get 100,000 * 0.1 * (1/2) = 5000 MY
After settlement, creators, voters, and collectors can log in to Mynft.io to claim their rewards.
2.3. Key Metrics MY
MY is the utility token of Mynft.
MY is minted on the Flow Blockchain
Total Supply: 100,000,000.
MY contract URL: https://flowscan.org/contract/A.348fe2042c8a70d8.MyToken
2.4. Token Allocation
14% for investors:
Seed round: 3,22%
Private Round: 10.78%
20% for the team:
Core team: 16.2%
Future contributors: 3.8%
66% for the community
Airdrop: 4%
Staking rewards: 12%
Treasury: 50%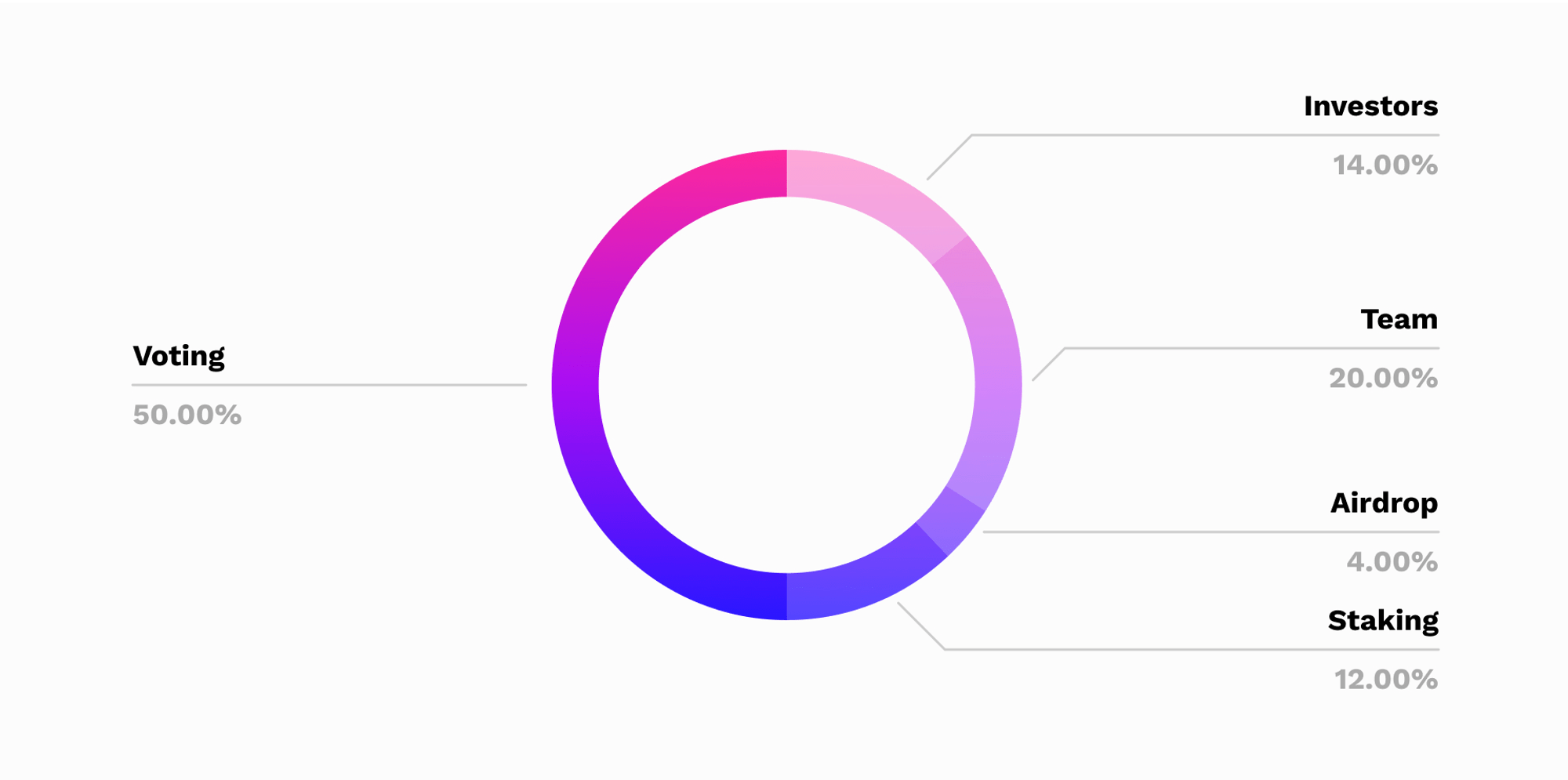 2.5. Token Release Schedule
Investors:
Seed round: TGE unlocking 0.805%, 0.805% unlocked 6 months later and 1.61% unlocked 12 months later.
Private round: TGE unlocking 2.695%, 2.695% unlocked 6 months later and 5.39% unlocked 12 months later.
Team:
Core team: TGE unlocking 0.54%, the rest vested in batches over 30 months;
Future contributors: TGE unlocking 0.126%, the rest vested in batches over 30 months.
Community
Airdrop: TGE unlocking 4%, to reward early users.
Staking rewards: TGE unlocking 1%, the rest vested in batches over 12 months as rewards for staking FLOW token.
Treasury: TGE unlocking 1%, the rest vested in batches over 50 months for creators' leaderboard rewards.
2.6. Token Use Cases
We will constantly inject MY into the network via the creators' leaderboard. The network has three participants: creators, consumers, and token holders.
Creators: create NFTs and share in MY rewards.
Voters: stake MY to vote for creators and share in MY rewards.
Collectors: purchase NFTs and share in MY rewards.
Treasury: governance with MY.
All the minting and transaction fees, in Flow token, will be donated to the Treasury and managed by $MY holders.
2.7. Airdrop
A total of 4,000,000 MY(4%) will be airdropped to early users as per the following rules.
Duration for early supporters: 01/03/2022 → 01/06/2022.
After the airdrop ends, the unclaimed $MY will be used to reward future contributors.
500,000 equally distributed to the 50 early creators, with 10,000 MY for each.
2,000,000 equally distributed to the 2170 users who have purchased at our platform, with 921.66 MY for each.
1,500,000 to the 2170 users who have purchased at our platform, proportional to their trading volume.
2.8. Partners & Backers
Partners
The partnership with Mynft: Flow Blockchain, Flowverse, Increment Labs, Blocto, Outblock, Flowscan, Flowns, WeirdoGhostGang, Matrix World, Cyberpunk Labs, Octopus Network, Celer, and many other projects.
Backers
Mynft has announced a successful seed round with the participation of HashKey, Dapperlabs, SevenX, EVG, and Y2Z.
2.9. Roadmap and Update
Done
Infrastructure and cooperation network
Attract premier issuers
Upcoming plans
Leaderboard & voting system, to distribute rewards to creators, collectors and token holders.
Support minting of various NFT formats: music, photography, video, etc.
Upgrade the Creator's Center, to add comments and community management modules.
Explore composability and utility with other Flow-based projects, including Flowns, in Metaverse and Defi, etc.
Launch Mydao, the decentralized DAO with governance by the Vault.
2.10. Summary
In general, this is a relatively new and fledgling NFT marketplace.  It is understandable that when the NFT market is really growing, ecosystems are competing to open their own markets to make asset trading easier and more convenient.
Like in DEFI, when the DEX is strong, it will be Lending and then Derivative. So, when the NFT market attracts liquidity and the NFT marketplace grows large enough, new projects like Lending NFT and never-before-seen applications will be applied to the NFT.
This is a project that attracts many investors. Currently created over 30,000 NFTs on Flow Mainnet and integrated Blocto wallet for users to manage assets.
Above is the latest information about Mynft that I have updated, the project is still in the process of completing the puzzle pieces, hope the above information will help you have a new look at this field.
🌐 Official links
📇 Contacts
Company name: MYNFT.Ltd
Email: [email protected]
Besides MyNFT, there are many potential NFT marketplaces on Sui that you should not miss. The article about top NFT marketplaces on Sui Blockchain will give you all the information you need.
Be sure to check out Suipiens website and social media channels to stay up-to-date on all things about Sui Blockchain!