Frenemies: Play and Test-Taking Functionality On Sui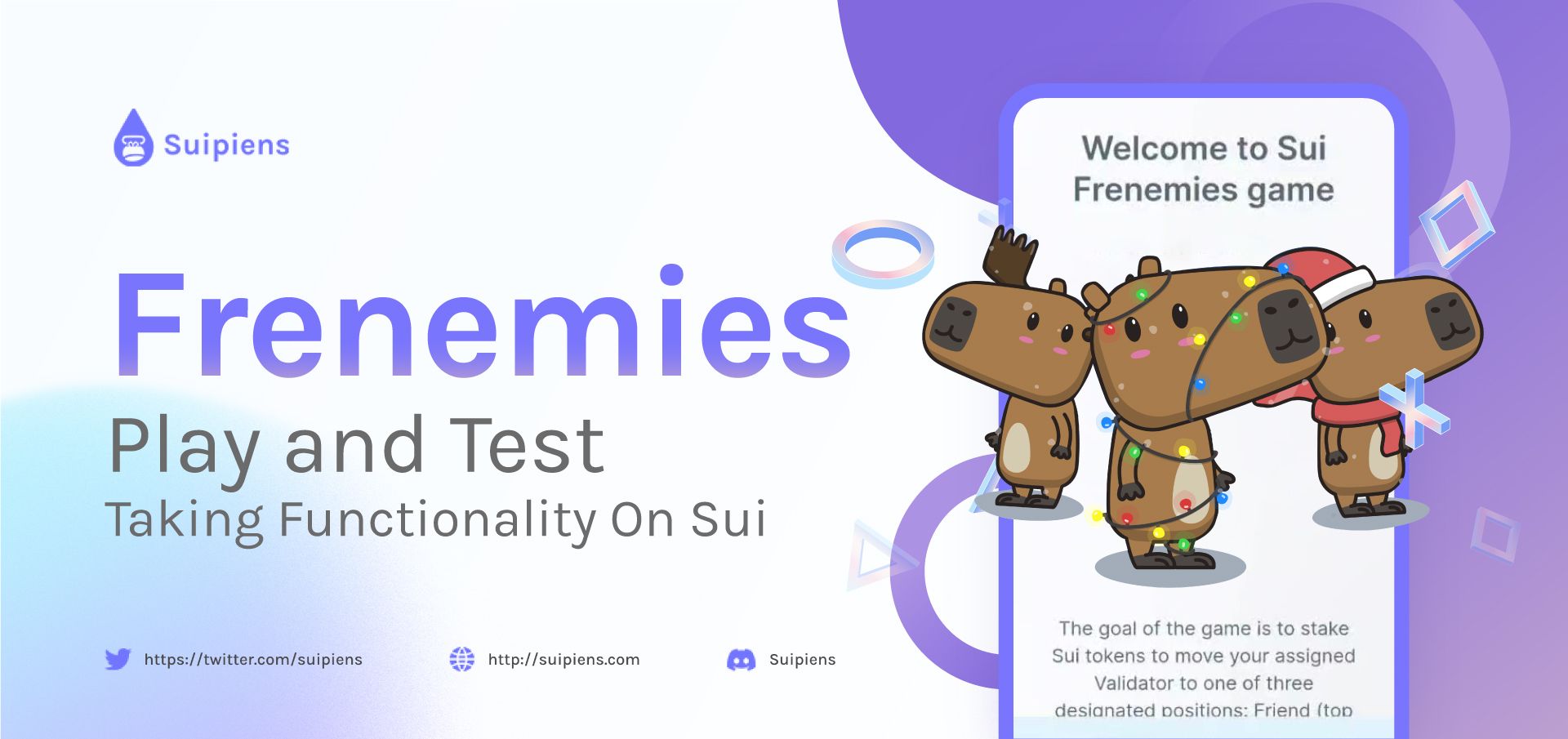 Our blog will provide you with an overview of Frenemies a game that lets players test staking functionality on Sui Testnet Wave 2.
What Is Frenemies Game?
Sui introduced two stress-testing games for Sui Testnet 2. Tokenomics by Sui, designed and put into practice. One of the two games, Freemies, is available to everyone and is made to cause erratic fluctuations in the validator's stake allocation. Players compete in Freemies to see who can reach the top of the scoreboard by staking tokens to support their chosen validator. On the Sui Outreach Program, there are up to 2,000 slots available (subject to program terms and eligibility).
The game offers useful insights into the betting functionality and is made to be entertaining and competitive. Players can learn about staking principles and contribute to strengthening Sui's safety and stability by joining Frenemies. Simply connect your wallet to begin, then stake your tokens using the role and validator that you have been given. Players will receive one of the 41 validators and one of three roles including Friend, Neutral, or Enemy at random for each round.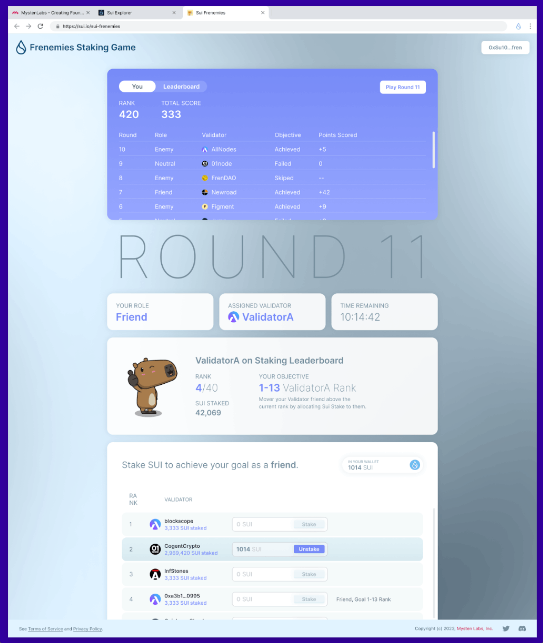 How To Play Frenemies Game?
Freemies is really easy to play. If a player accomplishes their allocated task, which involves staking on Testnet Wave 2 for an epoch to assist raise or lower their chosen validator leaderboard place, they are awarded 10 points. For each point on their specific validator move leaderboard, players get an extra point.
For example:
If you are assigned the Friend role to Validator A. After the time is through, Validator A jumps from 20th to 1st, you will earn 29 points (10 points on the completion target and 19 points for moving Validator A from 20th place to 1st place).
Each epoch, players earn points, and at the conclusion of Testnet Wave 2, the top 2,000 players will each gain a position on the whitelist.
Frenemies will only exist for the duration of Sui Testnet Wave 2 in order to help test Sui's token and authentication mechanisms. Lessons learned from Frenemies will be applied by Mysten Labs after Batch 2 to further enhance Sui's security and stability as it gets ready for the Mainnet. The greatest opportunity to enjoy Frenemies is right now before Testnet 2 expires, so what are you waiting for? Sign up right away!
Frenemies Game Terms and Conditions
Here are some conditions for you to participate in Freemies Game:
Residents of nations where such games are legal are provided the opportunity to become foes.
You need to be of legal age to do anything in the country where you live.
Participation is prohibited for anyone who was engaged in the game's development or publication.
Any jurisdiction where it is unlawful to play the game is void.
Here are the conditions related to receiving the bonus:
Compliance requirements with applicable laws and sanctions must be met in order to be eligible for rewards.
Describe yourself and your company and provide some identifying and pertinent information.
The game is playable by US citizens and residents, however, they cannot be invited to the SUI Token Community Access Program.
Any person that Mysten Labs determines to be in breach of the general terms including ethical violations, harassment, etc, - may be disqualified at its sole discretion.
All taxes related to your receipt of any awards are your responsibility.
You agree to give us any further details we may need and to fill out any tax or other paperwork that may be necessary for connection with your receipt of such prizes.
Some Notes When Playing Frenemies
How is the score calculated?
For example, if your role is "Friend," you will receive 10 points if your validator places in the top third. In addition, you will receive 1 extra point for each rank your validator has attained throughout the round (i.e., if your validator moves from 10th to 1st, you will get 9 more points)
Role distribution is sequential rather than random
You are assigned a random validator in each round. The roles of friend, neutral, and enemy are alternately assigned. So that there are roughly equal numbers of Friends, Neutrals, and Enemies in each round, role assignments are made sequentially rather than at random.
You must sign a free transaction to participate
You must click "Play Round X" in the top right corner of frenemies.sui.io to join a round. You will be required to sign a free transaction when you click "Play Round X" in order to participate in the round.
Players can bet on any validator
Regardless of your role or allocated validator, players may stake any validator. For instance, the ideal approach is frequently to stake a different validator than the one you are assigned in order to move their rank on the leaderboard if you are assigned Neutral or Enemy.
Wrapping Up
Sui Testnet Wave 2 will take place in a few weeks from January 26, 2023, so if you have not participated in this test-staking game, do not hesitate to register for Frenemies now. Seize the chance to be among the first to use and acquire early Sui tokens.
Be sure to check out Suipiens website and social media channels to stay up-to-date with Sui news and updates!
About Suipiens: Website | Twitter | Discord