CapyHoliday event will take place on Sui Devnet!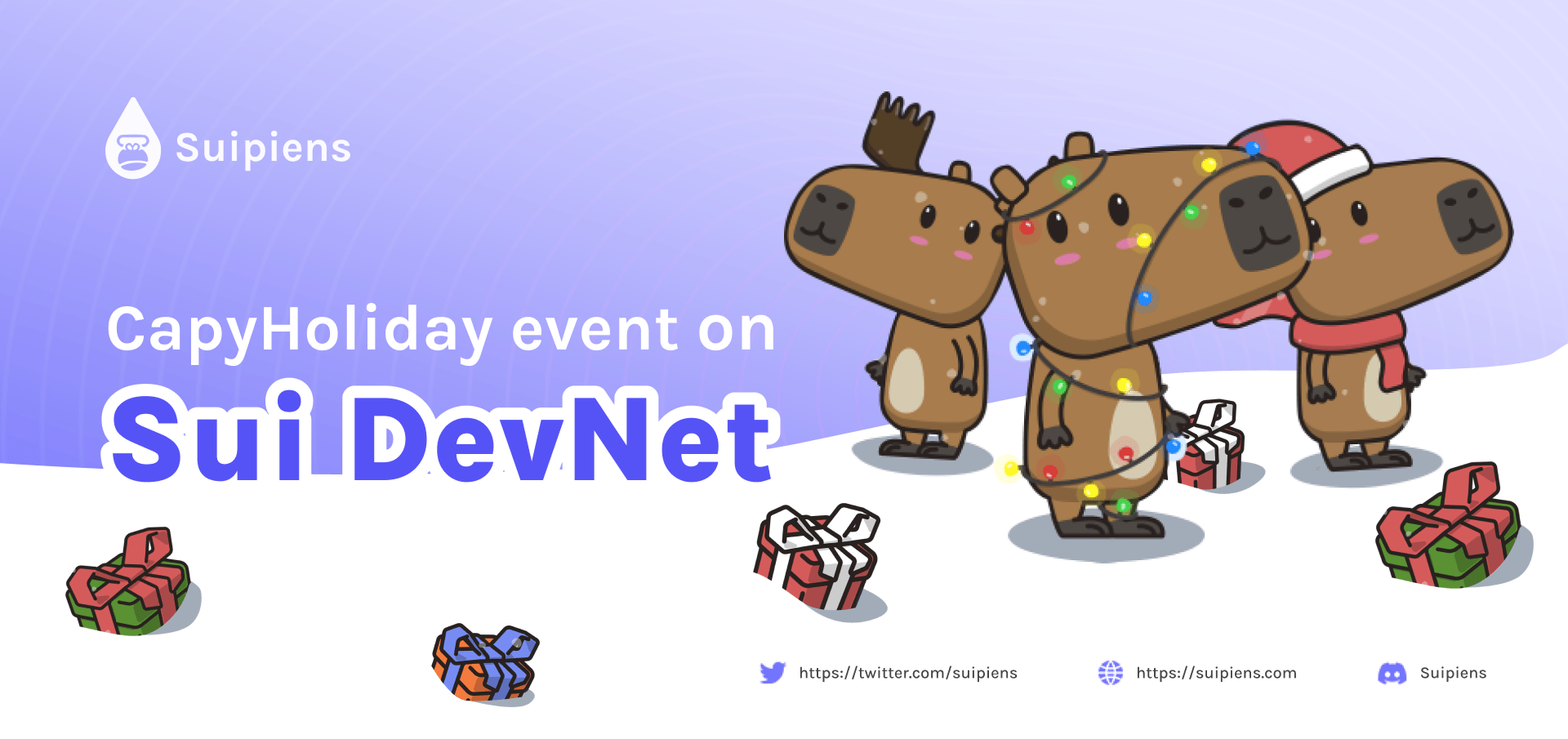 Today, a special event for Sui Capys on Sui Devnet dubbed #CapyHolidays has been launched by the Sui Foundation. This page will provide you with all of the information you require regarding this intriguing contest.
Introduction
Mysten Labs and the Sui Foundation announced the beginning of an event for Sui Capys on Devnet this Christmas in a press release on the morning of December 20, 2022. As a result, the Sui community can get limited-edition Gift Boxes over the next two weeks. Each present box will include distinctive Christmas-themed characteristics, extras, and backgrounds. Sui Capys presents mechanics including limited transfers, unlocked game elements, dynamic fields, and event-specific skills through this release.
To enter the #CapyHolidays contest, be sure to take a screenshot of your favorite Capy and tweet it along with a humorous tale using the hashtag #CapyHolidays. Limited edition Capy products, SUI tokens, and the opportunity to earn tokens as part of the SUI Token Community Access Program are all available as contest prizes!
How To Participate?
The CapyHoliday contest is a voting contest, thus the more likes you can collect on your post, the more likely you are to win.
Use the hashtag #CapyHolidays to tweet about your favorite Capy and add screenshots, along with the character's name and backstory.
After voting, if you are in the top 20 Capys with the most "Liked" posts during the #CapyHolidays,  you will be eligible to participate in a bracket competition that will begin on January 3.
In the following round (bracket competition), your Capys will continue to be voted on for two days, and if you are fortunate enough to place among the top five most popular Capys, Sui Foundation will provide you with special awards.
The reward you will receive includes:
Each of the top 5 winning Capys will earn 1000 SUI tokens as well as unique Capy merch.
The remaining 15 runner-ups will each earn 100 SUI tokens.
The 10 Capy owners, who had the best names and backstories that best displayed Capy's technical capabilities voted by the Capy development team, will also receive exclusive Capy merch and 200 SUI tokens each.
CapyHoliday Contest Terms and Conditions
The Sui Foundation is providing this #CapyHolidays competition to citizens of nations where such competitions are permitted by the law.
Terms and conditions to participate
To be eligible to enter the contest, you must be at least the legal age of majority in the country where you now reside.
The Sui Foundation's employees and directors, advertising and marketing companies, contest judges, legal counsel, and relatives of the people listed above are ineligible to enter. into the competition. Additionally, the competition is void where prohibited by law.
Terms and conditions to receive the reward
The provision of specific identifying and relevant information about you and your business may be required in order to be eligible for incentives. Additionally, eligibility is subject to applicable legislation and penalty compliance requirements.
Only the contest to win limited-edition Capy items is open to US citizens and residents; they are not permitted to participate in the Token Community Access Program SUI or get SUI tokens or invitations.
A one-year lockup term will be applied to any SUI tokens awarded, during which time they cannot be sold or transferred in any other way. Any participant's access to the competition or prize might be blocked at any time by the Sui Foundation.
All taxes related to your receipt of any awards are your responsibility. You agree to give us any further details we may need and to fill out any tax or other paperwork that may be necessary for connection with your receipt of such prizes.
Final Thought
During this holiday season, CapyHoliday will undoubtedly be a contest to look forward to. To determine your eligibility to join, please carefully read the information we provide. If you want to receive up to 1000 SUI tokens as soon as possible, join right away. Don't forget to follow Suipiens to receive the most recent CapyHoliday updates.
Be sure to check out Suipiens website and social media channels to stay up-to-date on all things about Sui Blockchain!