BlueMove - The leading Multi-chain NFT Marketplace on Aptos & Sui Blockchain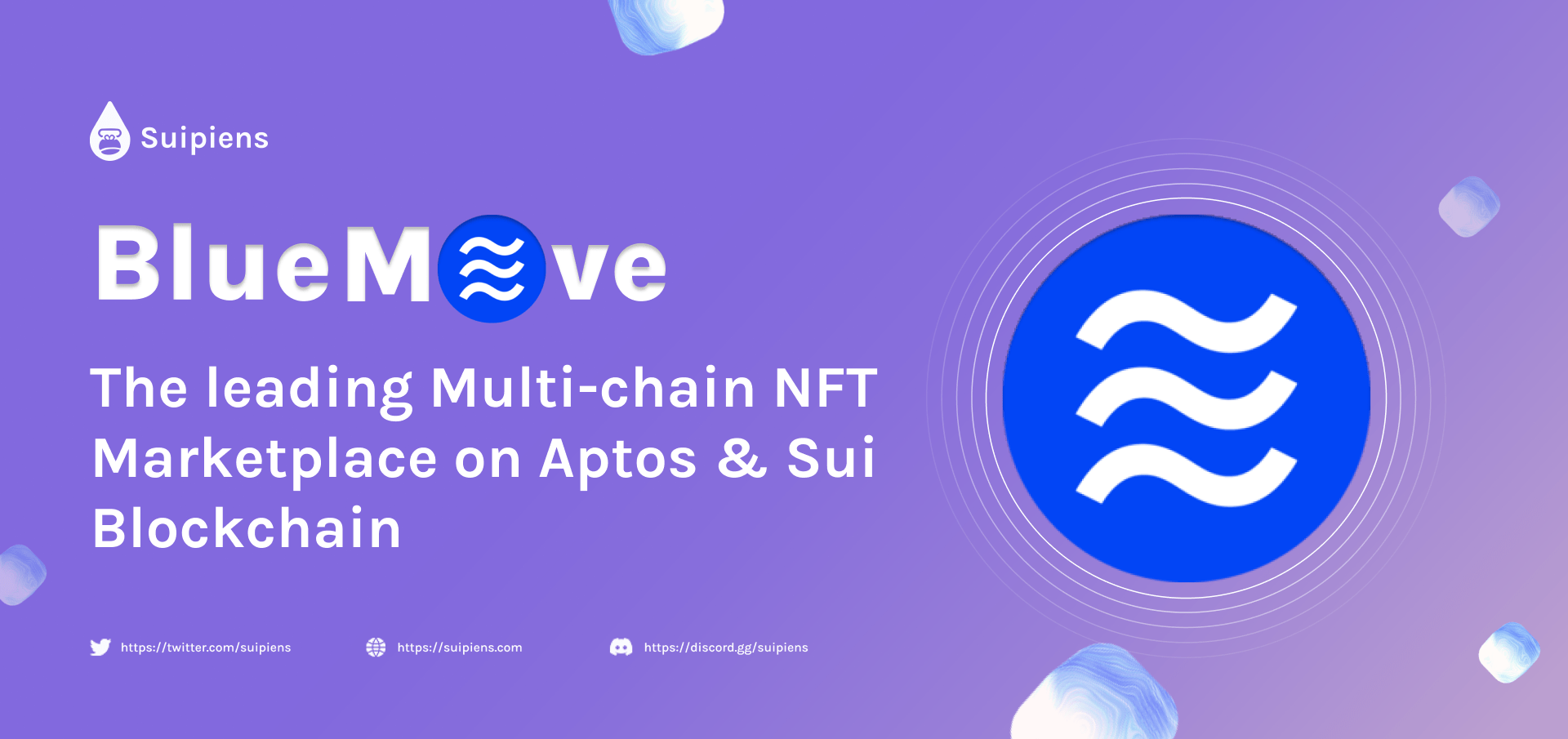 What is BlueMove? What is the potential of BlueMove? In this article, I will provide all the most important information related to this potential BlueMove project.
1. Introduction

BlueMove is one of the NFT Marketplaces built on Sui and Aptos. Despite being a rookie in the field of NFT because the platform launched in August 2022. However, BlueMove also quickly received attention with outstanding advantages compared to the NFT Marketplace platforms in the industry, thanks to the attraction of two large Blockchain systems Aptos and Sui.
Currently, BlueMove is listing NFT collections on the Aptos and Sui chains as well as accepting APT tokens, Sui Token are two cryptocurrencies for NFT trading. It is worth noting that BlueMove allows traders, collectors, and creators to receive a reward with tokens by trading on the platform. In addition, the transaction fee of the platform is average compared to the common ground.
2. Main features
Rewards
At BlueMove, any purchase and sale on the platform also allow users to receive tokens from BlueMove. In addition, the listed reward mechanism allows the seller to receive a daily reward for the items they have listed for sale. However, these NFTs must meet the following criteria:
NFT is listed from one of the listings Leaderboards.
The list has at least one active order and can be executed.
The NFT list exists for at least 24 hours to start accumulating MOVE tokens.
Exploitation from transaction fees
Currently, each NFT transaction is charged 2% of the transaction fee from the property value. Through this mechanism, MOVE token strengthens a few more tricks as the utility token of the platform. According to information from the project, most of the transaction fees will give to Stake $MOVE users.
Instant payment of royalties
The feature that helps the creator will be paid for copyright at the time of sale. Of course, the amount is deducted from the fees before moving to the seller. This advantage is promoted when Aptos and Sui are 2 blockchains with the advantage of fast trading speed.
3. Special features of BlueMove
What makes BlueMove special compared to those other NFT marketplaces: in-App Wallet, NFT Lending, and NFT OrderBook. Currently, almost all NFT Marketplace projects do not support In-App Wallet. BlueMove is in the direction of creating his own wallet.
Another unique feature of BlueMove is its NFT lending capability. While NFT lending is not widely available in the market, it has a lot of potential to be explored. By combining NFT lending with a marketplace, BlueMove could offer users the ability to earn interest on their NFT holdings or borrow against them, providing added flexibility and financial benefits.
Additionally, the idea of an NFT order book is a promising concept for the future. While this is currently just speculation, if BlueMove were to incorporate a contract transaction mechanism based on an order book similar to platforms like DYDX or GMX, it could offer users new ways to trade NFTs and potentially unlock new use cases for NFTs beyond simply collecting them.
4. Tokenomics
MOVE Token Metrics
Total Supply: 300,000,000.
Ticker: MOVE.
Blockchain: Aptos, Sui.
Contract: 0x27fafcc4e39daac97556af8a803dbb52bcb03f0821898dc845ac54225b9793eb::move_coin::MoveCoin
Token type: Utility, Governance.
Token Allocation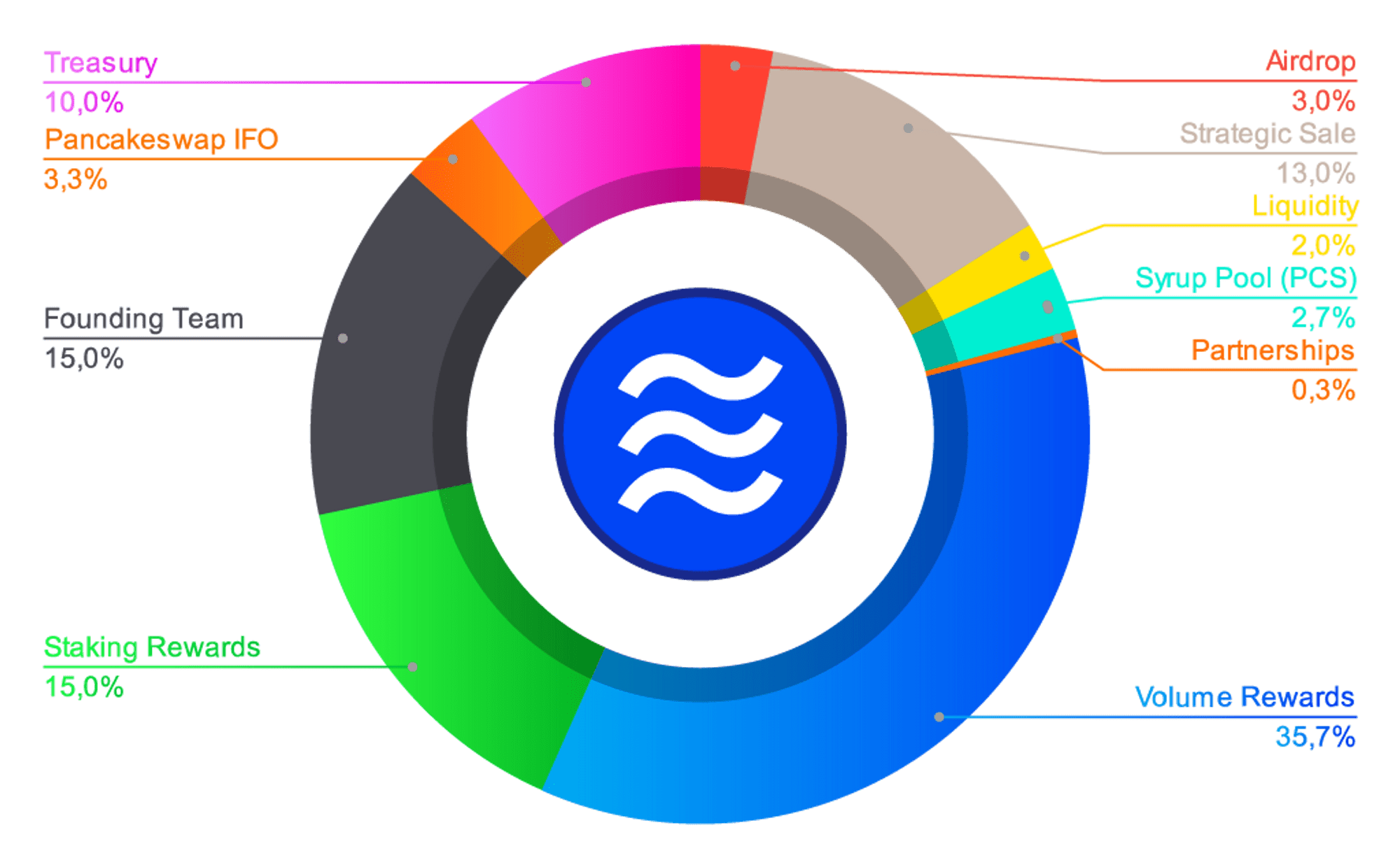 Token Release Schedule
Token Use Cases
Staking Incentives: The main purpose of the MOVE token is to reward users who are staking MOVE. Stakers are rewarded the transaction fees from the NFT marketplace. Users are able to collect network fees in $MOVE or $APT/$SUI, and rewards and paid out daily. Similarly, buyers and sellers are rewarded with $MOVE if their NFT is sold on BlueMove. In addition, staking participants also have the opportunity to receive NFTs from BlueMove partners.
On-chain Governance: Users may stake MOVE to gain voting power and participate in the governance process to change product parameters.
Free-mint/Whitelist Pool: Holders who have staked $MOVE will be able to join the launchpad of Free-mint projects and participate in the Whitelist Pool of other projects launchpad on BlueMove.
Product development: MOVE revenue from transaction fees will be partially used for future product development and ecosystem growth.
Unique membership rights: Users will gain tiered benefits on the platform, enjoy retroactive incentives from BlueMove, and have privileges when joining BlueMove products/ services or participating in events from strategic partners.
5. Team

According to the introduction from the project, the founding board of BlueMove NFT marketplace consists of 4 members. It includes:
NC (Co-founder and Chief Executive).
Dragon Vu (Co-founder and Chief Technology).
Johnny (Co-founder, Chief Product Officer).
Jack Smith (Chief Marketing Officer).
6. Partners & Backers
BlueMove works with many of the key Aptos and Sui partners to develop mutually beneficial partnerships for the community. Besides, there are many partners and investors with big names like Altonomy, Galxe, Cogitent Ventures, PancakeSwap and PolkaBridge.
7. Roadmap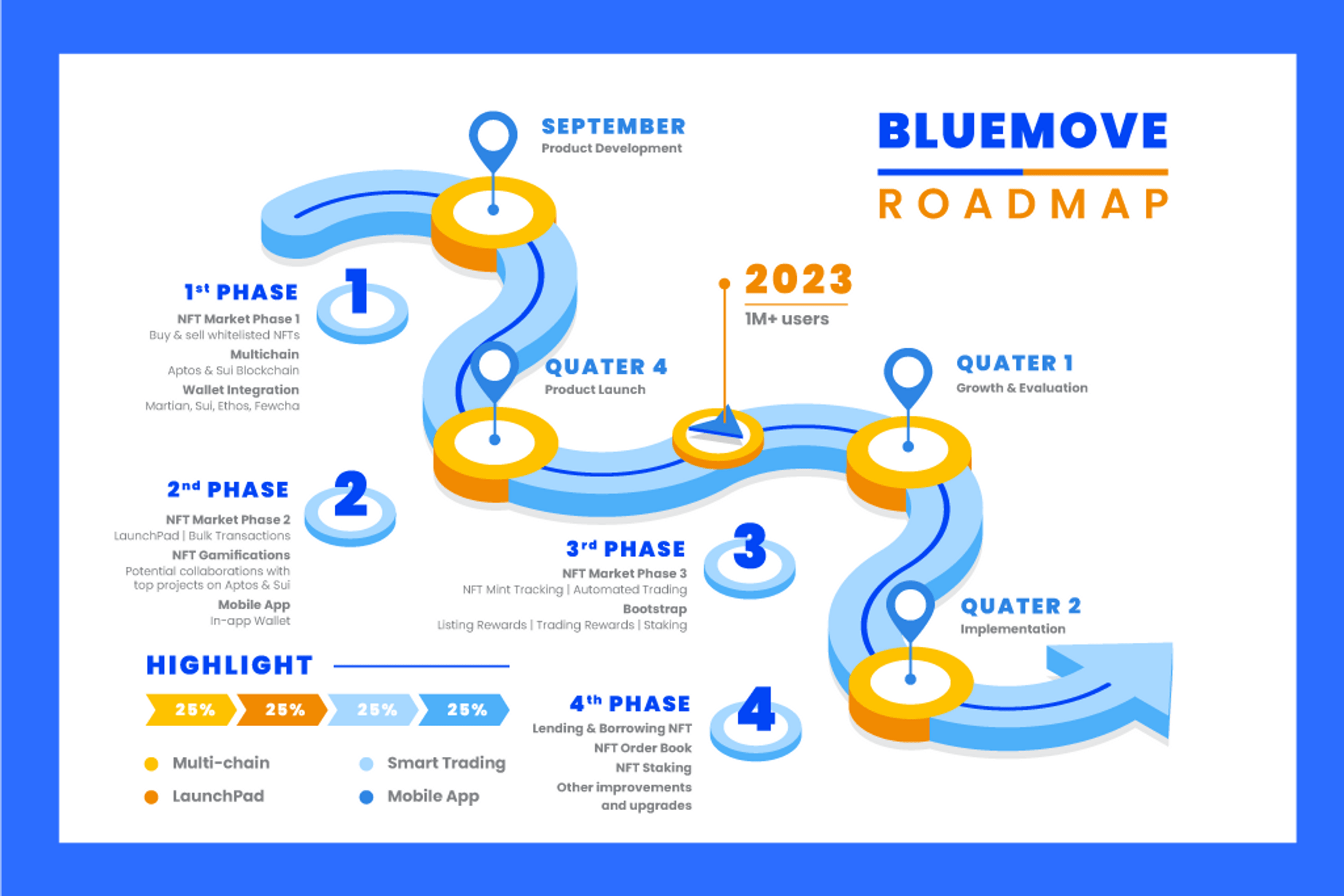 Done
Mobile App
NFT Market Phase 2
Wallet Integration
Sui Wallet
Martian Wallet
Pontem Wallet
Petra Wallet
Fewcha Wallet
NFT Ecosystem
NFT Market Phase 1 (Buy & sell whitelisted NFT collections)
Customizable User Profile
NFT drops
BlueMove Dragon NFT Collection (Sui)
BlueMove Bull NFT Collection (Aptos)
Site Upgrades / Other Products
Filter & Sort
Search Optimization Engine
Ongoing/Recurring
Regular new whitelisted NFT collections
UI/UX, Performance Upgrades & Bug Fixes
Upcoming features in 2023
NFT Market Phase 3
NFT Mint Tracking
Track the latest NFT mints in real time
Join the latest public mints in 1-click
Automatically participate in all new minting events
Join mint events automatically through keyword setting
Automated Trading
Receive quote notifications via third-party IM
Automatic purchase when below a certain price
Track behaviors from specific on-chain address with under customized parameters
Bootstrap
Listing Rewards
Trading Rewards
Staking
NFT Market Phase 4
Lending and Borrowing NFT
NFT Orderbook
NFT Staking
Under Consideration Features
Cross-chain NFT
Interactive NFT
8. Official links
9. Summary
Let's review important information about the BlueMove project:
BlueMove is an NFT trading platform on the Aptos and Sui blockchains. Currently, the project is supporting both web and mobile devices.
Partners and investors in the project include Altonomy, Galxe, Cogitent Ventures, and Polkabridge.
Most recently on February 9, 2023, BlueMove was IPO on Pancakeswap. Details of the program information can view **here.**
BlueMove's NFT Marketplace model has many new and attractive new and attractive features and services, followed by the existing things of the big guys like OpenSEA and developing potential areas such as NFT Lending or NFT OrderBook.
⇒ Currently in theory, BlueMove's operating model can comment is good and has many innovations. However, according to the individual's observations of the project, the project of the project does not have a specific reduction mechanism. Perhaps wait for a while to see if the model of BlueMove is effective.
Above is all information about the project, you can refer and experience before making your investment decision.
Besides BlueMove, you can refer to MyNFT - New Noticeable NFT Marketplace on Sui Blockchain.
Be sure to check out Suipiens website and social media channels to stay up-to-date on all things about Sui Blockchain!