8 Teams Awarded Developer Grants Worth $230K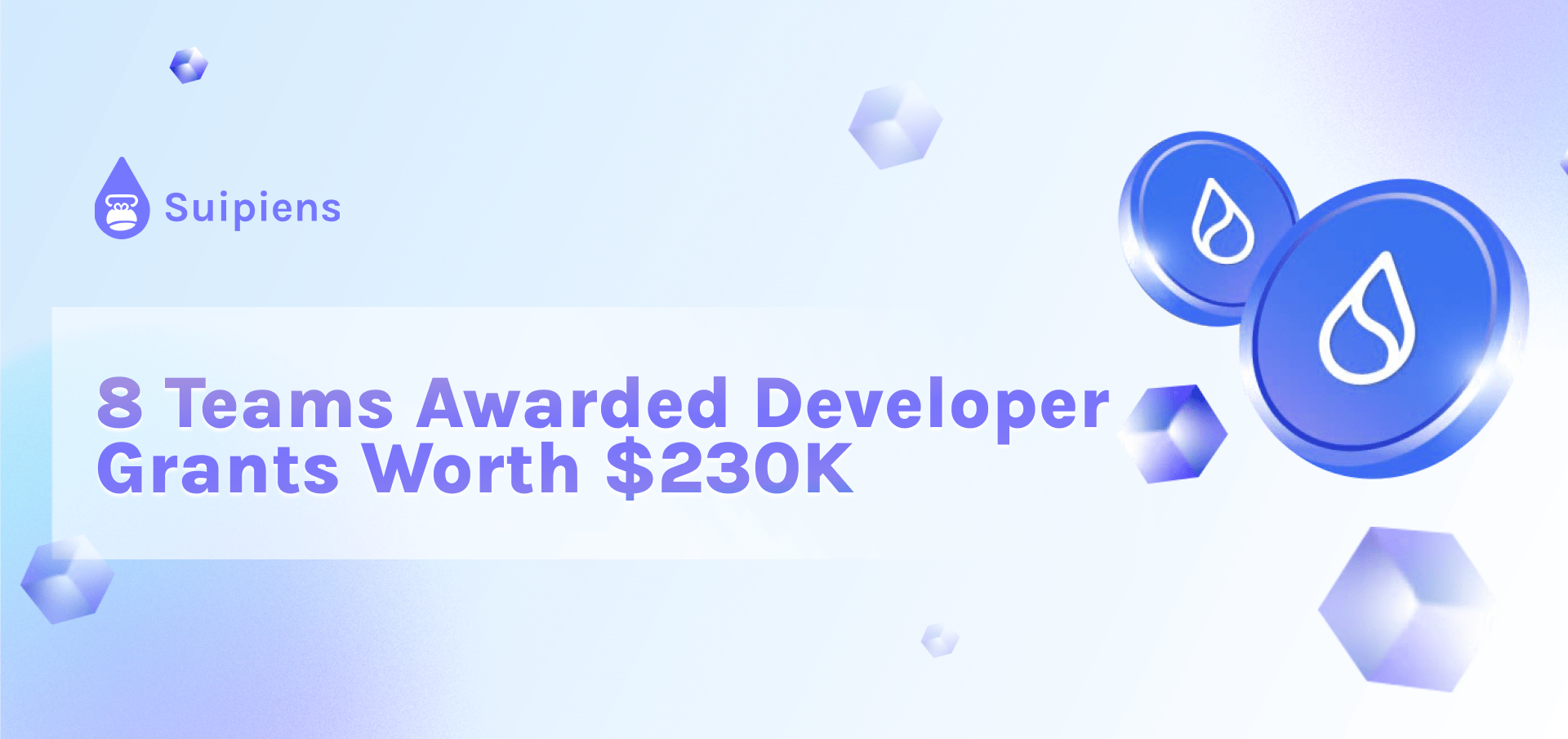 8 developer teams receive $230K in grants from the Sui Foundation for contributing to its ecosystem. Learn more about the second round of grants.
Introduction
The Sui Foundation's Developer Grant program funds developers who are building natively on the Sui network, as part of its mission to steward the growth and adoption of the Sui ecosystem. Sui is excited to announce that eight community projects have been awarded grants, joining our original cohort of Sui Foundation Developer Grant awardees. These projects cover a range of areas, from gaming to finance, productivity to governance, and all have the potential to contribute to the Sui network. In this round of grants, individual awards range from $15K to $50K, with a total of $230K being granted.
Sui Foundation welcomes applications for developer grants on a rolling basis. The current group of grantees were selected from applications submitted before January 19, 2023, and any projects submitted since then are presently under review.
All builders within the Sui community are encouraged to apply for the developer grant program, which aims to support open-source projects with a strong ability to execute and can uniquely contribute to the Sui ecosystem. Update the list of Developer Grant Recipients below.
List of Developer Grant Recipients in the First Round
In this part, we highlight the eight Sui community projects awarded individual grants ranging from $15K to $50K, totaling $230K in awards.
Dev tools
MoveFuzz is a bytecode-level fuzz testing tool for Move smart contracts deployed on Sui. It can be used by developers locally to find bugs or deployed on-chain. The tool differs from formal method tools by having lower false positives and negatives and supporting the detection of multi-transaction attacks.
ChainIDE is a web-based platform that provides one-stop development services for blockchain developers. It offers a development environment for professionals and support for beginners through tutorials, Q&As, and online/offline seminars.
OneKey is an open-source hardware and software wallet from Asia that allows users to invest, trade, track, and manage NFTs and tokens. Developers update the wallets every week, and OneKey will support SUI tokens and dApps.
Finance
Cetus is a DEX and concentrated liquidity protocol focusing on blockchains built with Move. Its mission is to build a powerful and flexible underlying liquidity network to make trading easier for any users and assets.
Gaming
Noot Standard is a collection of open-source, on-chain modules for creating, storing, transferring, modifying, and selling noots, a new form of NFT. It is a framework on which artists and gaming studios can build digital assets on Sui and markets can be built.
Governance
Movernance is a full-featured on-chain governance platform for the Sui ecosystem. It integrates governance forums and on-chain voting functions and proposes an authority governance framework and a governance rights market.
Payments
Momentum Safe is building a multi-signature, non-custodial smart contract wallet built on Move for institutions, enterprises, and individuals. It enables team-owned asset management, accounting services, DAO tooling, and more.
Productivity
Carbon is a fast, decentralized web3 browser that blocks online ads and trackers. It offers 100% privacy while being free and open source. It is currently live on the Google Play Store and will be coming soon to iOS, Mac OS, and PC.
Wrapping up
Developers building natively on Sui are encouraged to apply for the grant program, aiming to support open-source projects that can contribute to the Sui ecosystem. The success of the two rounds of grant awardees demonstrates the potential for innovative and impactful projects on the network. Stay tuned for future announcements on the next round of grant recipients.
If you want to update the list of projects awarded in round 1, read more: The First 12 Projects Funded By Sui Foundation
Be sure to check out Suipiens website and social media channels to stay up-to-date on all things about Sui Blockchain!