Wizard Land: Expanding the Magic Land On Sui Network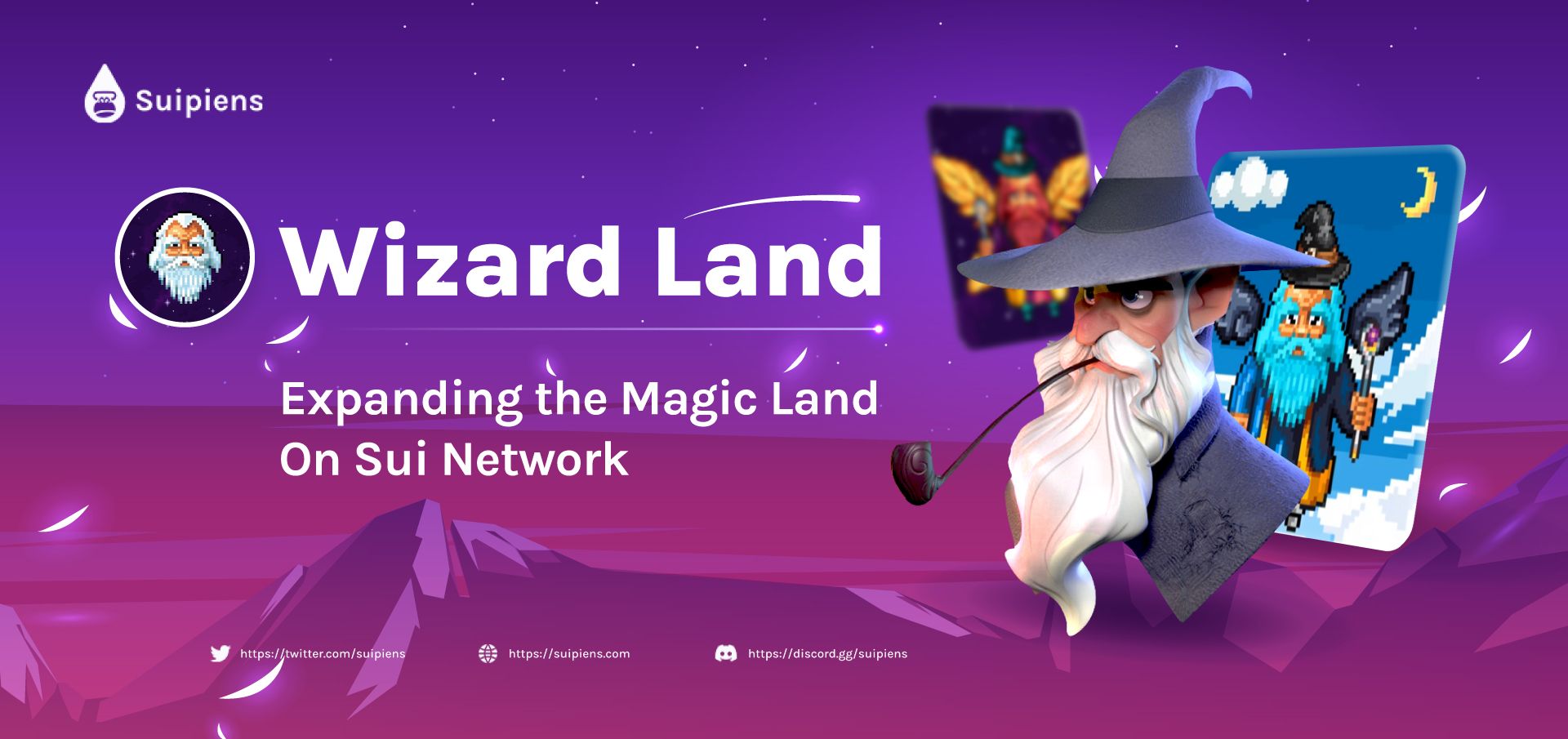 Let's expand the Magic Land on Sui Network with Wizard Land. This blog will offer all things you need about this magic NFT project.
1. Concept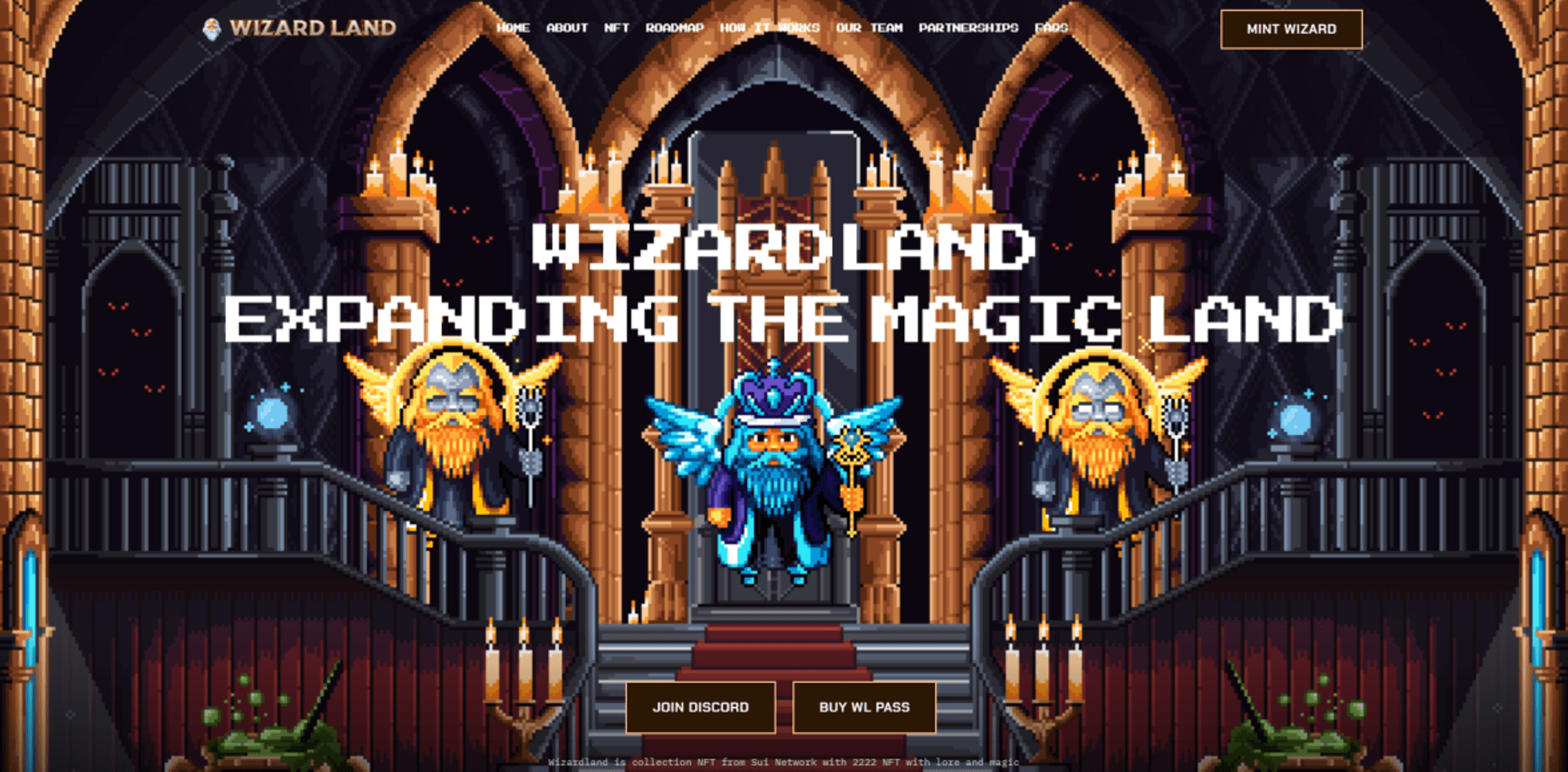 Wizard Land is one of the best Sui NFT projects inspired by one of the *MMORPG games with fantasy the creators of wizard land sparked an idea to make this project. with a total supply of 2222 the ideal amount, and can create a demand effect on our NFT.
*MMORPG also known as a role-playing game is a combination of multiplayer online games in which players will interact with each other in a virtual world. For many players, the integration into life in the game is the deciding factor to the good or bad of that game.
⇒ Wizard Land is attempting to focus on constructing and supplying utilities to holders and the community at large, while also keeping them entertained and on their toes when using items. To begin, Wizard Land will create a staking DApp that will allow holders to stake their wizards (put them to work) and receive tokens as a reward. This coin will serve as the ecosystem's governance token and will be used for a variety of other functions as the ecosystem grows.
2. Special Roles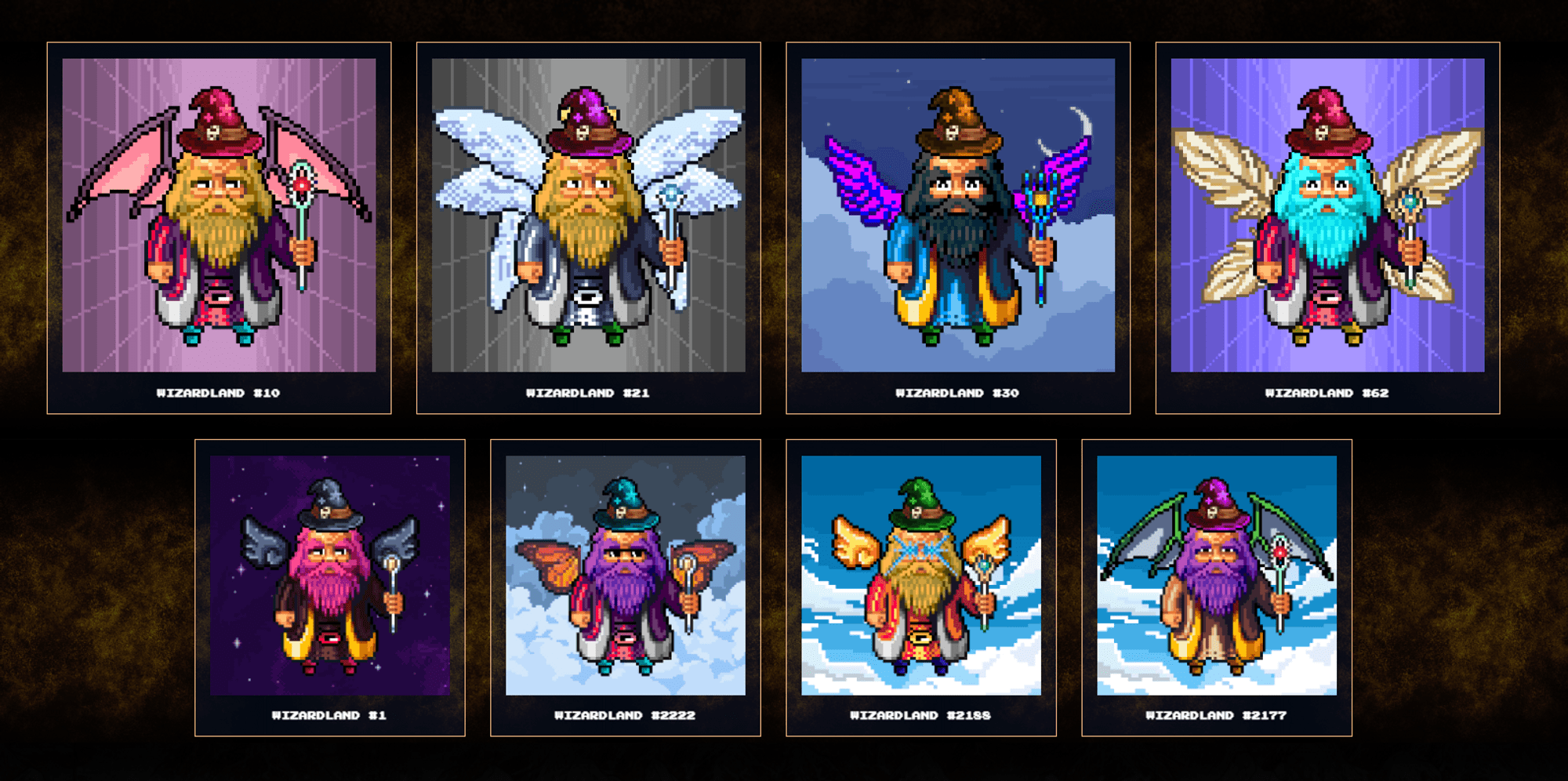 Warlock
On Discord, warlock positions can be obtained through participating in crew3 duties and completing missions. Crew3 syncs roles, so the more quests you complete, the higher you progress.
White Wizard
These are the chosen warlocks who have proven their worth and earned a spot on the whitelist.
Benefits for holders:
White Wizard grants access to mint the WizardLand NFT official collection at launch on Sui.
Can be obtained from grinding crew3 when reaching level warlock 16,17,18 and giveaway prizes.
OG Wizard
These are a select few who have made exceptional contributions and have ascended the realms of white wizards to become OG wizards.
Benefits for holders:
OG Wizard grants access to mint the WizardLand NFT official collection at launch on Sui.
Can be obtained from grinding crew3 when reaching level warlock 20 and giveaway prizes.
These members are got whitelisted too and will have exclusive benefits in the future. They also have privileged access to the team.
WL-pass
These are wizards that have shown themselves wealthy enough to purchase a pass that grants them access to the realms of the white wizards.
Benefits for holders:
WL-Pass grants access to mint the WizardLand NFT official collection at launch on Sui.
The holders of this NFT WL-Pass will be eligible for the future $WIZ token Airdrop.
Access to certain benefits in the near future.
Claim automatic role in wl-pass-nft (This will open after first mint NFT)
3. Tokenomics
Token Name: Wizard Land
Ticker: $WIZ
Total Supply: there will be a capped supply of 100,000,000 $WIZ Tokens.
Available tokens will be distributed through Staking, Airdrop, Raffle, and Alpha Launch on Roadmap WizardLand 2.0.
4. Token Allocation
Total Supply of $WIZ our projected distribution for the tokens: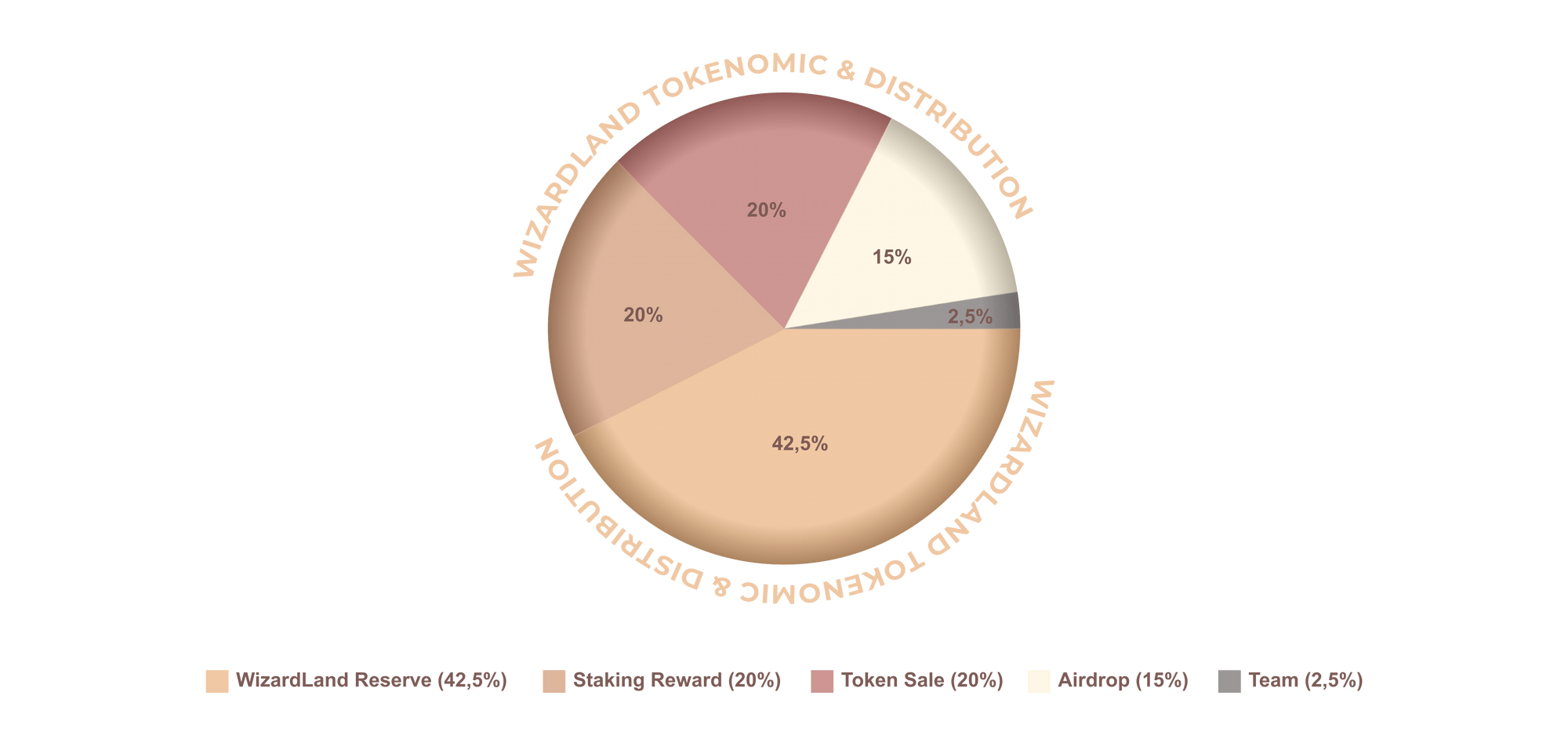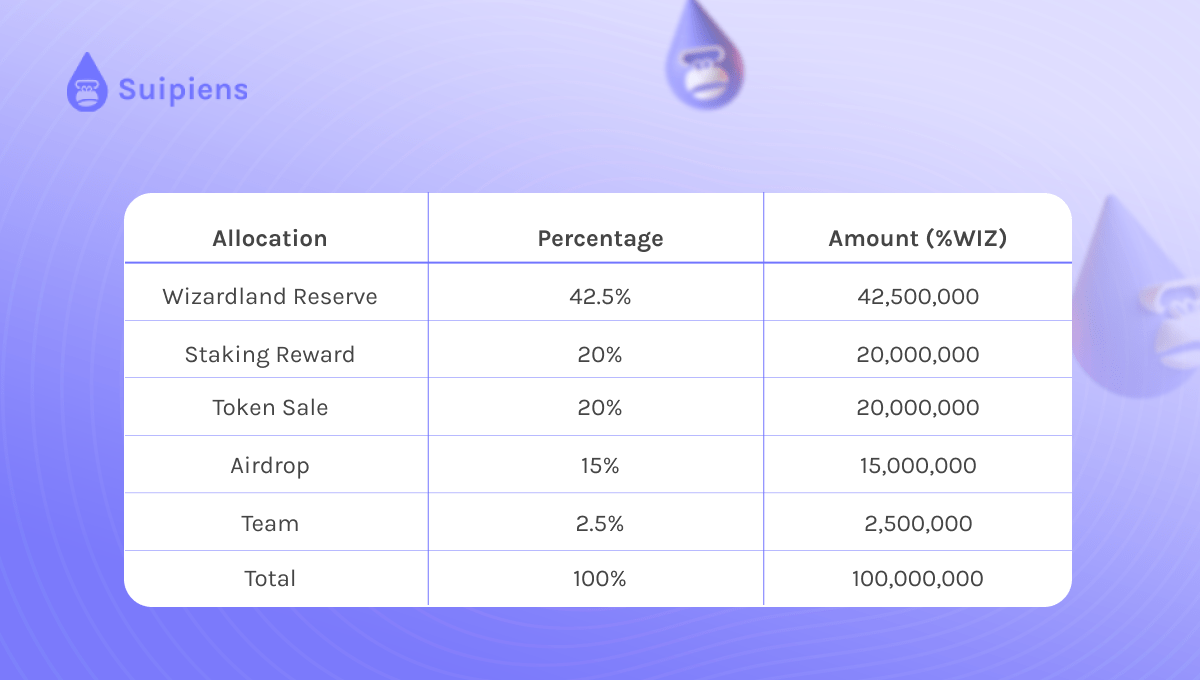 The above information outlines the token allocation plan for the WizardLand project. It appears that the project is focused on community building, growth and development, and incentivizing the holders of the token.
42.5% of the token supply is allocated towards the WizardLand Treasury, which will be used for liquidity, partnerships, rewards, and other initiatives that drive the growth of the project.
20% of the tokens will be allocated towards staking rewards, providing a mechanism for holders to earn additional tokens.
20% of the token supply will be allocated towards a token sale, with access given to private investors, launchpad partners, and current holders.
15% of the tokens will be airdropped to support holders, OAT holders, and WL-Pass holders.
2.5% of the token supply is allocated to the team, with a 1-year lock-up period and vesting schedule to align the team's incentives with the success of the project.
5. Team
Wizard Land is a team of 8 individuals consisting of 2 core members and 6 moderators aimed at building a thriving ecosystem in the crypto-space. The team is led by Letterking with over 8 years of experience in the industry and the moderators are responsible for managing the growing community. The goal is to provide value and utilities to both the community and the web3 space. The team is committed to creating an inclusive environment where everyone can contribute and benefit from the ecosystem.
6. Partners
Wizard Land only cooperates with community priority projects that have been moderated on Sui. The partnership with Clutchy, Ethos Wallet, Belaunch, Sui Wallet, Surf wallet, Sui Insights, Cetus, Morphis, and so on.
7. Roadmap
Roadmap WizardLand 1.0
STAGE 1
Brainstorming creates ideas
Recruiting team members
Blockchain Analysis for launch
Artwork creation
STAGE 2
Launch social media platforms
Community Growth
Partnerships and collaborations
Devnet mint of the WizardLand NFT
STAGE 3
Wl-Pass launch
Website and Galxe launch
Marketing
WizardLand Testnet mint
STAGE 4
WizardLand Mainnet launch
$WIZ token launch
$WIZ LP integration
Launch Dapps for staking NFT
STAGE 5
Earn $WIZ from staking NFT
Staking goes live
Airdrop $WIZ to eligible members
STAGE 6
Cross-chain partnerships
$Wiz listing on major CEX and DEX
Creation WizardLand Ecosystem
Release Wizardland Roadmap 2.0
Roadmap WizardLand 2.0
Expanding Team Size.
Development and Launch of Staking DApps Token sale.
Raffler Development Beta Launch (Holders Only) Alpha Launch (Holders and Community) Upgrade and adding new features.
Marketplace and further expansion of the WizardLand details in Scroll II
⇒ This will be focused on the WizardLand ecosystem development and a couple of products that will be released short-mid term after Mainnet launch.
8. Summary
Wizard Land is a new project in the NFT space that brings a unique design to the SUI Network. It stands out with its daily token airdrops of WIZ from staking NFT Wizard and its multi-chain community that goes beyond a simple PFP offering. The NFTs themselves have over 130 traits in 11 categories, allowing for a high degree of variation and rarity among the generated Wizards. The NFTs have both current and future utility for holders. In the future, every holder of a Wizardland NFT will receive WIZ tokens and gain exclusive access to the channel and ecosystem. The NFTs can also be staked for additional WIZ tokens. This combination of unique design, high degree of rarity, and current and future utility make Wizardland an innovative and attractive offering in the NFT space. Wizard Land is going to be a notable name for NFT enthusiasts in the near future.
Above is all information about the project, you can refer to and experience before making your investment decision.
9. Guide to Mint NFT Wizard Land on SUI Network
Step 1: Connect the wallet (one of the following three wallets):
Suiet
Sui Wallet
Ethos Wallet
Step 2: Click mint an NFT: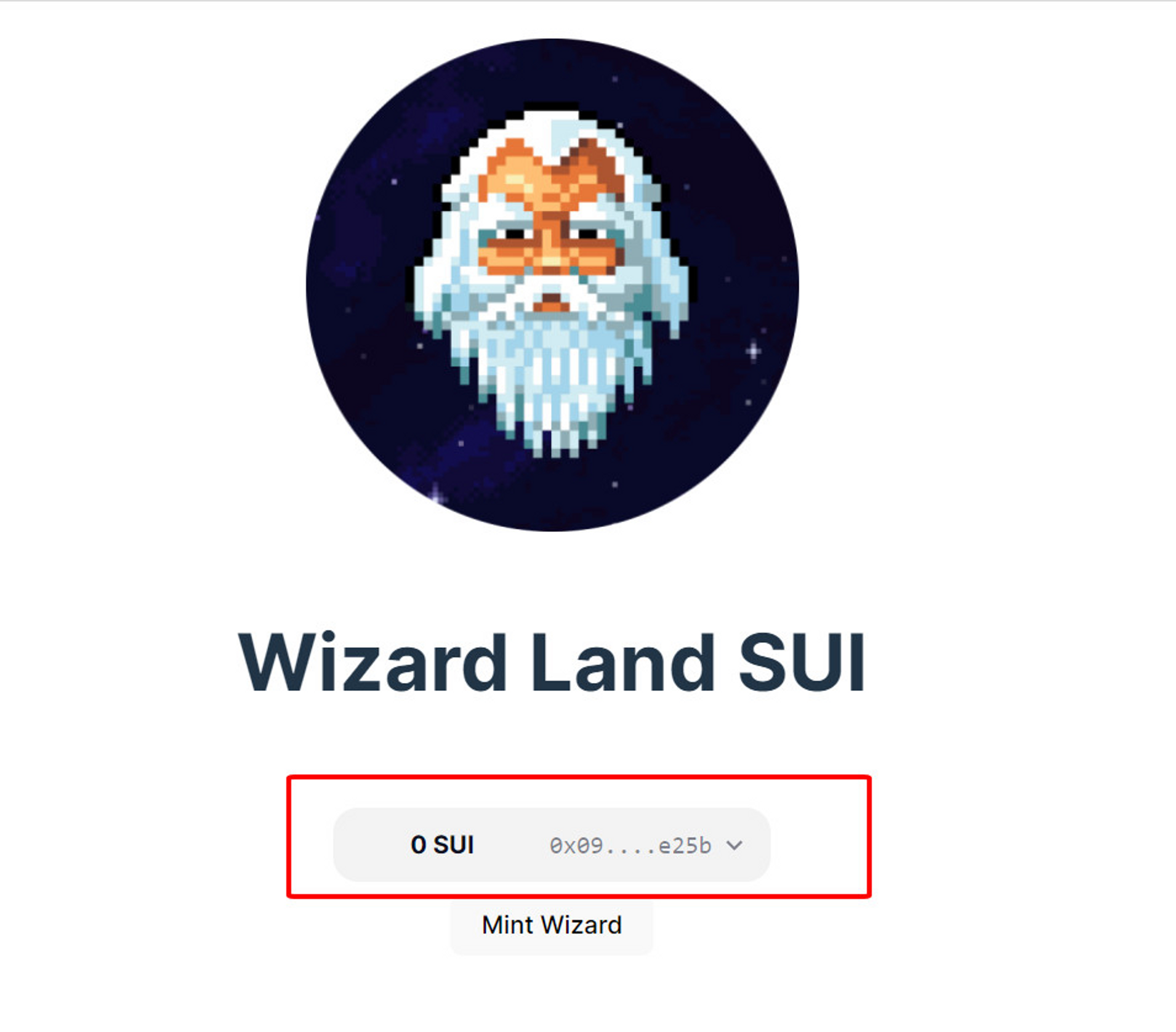 Step 3: Go back to the wallet, select the NFT item, and check the minted NFT.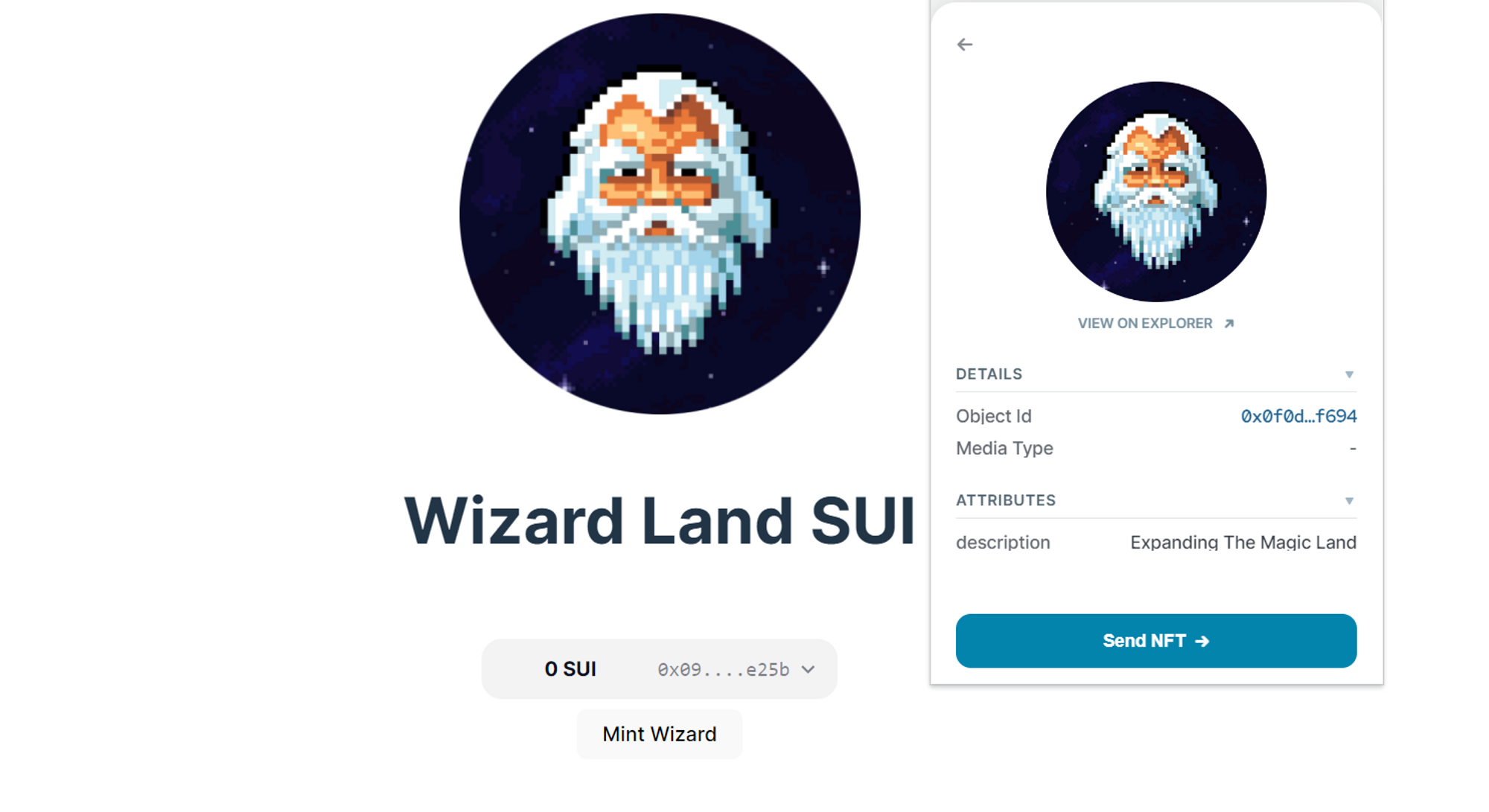 10. Official links
Be sure to check out Suipiens website and social media channels to stay up-to-date on all things about Sui Blockchain!