Why You Shouldn't Miss FlowX TradeX Competition?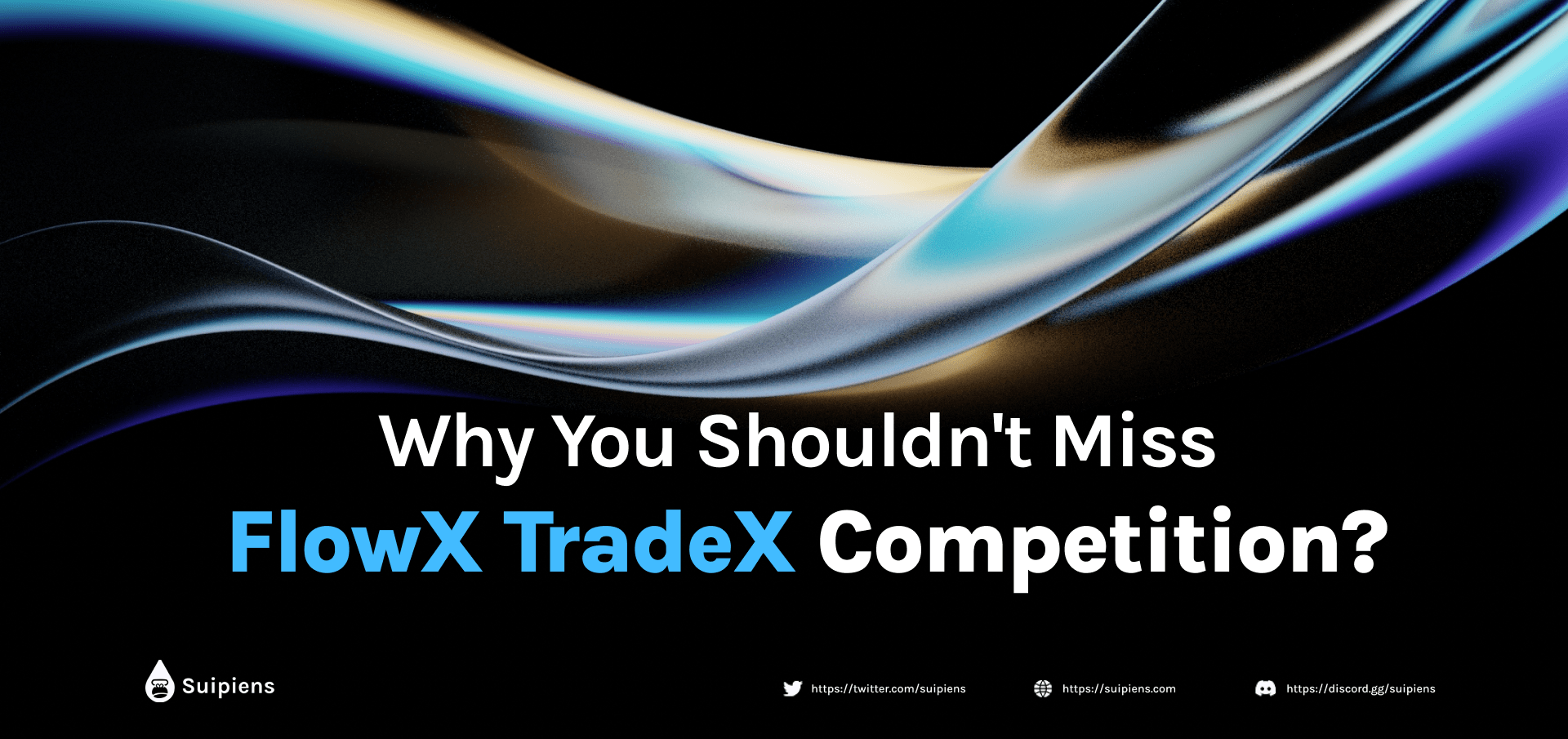 Discover all the essential details and reasons not to miss FlowX's TradeX Competition—an event you can't afford to overlook!
FlowX is a decentralized exchange powered by the Sui Blockchain, offering a user-friendly ecosystem for seamless trading. With remarkable efficiency, speed, and agility, FlowX surpasses other AMM DEXs in the same sector. Builders can also leverage its custom services for effortless establishment of sustainable liquidity pools.
What is TradeX Competition?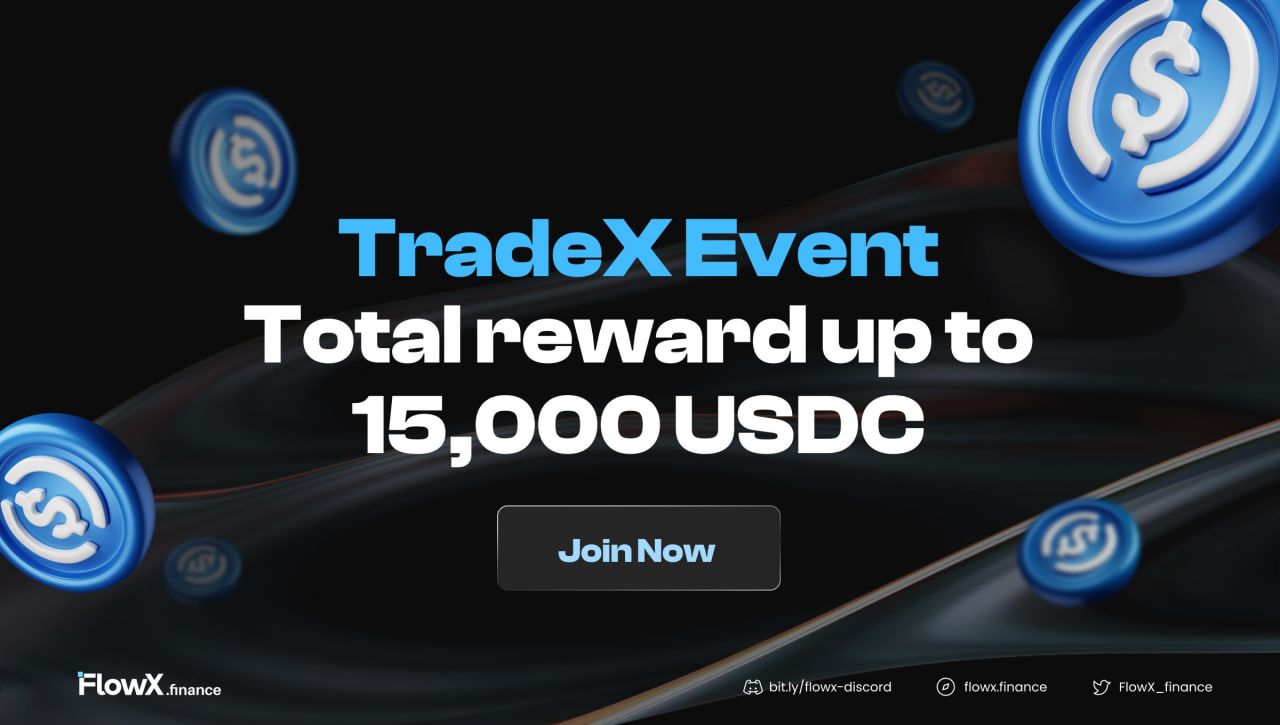 TradeX Competition is an event of FlowX, an event designed to celebrate the launch of the FlowX Mainnet. With a prize pool of $15,000 exclusively reserved for the top 150 users with the highest trading volume, this is an opportunity that demands your attention!
As a participant, you'll have the chance to engage in swap transactions involving a variety of tokens such as SUI, USDC, USDT, WBNB, and WETH. Make sure you can keep an eye out for additional tokens that may be introduced during the program.
The competition starts from July 9th to August 15th, 2023. Remember, the more trades you execute, the greater your chances of climbing up the ranks and securing a spot among the top contenders. The winner will ultimately be determined based on their trading volume, so every transaction counts!
How to join?
Click the Connect Wallet and log in with your Sui wallet.
Step 3:  Swap tokens to participate
Go to https://flowx.finance/swap
Start swapping any tokens which are eligible in the competition such as SUI, USDC, USDT, WBNB, and WETH.
After making a transaction, your trading volume and ranking will appear on the "Leaderboard" tab.
Why you shouldn't miss it?
Enormous Reward
When considering joining any event, one important factor that often comes to mind is the potential rewards. The TradeX competition doesn't disappoint in this regard, with an impressive reward pool of up to 15,000 USDC. Moreover, the top 200 participants can also obtain 200 FlowX WL IDOs, with a maximum allocation of $500 per WL.
In addition to these enticing rewards, there's a base prize of 3250 USDC reserved for the top 10 winners. Furthermore, participants have a chance to benefit from the transaction fees equivalent to 0.05% of the total trading volume (excluding the USDT-USDC pair) on FlowX Finance. These transaction fees will be divided among the top 150 participants, providing an additional incentive.
FlowX will also conduct 10 lucky draws, where lucky winners will receive prizes worth 50 USDC each. These winners will be selected randomly from wallet addresses that have achieved a minimum trading volume of $100.
Easy Access
Unlike other trading competitions on various exchanges, participating in the TradeX competition doesn't require you to go through the KYC (Know Your Customer) process or engage in any additional steps. All you need to do is visit the FlowX website and swap tokens to join the event.
The rules of the competition are straightforward, making it easy for participants to understand and follow. The main focus is on your trading volume. By actively trading on the platform, you can increase your chances of achieving a higher trading volume and climbing up the ranks.
Transparent Leaderboard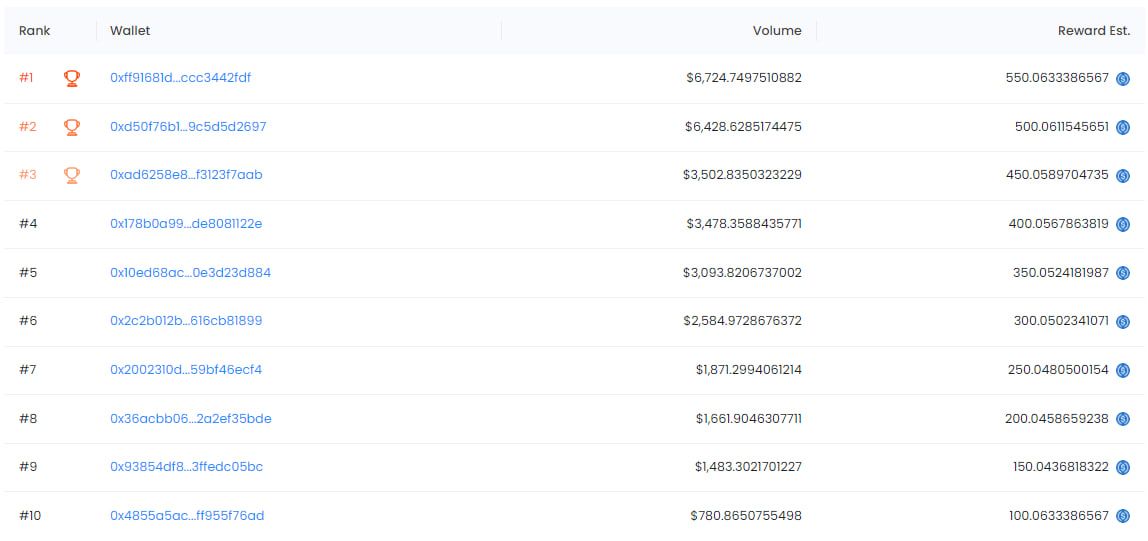 FlowX provides participants with a user-friendly real-time leaderboard, allowing them to effortlessly monitor their position and trading volume throughout the competition. This feature enables users to have a clear view of their progress and make informed decisions while planning their strategies.
Moreover, FlowX takes user convenience a step further by calculating the transaction fees and incorporating them into the "Pending rewards" section. This means that participants can easily track their accumulated rewards, including the transaction fees earned during the competition.
Airdrop Potential
While there is no guarantee that all participants in the event will receive the airdrop, the FlowX team recently confirmed in an AMA session that they will allocate 0.2% of the total FLX token supply for a 50% airdrop proportion to Early User Mainnet participants. It's important to note that the maximum supply of FLX tokens is set at 10,000,000.
The exact details of the "Early User Mainnet" category are not fully clarified and have not been explicitly defined, but it is likely to be related to user interaction and trading volume on the FlowX mainnet. It is recommended that interested individuals should take part in the event to increase their chances of being eligible for this airdrop proportion from FlowX.
Minimal Risk
The risk involved in participating in the TradeX Competition is minimal to the extent that it is hardly noticeable. To join the competition, you simply need to make a swap transaction involving the tokens SUI, USDC, USDT, WBNB, and WETH. The stability of these tokens makes the risk extremely low.
USDC and USDT are stablecoins, designed to maintain a fixed value, which makes them highly unlikely to experience any significant deviations from their pegged price. As for SUI, WBNB, and WETH, these tokens have proven to be relatively stable during this period, with no sudden drops in price observed.
The only cost you might incur is the gas fee, which is generally low for SUI. To minimize any potential risks, it is advisable to avoid swapping tokens when the price impact is high. By following this approach, you can essentially consider the event risk-free.
Wrapping up
This article covers all the essential information about the TradeX Competition, including its purpose, joining instructions, and the reasons why you should seize this opportunity. FlowX, as a prominent player in the Sui Ecosystem, is rapidly gaining recognition, making this event all the more enticing. It is important to emphasize that the TradeX Competition is a risk-free endeavor, presenting participants with the chance to earn profits. We hope that this article has provided valuable insights into FlowX and its ongoing TradeX competition. Good luck to all participants, and if you find this blog article helpful, feel free to share it with others. Until next time!
Important note: The information provided here is for informational purposes only and should not be construed as financial investment advice. You must conduct thorough research (DYOR - Do Your Own Research) and exercise caution before making any investment decisions.