Cubic: The First Community-Owned Game Launcher on Sui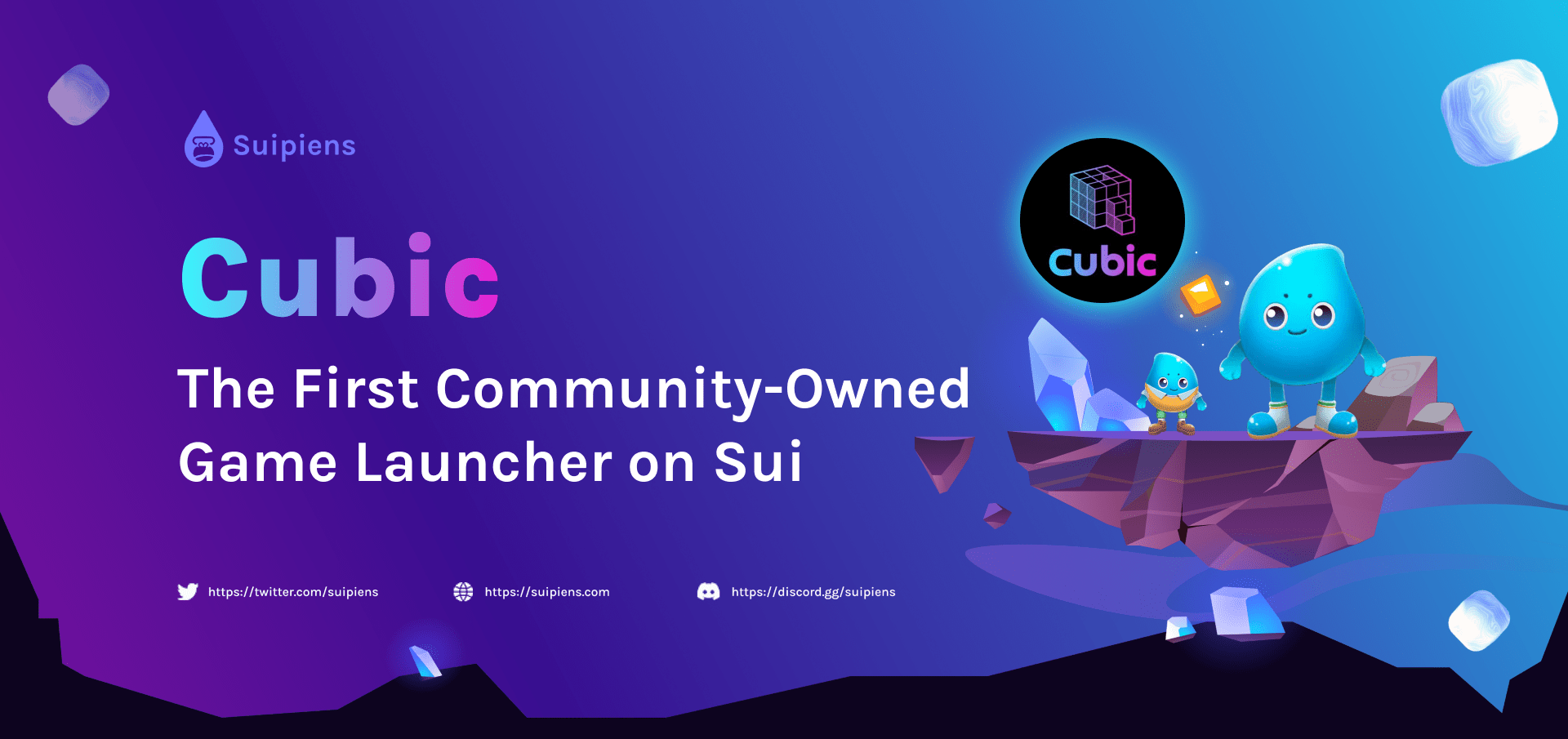 Get the inside scoop on Cubic - the first community-owned game launcher on Sui. Discover the power of community in gaming - read our article now!
1. Introduction
Cubic is a gaming infrastructure on Sui, onboarding millions of users and game studios to the Web3 gaming era.
The platform is designed to offer gamers a seamless and user-friendly experience, while simultaneously simplifying the game creation process for builders. At its core, Cubic boasts a hassle-free login process, a plethora of payment options, and a unified economic model that enables users to progress within the Cubic ecosystem and reap rewards across a diverse range of games. Additionally, the platform offers a suite of powerful tools and services, including the Sui Game SDK, AI toolkits, a digital asset marketplace, and user growth assistance.
Overall, Cubic provides a comprehensive, all-in-one solution that empowers game developers and delights gamers, making it a game-changing player in the rapidly-evolving gaming industry.
2. Main features
2.1 For Game Studios
Cubic offers a range of critical features to support the development and operation of Web3 games.
Firstly, the platform provides API&SDK tools for blockchain interaction, game launchpad, and AI integration, enabling game studios to develop and deploy successful Web3 games with ease.
Secondly, Cubic supports both fiat and crypto payment solutions, which effectively open up multiple revenue streams for game developers.
Thirdly, the platform includes a built-in token exchange and NFT marketplace with customizable and interactive NFTs, offering game developers added flexibility and customization options.
Lastly, Cubic provides user growth support features, including user management tools, a dashboard for operations, and data analysis tools to help game developers optimize and grow their user base. This comprehensive suite of features helps support the growth of the Web3 gaming industry and provides a streamlined solution for Web3 game development and operations.
2.2 For Users
Cubic offers a range of key features that enhance the Web3 gaming experience for users.
Firstly, the platform provides a one-click play option that is simple to use for users of all levels. The account abstraction feature further enhances the user-friendliness of the platform, making it easy for users to interact with Web3 gaming applications.
Secondly, Cubic supports multiple payment channels, including fiat and crypto options, with cross-chain deposits available at almost zero fees and slippage. This allows users to seamlessly transact in a variety of currencies, enhancing the accessibility and convenience of the platform.
Thirdly, Cubic's expansive gaming ecosystem promotes better user retention through a growable XP system and rewards. This incentivizes users to continue using the platform and remain engaged with the games they love.
Lastly, Cubic supports true ownership of in-game assets, allowing users to safely and genuinely own and trade their assets. The platform's user-friendly interface makes buying, selling, and trading assets easy and intuitive.
Overall, Cubic aims to provide a comprehensive and user-friendly experience for Web3 gaming enthusiasts, offering a suite of features that enhance accessibility, convenience, and engagement. With its commitment to true ownership and easy asset exchange, Cubic is at the forefront of the rapidly-evolving Web3 gaming industry.
3. Technology Architecture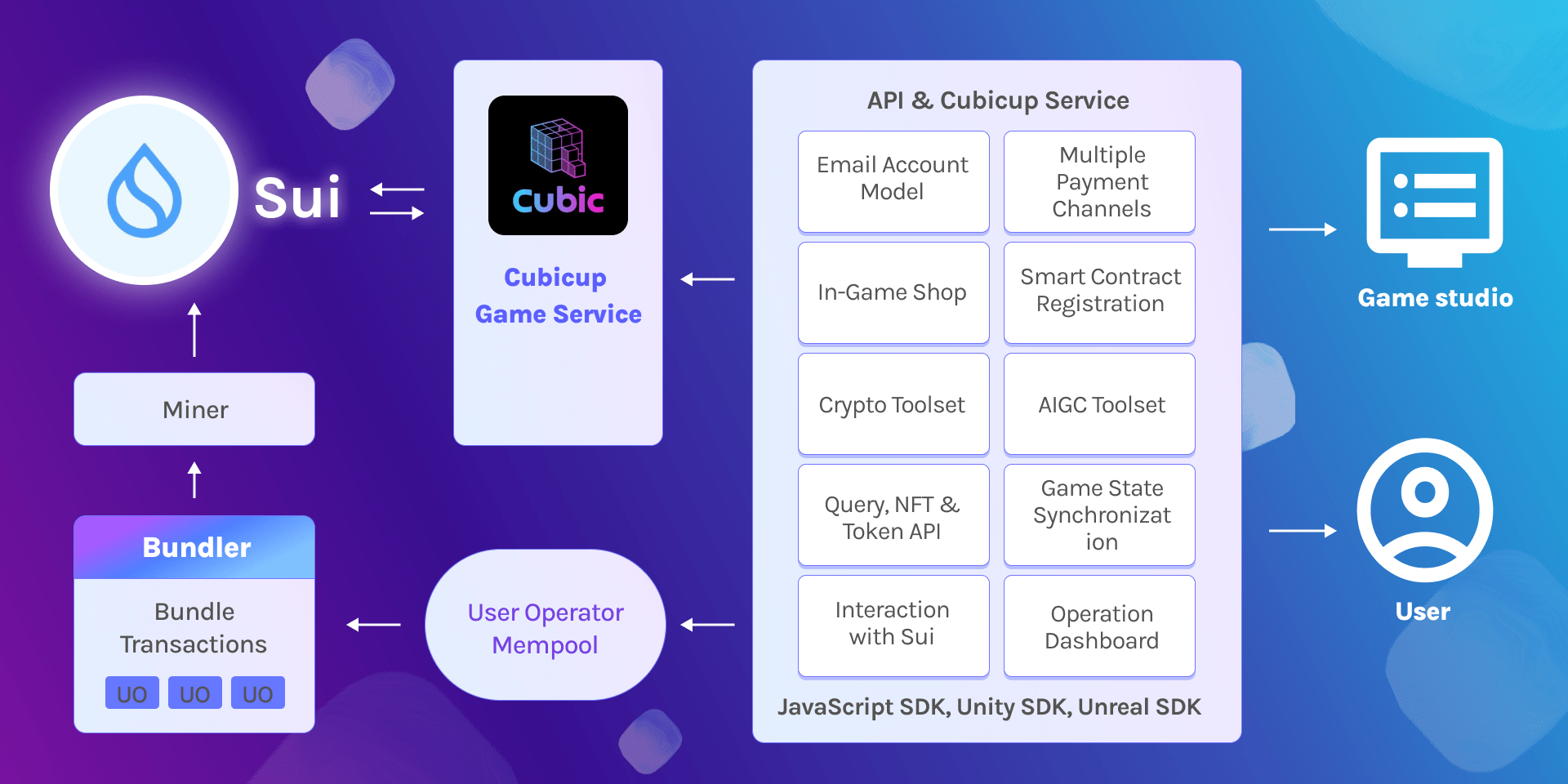 Cubic provides Game Studios and Game Developers with a developer SDK to connect with Sui, as well as common tools needed for games, including:
Sui Chain SDK (interacting with Sui, including user wallet login, transaction signing, and broadcasting, transaction query, event subscription, etc.)
Email Account Model
Multiple fiat/digital currency payment methods
In-game NFT marketplace
Registration management center for game-related smart contracts
Encryption toolset (including Verifiable Random Function (VRF)
Multi-signature function, Zero Knowledge Proof, etc.)
AIGC toolset (including ChatGPT integration, Diffusion integration, etc.)
Chain query API
NFT query API
Token query API
Game state synchronization (using Sui as the Data Availability Layer for games)
Game and user data analysis and operation platforms.
4. The Prizes at Sui Demo Day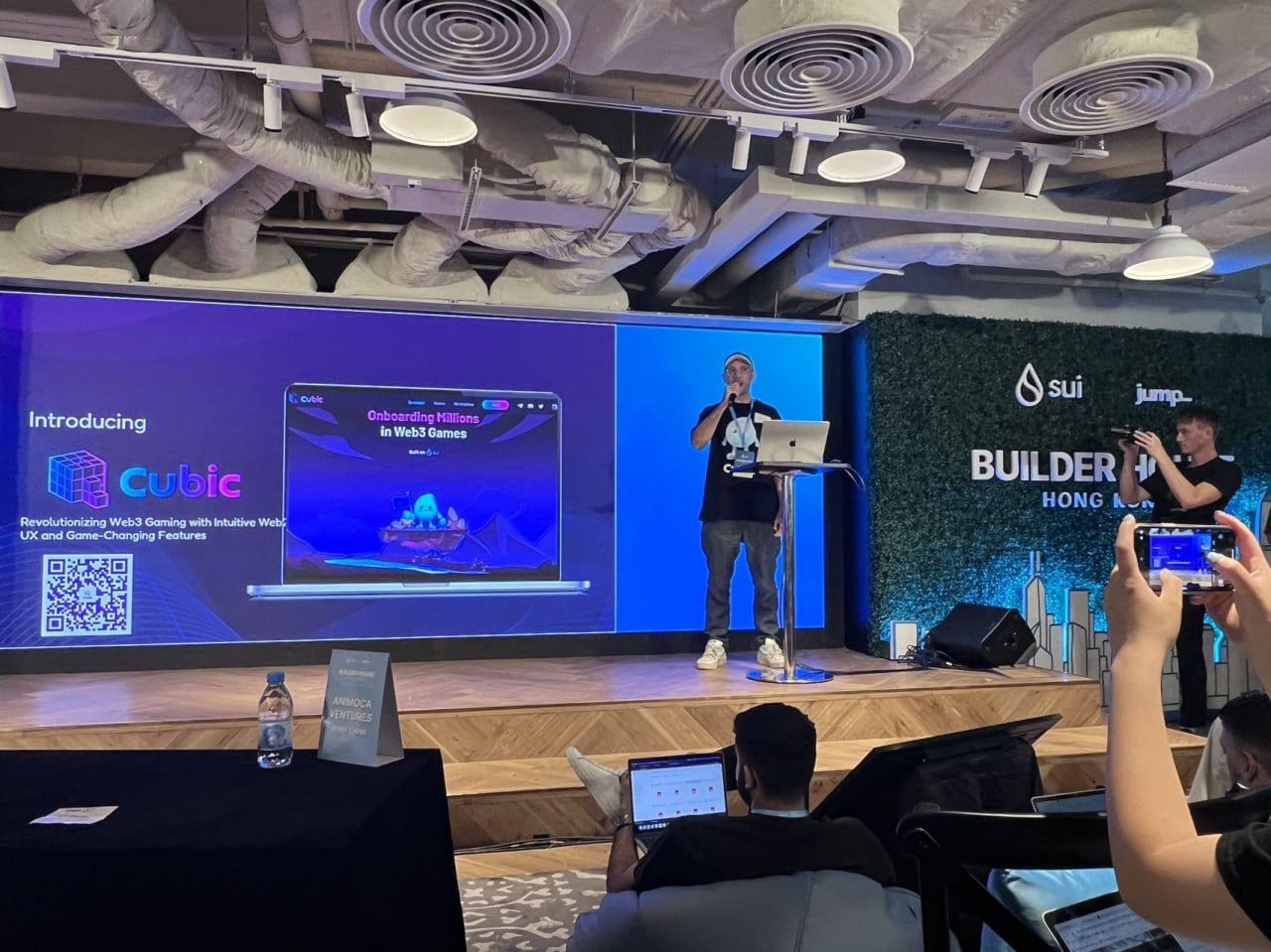 Cubic, a Sui-based chain gaming architecture, placed third in the crowd vote and second among the judges during the Sui Demo Day infrastructure and development tools competition.
On Sui Demo Day, Cubic showcased the forthcoming upgradeable SBT character, the Move-developed on-chain ZK game Battleship, and cross-chain stable currency transactions.
5. Official links
6. Summary
Cubic is committed to delivering an integrated gaming experience to users by providing a convenient login process, a wide range of payment options, and a unified economic model that enables players to progress within the Cubic ecosystem and earn rewards across a diverse array of games.
Moreover, the platform's Sui Game SDK and other tools and features, such as a digital asset exchange, user growth support, and AI empowerment toolset, are designed to simplify the game development process for Web3 game studios.
By offering this comprehensive suite of solutions, Cubic is paving the way for the next generation of Web3 gaming, empowering developers and enhancing the user experience. Overall, Cubic's commitment to innovation and user-centered design make it a game-changing player in the rapidly-evolving world of blockchain gaming.
Important note: The information provided here is for informational purposes only and should not be construed as financial investment advice. It is essential that you conduct thorough research (DYOR - Do Your Own Research) and exercise caution before making any investment decisions.
Be sure to check out Suipiens' website and social media channels to stay up-to-date on all things about Sui Blockchain!