Sui's Developer "Mysten Labs" Partners With Tencent Cloud!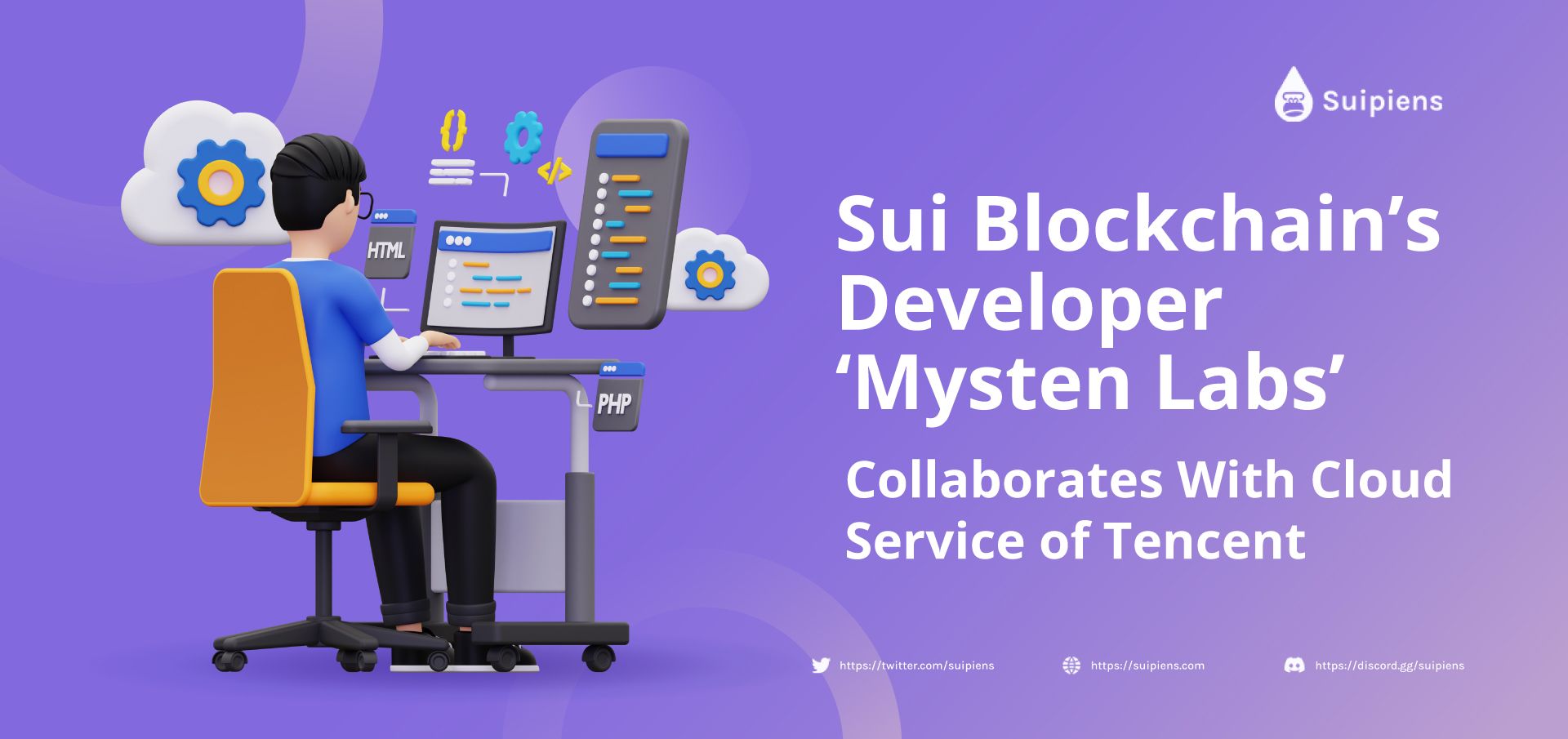 To assist the growth of the Web3 ecosystem, Tencent Cloud has established a strategic partnership with renowned encryption industry Sui, Avalanche, Scroll, and Ankr.
At the first Web3 Global Summit's "Tencent Cloud Web3 Build Day," the cloud computing division of major global technology giant Tencent declared today its commitment to promote the growth of the Web3 ecosystem held in The Fullerton Hotel Singapore on February 22, 2023, with the objective of significantly advancing the ongoing development of the worldwide Web3 community.
The Tencent Cloud Web3 Build Day is Tencent Cloud's first worldwide Web3 summit, with industry partners and Web3 experts such as Tencent Research Institute in attendance to discuss subjects such as the latest blockchain landscape and development trends in Web3 Gaming, social networks, and more.
Tencent Cloud announced intentions during the event to accelerate the growth and sustainability of the Web3 ecosystem, as well as to enable Web3 entrepreneurs and builders to effortlessly integrate new advancements. more seamless. Security, storage, identity management, middleware, development tools, and data and analytics are all aimed at Web3 builders.
With the Tencent Cloud Web3 Ecosystem Partnership, Tencent Cloud will give cloud solution credits, marketing seminars, and media opportunities for Web3 builders to harness the Tencent and Tencent Cloud ecosystems and resources. Selected Web3 builders will also be prioritized for product integration and co-creation with Tencent and their partners.
This partnership marks the official start of Tencent Cloud's Global Web3 Ecosystem Support Program, as well as the announcement of strategic blockchain alliances and the most recent Web3 services.
Tencent Cloud has inked an MoU with Ankr, a Web3 infrastructure provider, to jointly develop a full suite of blockchain API services, including a network of Remote Procedure Call Nodes (RPC) that is decentralized and globally dispersed, allowing builders to power their Web3 projects.
Tencent Cloud also announced a strategic relationship with three Web3 blockchain partners, Avalanche, MystenLabs (SUI), and Scroll, to establish a better platform infrastructure to assist global builders. Accelerate Web3 adoption in preparation for a decentralized future.
Avalanche – a smart contracts platform developed by Ava Labs
Thanks to Avalanche's consensus protocol and subnet infrastructure, web3 developers can effortlessly launch highly scalable and personalized solutions. To facilitate node setup for developers, Tencent Cloud has now made a fully synchronized Avalanche full node accessible, which can be quickly and efficiently set up. As a result of this partnership, web3 builders will gain access to practical tools that will enhance their ability to create on the Avalanche blockchain and explore blockchain solutions for traditional sectors' enterprise clients.
Sui – a Layer-1 blockchain initially developed by Mysten Labs
Through this partnership, game developers will have access to cloud-based tools for game development and dedicated support to improve the gaming experience on the blockchain. Utilizing Tencent Cloud's infrastructure, web3 game developers can effortlessly operate their games on the Sui network.
Scroll – an open-sourced bytecode-level equivalent zkEVM ZK-Rollup to scale Ethereum
Scroll's objective is to develop a strong proving network and an open-source, EVM-compatible ZK-Rollup. To lay the groundwork for its initial scaling solution, Scroll has partnered with Tencent Cloud's infrastructure. With this collaboration, validators and sequencers operating within the Scroll network can leverage Tencent Cloud's infrastructure to attain stable performance and decentralized resources.
Recently, Sui also announced many new large-scale collaborations. If you are interested, you can read more about the partnership between Sui and Bitgo.
Be sure to check out Suipiens website and social media channels to stay up-to-date on all things about Sui Blockchain!