Mass Adoption Awaits For Sui At Singapore Builder House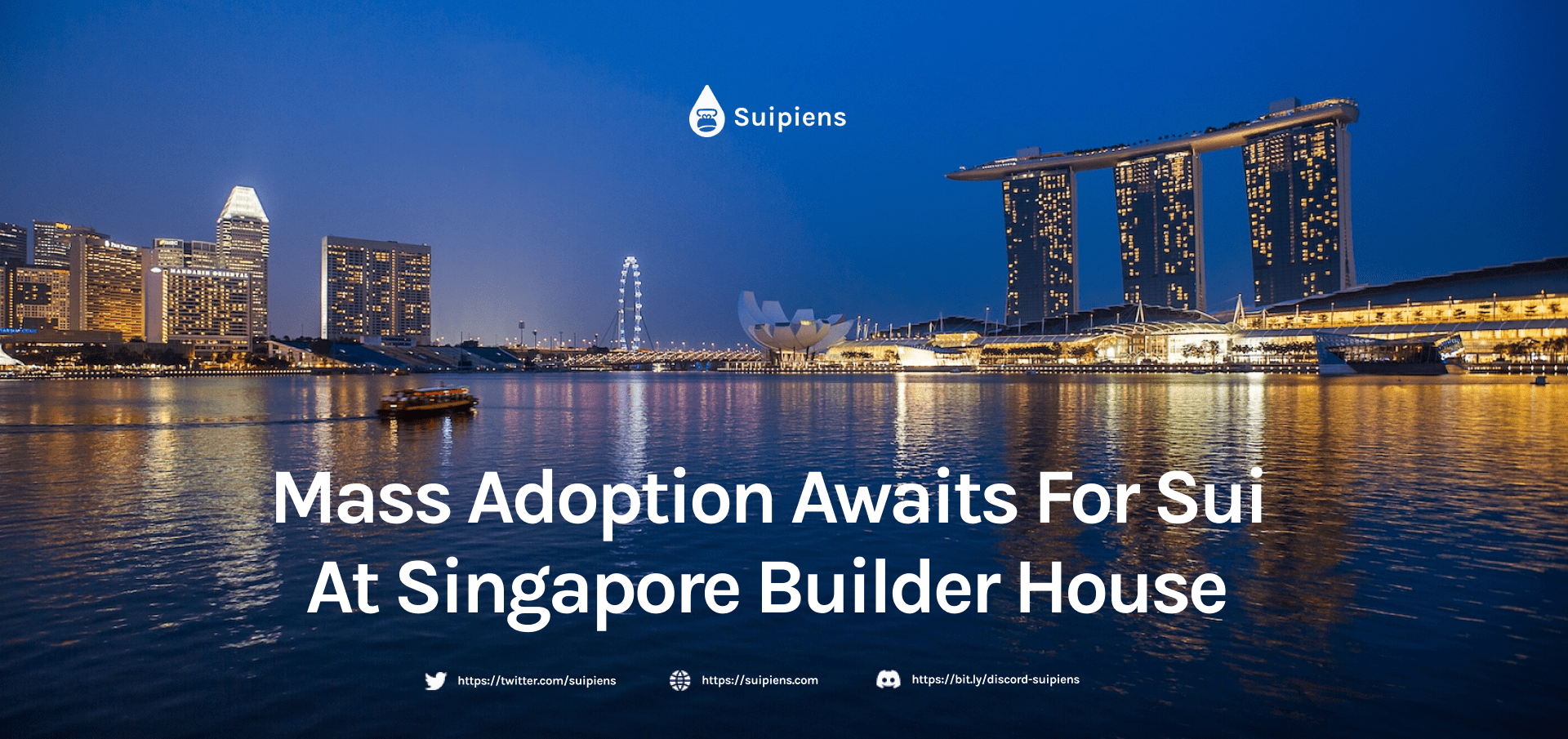 Discover all the information in the upcoming Sui Builder House event scheduled for September 15 and 16 in Singapore.
The forthcoming Sui Builder House is finally here! Scheduled in Singapore on September 15 and 16, this event is poised to introduce a mechanism that has the potential to transition Web3 from its current niche status to a realm of mass popularity. This momentous occasion will spotlight the remarkable zkLogin innovation, a novel approach to user authentication on the Sui platform. By delving into its functionality and implementation features, the event's speakers will provide invaluable insights.
As the global tour of Sui Builder Houses continues, Singapore emerges as the next stop, ready to offer a platform where coding challenges are conquered, the advantages of Sui are explored, and entrepreneurial endeavors are nurtured.
Builders and enthusiasts participating in this event will relish the opportunity to connect with like-minded developers, distinguished members of the Sui Foundation, visionary business leaders, and potential investors. The schedule, unfolding from 10 AM to 5 PM each day, has been thoughtfully designed to facilitate ample networking time. Furthermore, a special evening reception at the elegant Artemis venue on September 15 will provide a relaxed atmosphere for participants to unwind and engage in meaningful conversations.
The Application Of New Technology
In the realm of Web3, the process of downloading wallets, creating accounts, safeguarding seed phrases, and acquiring tokens has traditionally posed significant hurdles. Consequently, blockchain networks have primarily attracted dedicated enthusiasts. The driving force behind Sui's mission is to streamline this process, making it more accessible to a broader audience. zkLogin takes center stage in this endeavor.
The brilliance of zkLogin lies in its ability to seamlessly integrate new login procedures, utilizing users' existing accounts from platforms like Google and Twitch. Following a familiar Web2 pattern, users have the option to establish a new account or connect an already existing one. While third-party login models are not unprecedented in the Web3 landscape, Sui distinguishes itself by introducing zkLogin as an innate feature.
The Sui Builder House event in Singapore goes beyond zkLogin, offering participants an opportunity to delve deeper into topics like Zero Knowledge Proofs and account abstraction within the Sui ecosystem. When combined, these elements form a foundation that facilitates effortless entry into Sui apps while upholding the sanctity of users' private data.
A Multifaceted Learning
Experience Sui Builder Houses are renowned for their rich educational content, presented through diverse formats. At the Singapore event, the main stage will host captivating panels and discussions, with experts shedding light on revolutionary innovations like zkLogin and other facets of the Sui ecosystem.
Venturing further, three separate rooms will house technical and non-technical breakout sessions, complemented by a vibrant community stage. In the technical track, Sui's coding experts will extend their expertise, assisting participants in overcoming complex challenges and fine-tuning their projects. The non-technical path will be adorned with seasoned coaches offering invaluable business insights, spanning areas like marketing strategies and sustainable growth. Not to be overlooked, the community stage will serve as a wellspring of wisdom for crafting effective grant proposals.
Wrapping up
The Sui Builder House in Singapore strategically aligns itself between the Token2049 event and the renowned Formula 1 Singapore Grand Prix. As the grand finale of Builder Houses for the Year, it promises an experience that transcends boundaries and opens doors to innovation.
The Sui Builder House event in Singapore will be a momentous occasion that stands at the crossroads of technological advancement and real-world application. The introduction of zkLogin and the exploration of crucial aspects of the Sui ecosystem herald a new era of user-friendly Web3 engagement. Don't miss out on this exciting opportunity – secure your registration today and be a part of shaping the future!
Be sure to check out Suipiens' website and social media channels to stay up-to-date on all things about Sui Blockchain!