How To Make Passive Income With SuiPearl?
Explore the world of SuiPearl, a yield aggregator enhancing earnings through strategic farming on the Sui Network.
What is SuiPearl?

SuiPearl is an experimental yield aggregator for the Sacabam meme project. Its aim is to help users maximize their yield earnings by employing various farming strategies on the Sui Network.
To get started with SuiPearl, users only need to pay a small portion of their yields as performance fees to the SuiPearl platform. This fee is then split, with 75% going to $PRL holders (the native token of SuiPearl) and the remaining 25% used for the buyback and burning of $SCB (the native token of Sacabam).
The system around SuiPearl
Understanding the workings of SuiPearl is essential to maximize its benefits. The native token of SuiPearl is $PRL, capped at 10,000 $PRL. Of this total, 10% will be utilized to initiate liquidity on AMM (Automated Market Maker), 5% will be airdropped to $SCB holders, and the remaining 85% will be distributed to SuiPearl farmers during the initial 45-day period.
Farmers can engage in the Oyster Cage to farm both $PRL and $OSTR. $OSTR, although not tradable, can be staked to generate $PRL using a natural formula based on the conversion curve. Every millisecond over 45 days, 850 $PRL + 7,650 $OSTR will be shared among all farmers.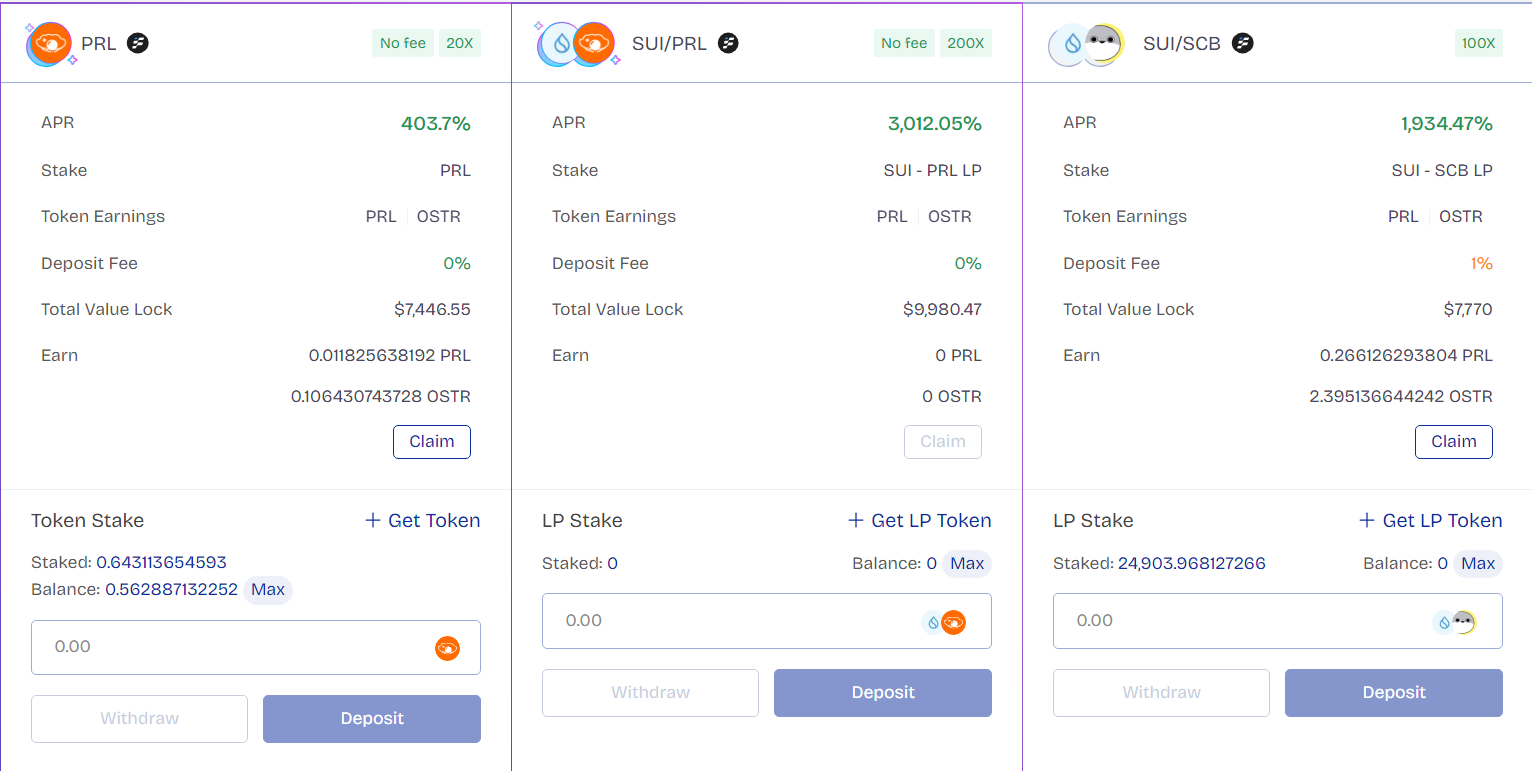 For those willing to exercise patience, choosing the longer vesting option (up to 90 days) can yield a higher amount of PRL. Opting for the "Instant" option results in receiving only 10% of the total PRL, with the remaining 90% being burned and removed permanently from the circulating supply. Waiting for the full 90-day period, however, ensures the user receives the entire amount of $PRL on day 90.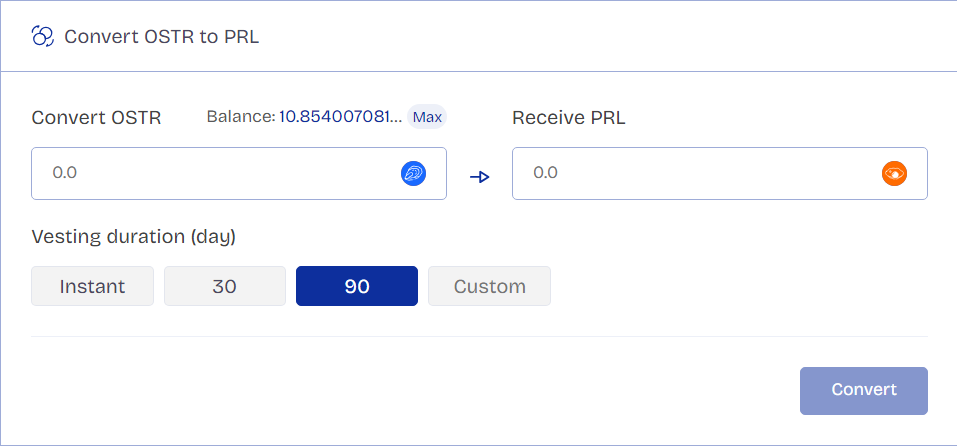 Oyster Vault serves as the treasury of the SuiPearl protocol. This vault distributes 75% of its resources to $PRL holders during phase 2, while the remaining 25% is allocated for the purpose of buying back and burning $SCB tokens.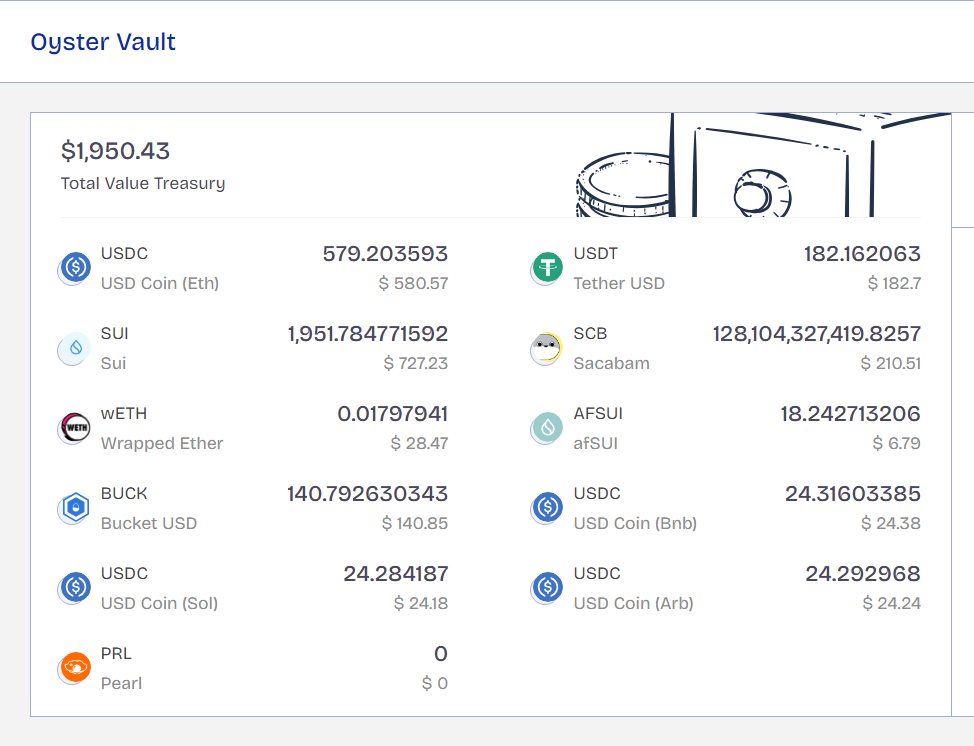 Offshore on SuiPearl will empower users to effortlessly maximize their yield on premium projects in any scenario. The initial deployment of this innovative strategy has already commenced with Scallop, marking the first of many exciting developments. Spearheaded by the Sacabam team, the platform is diligently working on incorporating additional protocols, including FlowX, Navi, and Aftermath. These forthcoming enhancements are poised to introduce a diverse array of highly rewarding APY pools, further elevating the user experience within the SuiPearl ecosystem.

Guide to maximize profit with SuiPearl
For single-pool farming (PRL)
At the moment, SuiPearl has 2 single farming pools (PRL and WHUSD AF).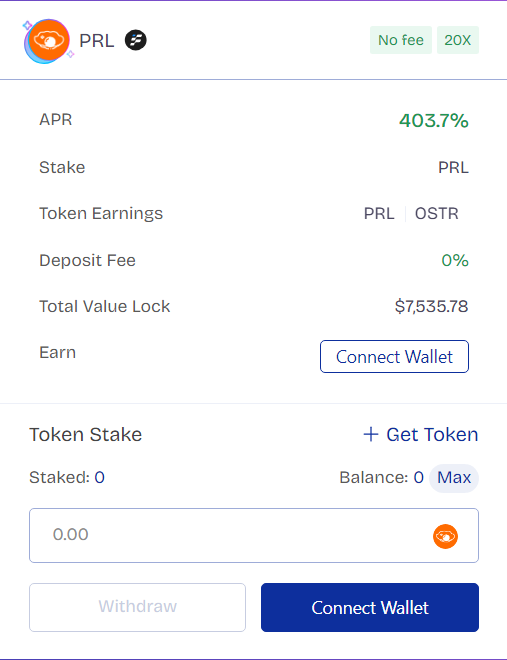 Step 2: Choose your desired amount of tokens to stake and click "Deposit" to complete the process
2. For LP Farming Pool
At the time of writing, there are 7 LP Farming Pools at SuiPearl (SUI/PRL, SUI/SCB, SUI/wUSDC, wUSDC/wUSD, wUSDC/wETH, SUI/BUCK and
SUI/AFSUI)
Step 1: Head to https://suipearl.fi/oyster-cage and Connect your wallet
Step 2: Get LP tokens by clicking on "Get LP Token" (I will use SUI/PRL in this example)
Once you enter FlowX Finance and enter your desired amount to add the liquidity), then click "Supply"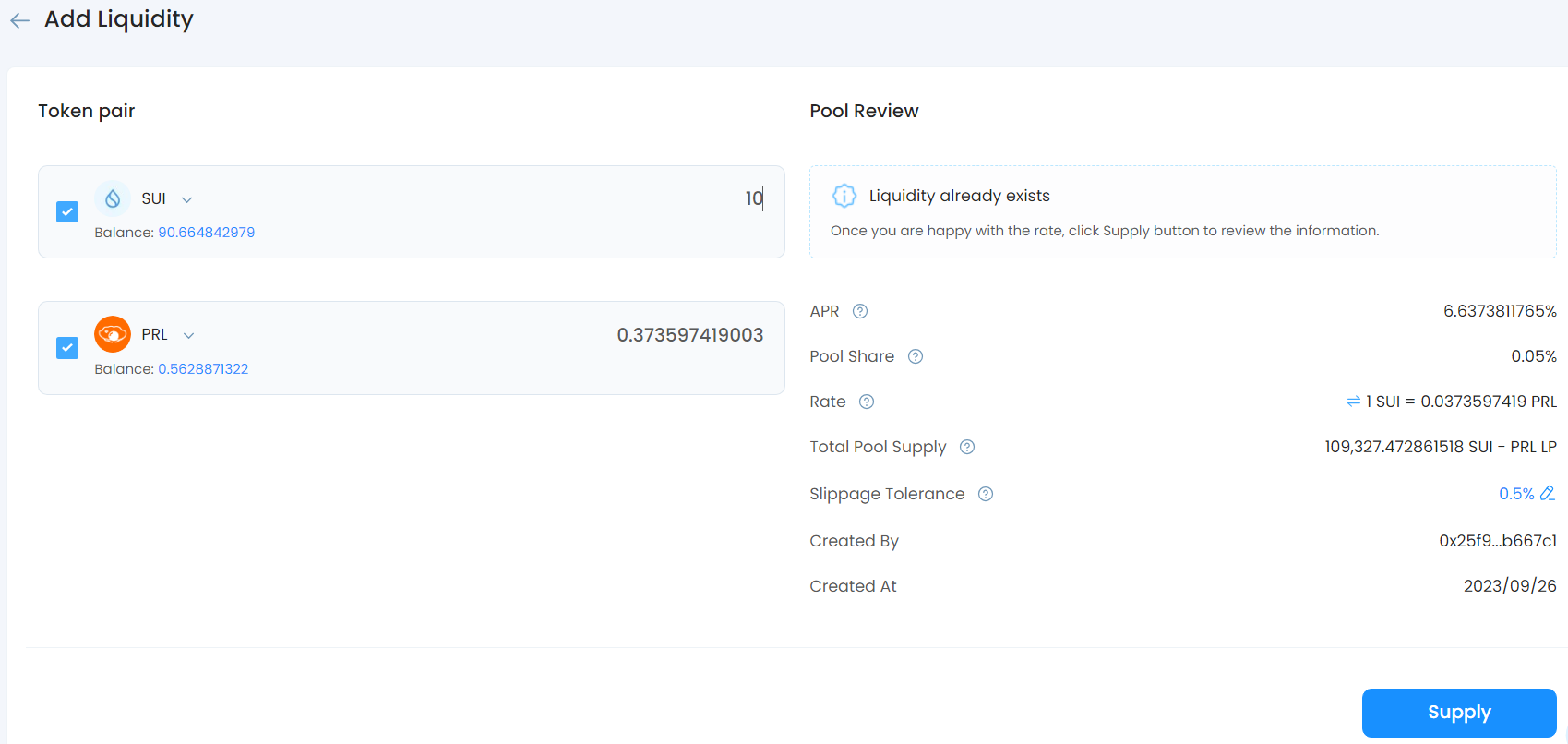 After adding liquidity, you will receive the LP token of this pool (SUI/PRL LP token)
*Note: Keep in mind that when you're adding liquidity to the pool, you need to have both $SUI and $PRL. Choose how much you want to add based on the price of these two tokens right now.
Step 3: Go back to SuiPearl and Deposit the LP token into the farming pools
Official links
Wrapping up
In conclusion, SuiPearl offers a unique opportunity as it currently remains relatively undiscovered, resulting in exceptionally high APRs for potential investors. For those concerned about impermanent loss, SuiPearl has a stable pool (wUSDC/wUSDT) with an impressive APR of 538.41%, ensuring a risk-free option for participation. By following our guide, you can seamlessly navigate SuiPearl's features and make the most of its farming strategies. Join now to capitalize on this exciting, high-reward opportunity before it gains mainstream attention.
Read more: Top 10 DeFi Protocols On Sui Blockchain
Be sure to check out Suipiens' website and social media channels to stay up-to-date on all things about Sui Blockchain!