A Comprehensive Guide to Interact with FlowX Testnet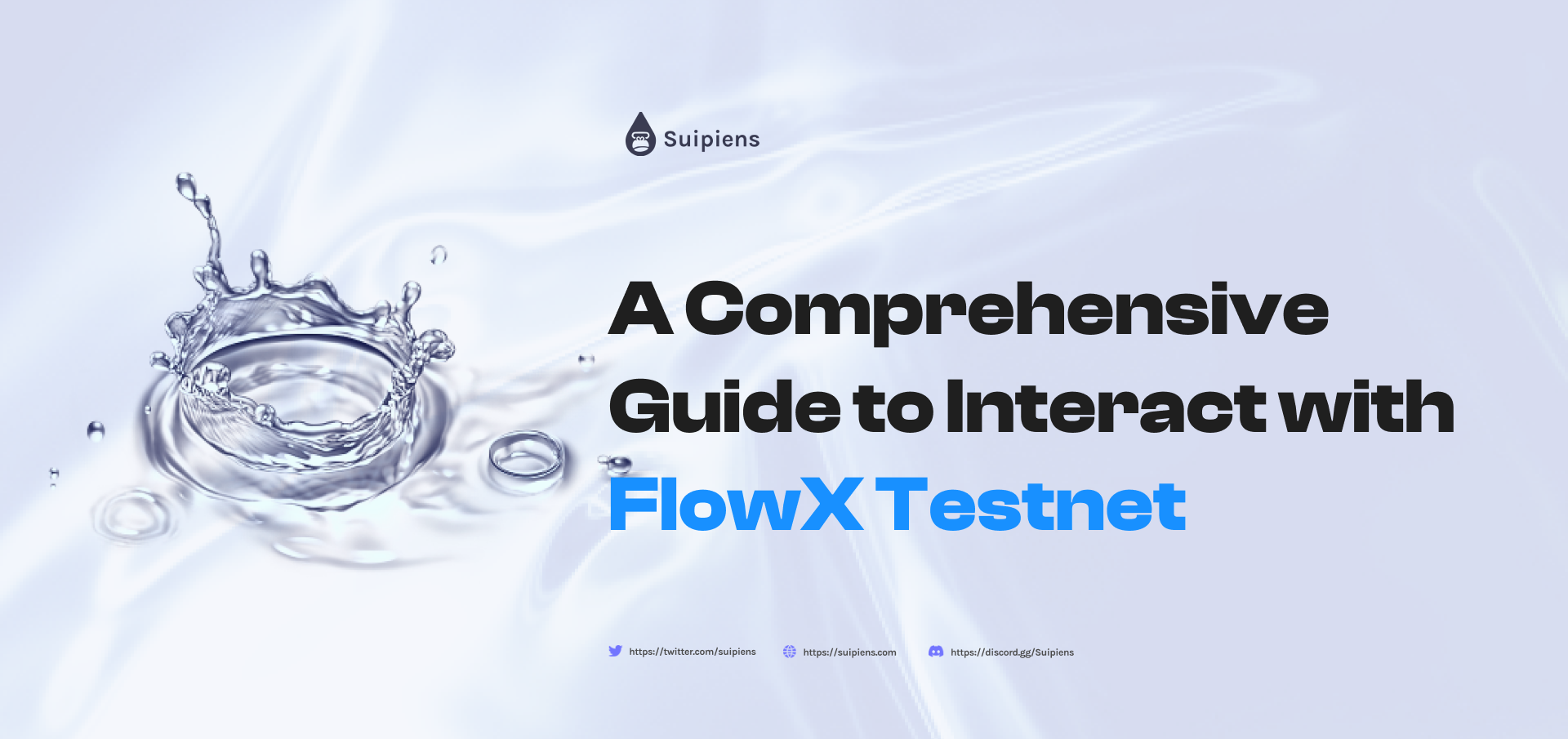 FlowX Testnet v2 has arrived, bringing with it many exciting updates. Let's dive into the guide to interact with FlowX Testnet!
FlowX Testnet v2 has arrived, bringing with it many exciting updates. Brace yourself for an in-depth guide that covers every aspect of navigating and utilizing their testnet to its fullest potential.
INTRODUCTION

FlowX is the ecosystem-focused decentralized exchange built on the Sui Blockchain, providing a seamless, user-friendly experience for all your trading needs.
FlowX delivers a revolutionary DeFi user experience, surpassing other AMM DEXs with notable efficiency, speed, and agility improvements. They also offer custom services for builders, allowing developers to easily establish deep and sustainable liquidity pools.
FlowX official links:
WHY DO YOU NEED TO JOIN FLOWX TESTNET?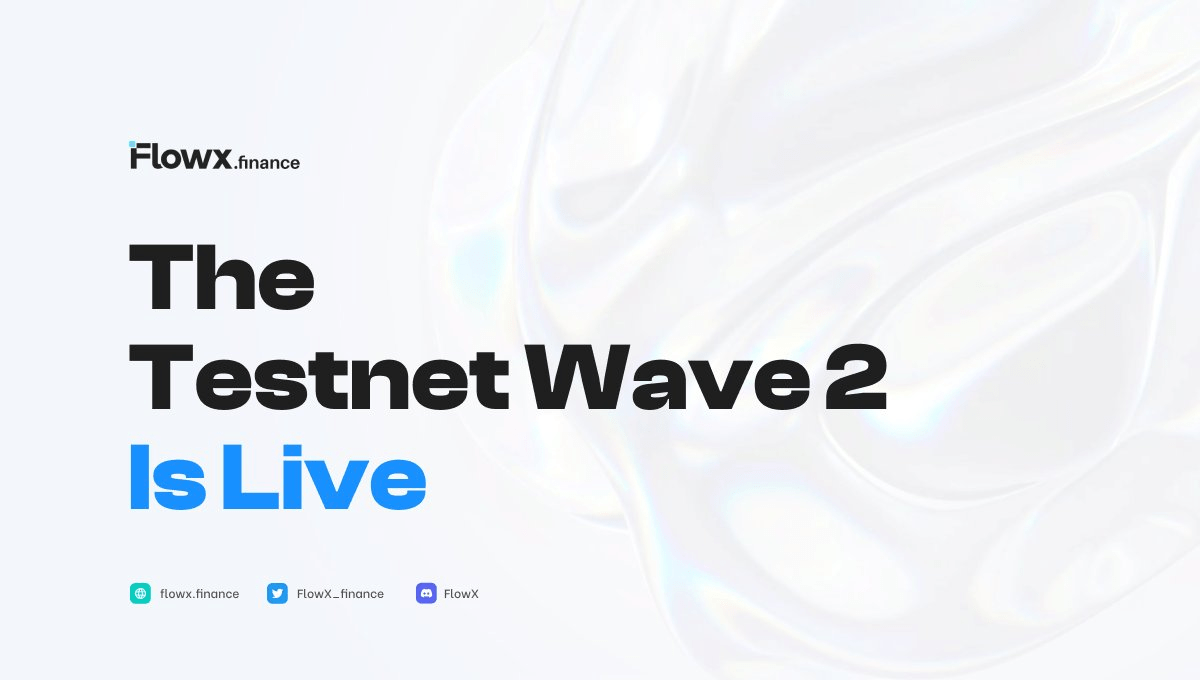 Gain valuable insights into FlowX's cutting-edge features. Get a firsthand look at what the testnet has to offer, providing a glimpse into the platform's potential.
By actively engaging with FlowX Testnet and sharing your valuable suggestions and feedback, you can not only contribute to its improvement but also have the opportunity to earn rewards. The team behind FlowX has confirmed rewarding participants who actively interact with the testnet, making it a lucrative chance to earn money.
As the mainnet launch approaches, FlowX team can plan to organize a "Bug Bounty" program. Participating in the testnet now gives you the best opportunity to familiarize yourself with the platform, enabling you to sharpen your skills in bug finding and be fully prepared for the mainnet's bug-hunting challenges.
Plus, you don't have to worry about any financial risks when joining the FlowX Testnet. All you need is $SUI testnet tokens, which can be easily obtained through the Sui Discord server or Sui Wallet faucet.
GUIDE TO INTERACT ON FLOWX TESTNET
Here's the official link of FlowX Testnet: https://testnet.flowx.finance/
SWAP
Swap is the core product of FlowX, where users can enjoy a superior user experience to swap from one token to multiple tokens and vice versa.

2. Select the pair of tokens that you want to swap. You can choose multiple tokens at once.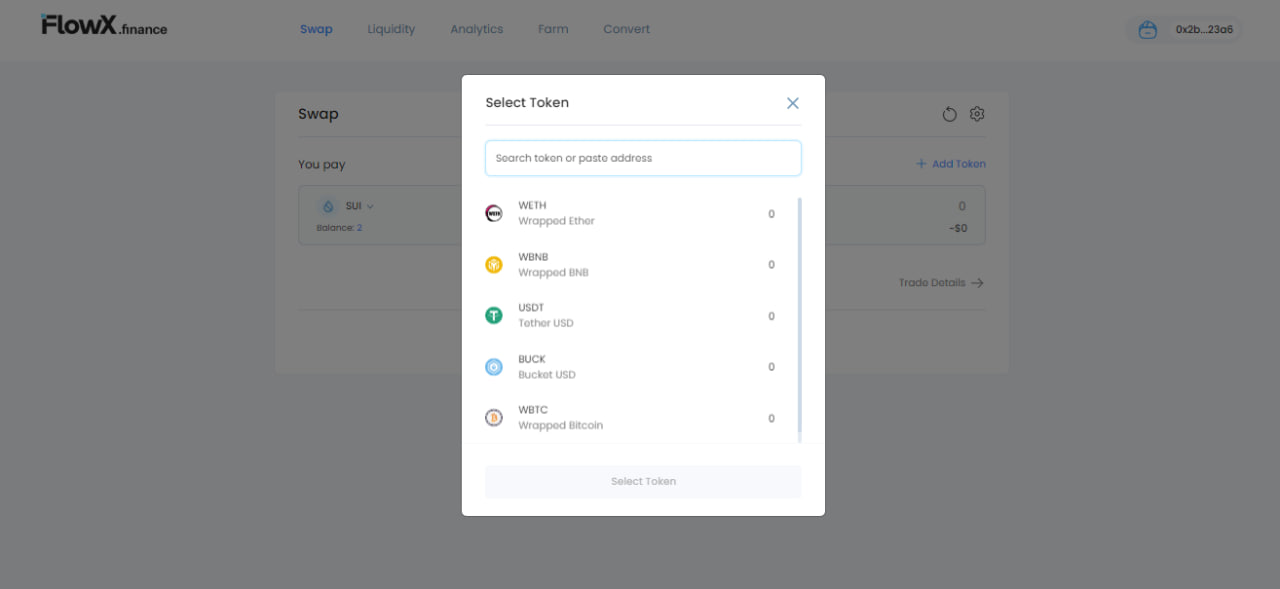 3. Check the detail of the swap again, once you're happy to proceed, click "Confirm and approve on your wallet.
LIQUIDITY
FlowX Finance offers two distinct liquidity pools to users: the Stable Pool and the Volatile Pool.
Volatile Pools are volatile pools of liquidity (similar to Uniswap v2) among asset classes with volatile prices following divergence. For example USDT vs SUI or ETH vs SUI.
Stable Pools are pools of stable liquidity similar to Curve) between asset classes with low-volatility prices compared to others. For example USDT vs USDC.
Access to https://testnet.flowx.finance/liquidity.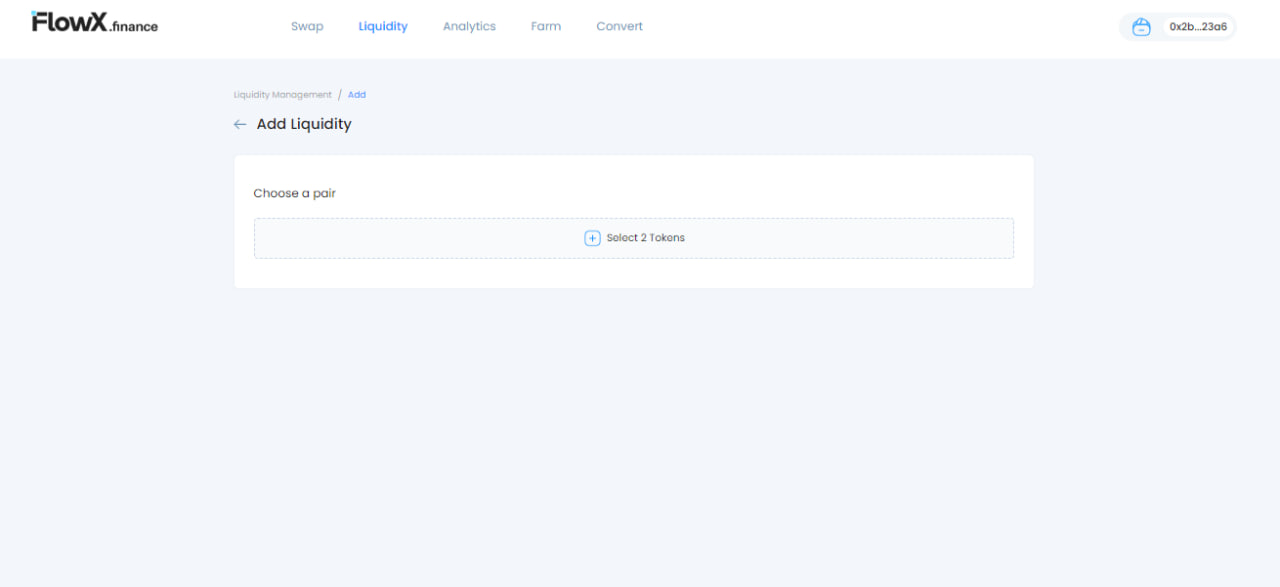 2. Click on "New Position" then select the pair of tokens that you want to provide liquidity then choose "Add Liquidity".
3. Click "Suppy" => "Add Liquidity".
*Remember that you can also manage your position and increase the liquidity from the Liquidity Management Board.
ANALYTICS
FlowX Testnet provides users with a comprehensive dashboard that offers real-time information on total liquidity, 24-hour volume, fees, transactions, and more. This invaluable tool allows users to track pairs or tokens effortlessly, enabling them to adjust their strategies for maximum profitability when transitioning to the mainnet.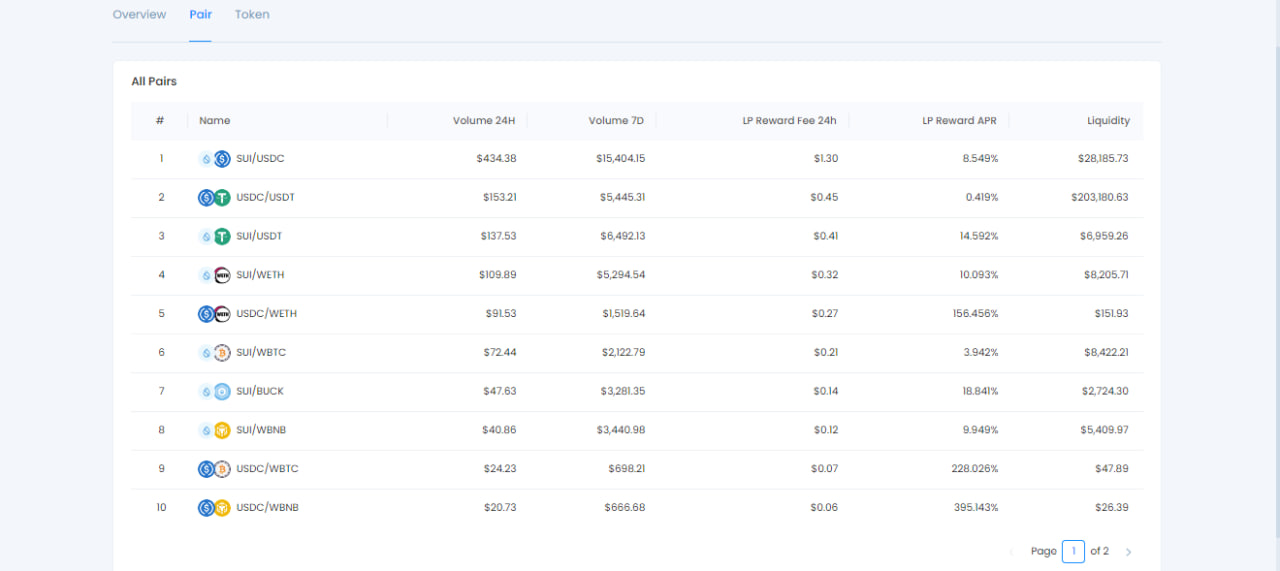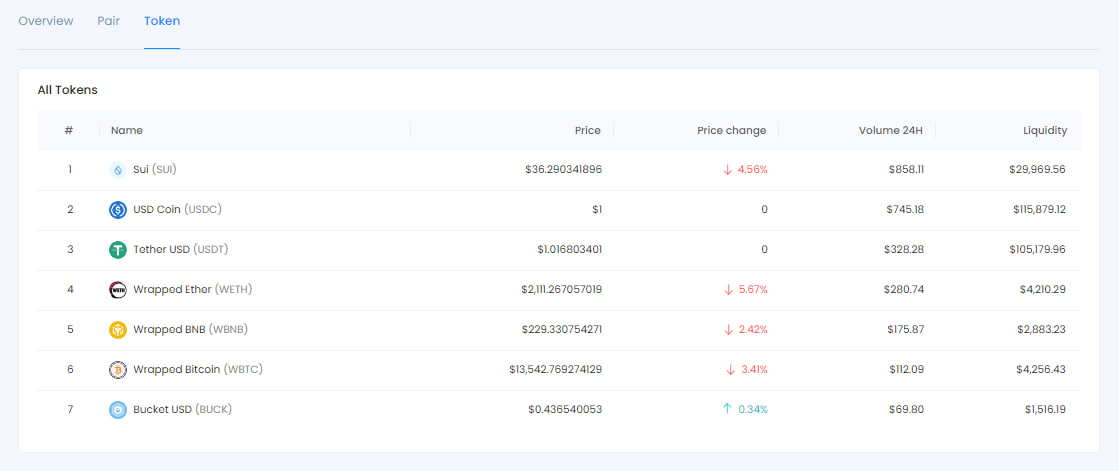 FARM
FlowX provides the Yield farming pool where users can stake the LP token to get more rewards. Choose the time you want to lock the LP token or not.
Access to: https://testnet.flowx.finance/farm.
Select the suitable genesis pool then choose your Stake Position.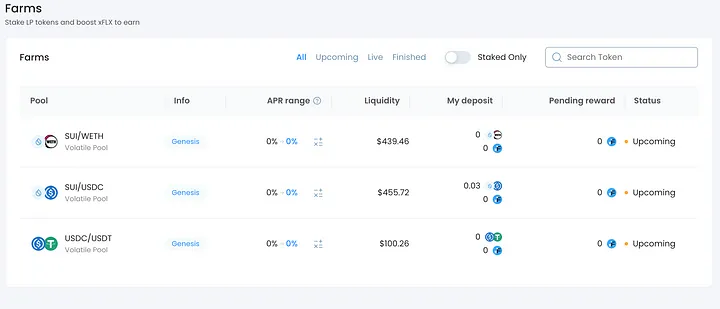 3. Harvest your reward whenever you want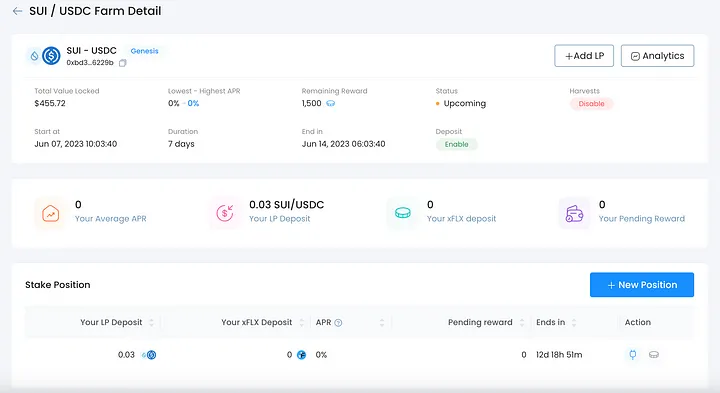 WRAPPING UP
Congratulations! You have reached the end of our comprehensive guide on interacting with FlowX Testnet v2. By following this guide, you have gained valuable insights into navigating and utilizing the various features of the testnet.
Now that you are equipped with the knowledge and tools to interact with FlowX Testnet v2, it's time to dive in and start exploring the exciting world of FlowX. Head over to their official testnet website and begin your journey towards a revolutionary Sui's DeFi experience now!