Decentralized Exchange Bluefin's V2 Is Live On Sui Network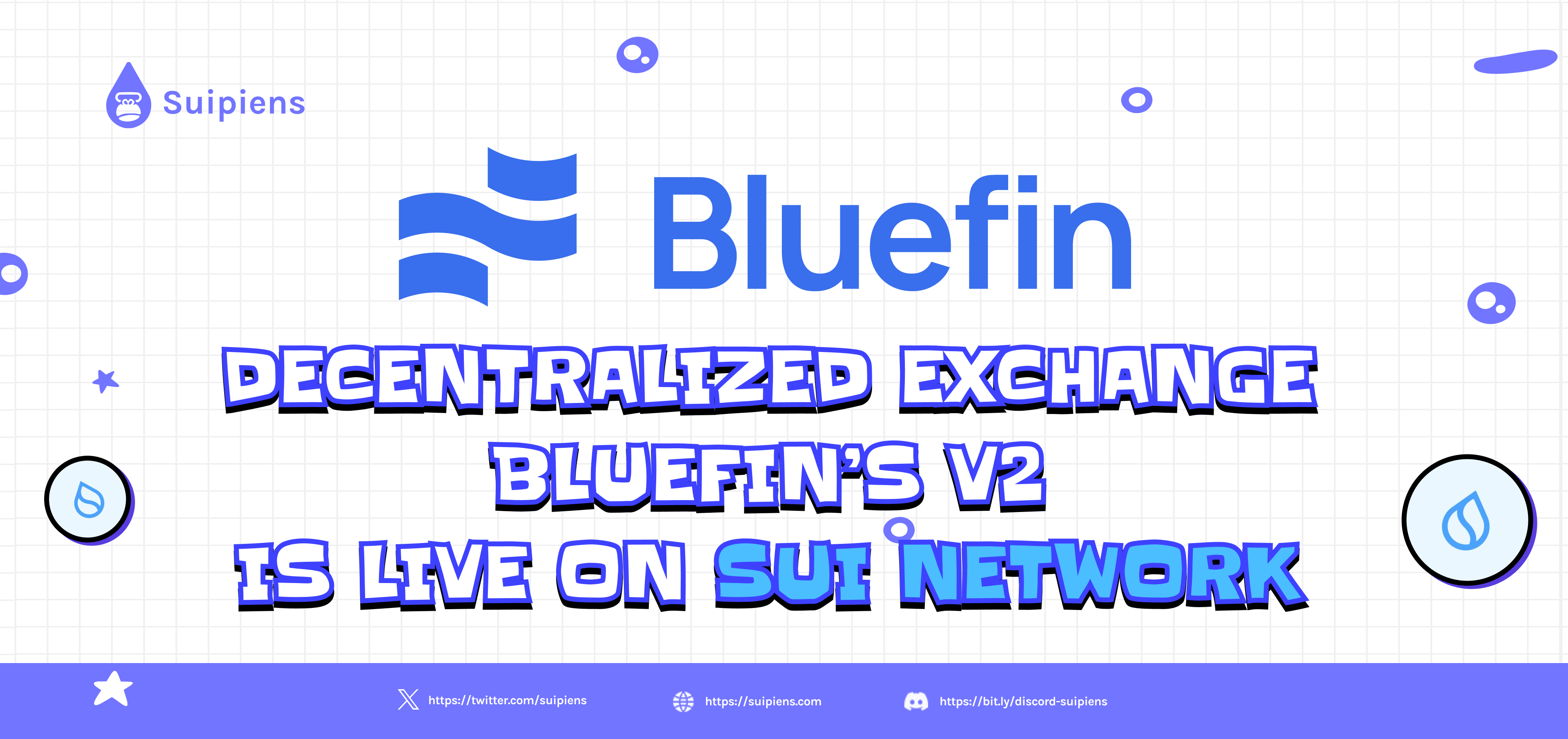 Decentralized orderbook-based exchange Bluefin's upgraded version called "v2" went live on the Sui network, the company said in a recent press release.
Bluefin, the decentralized orderbook-based exchange, has unveiled its new upgrade, "v2," which is now live on the Sui Network. This latest iteration brings amazing features that promise to redefine the way crypto enthusiasts trade, offering sub-second transaction speeds and the convenience of trading without the need for a crypto wallet.
Bluefin's commitment to innovation is evident in this release, as it introduces several key enhancements that aim to deliver a trading experience on par with centralized exchanges.
Introducing Bluefin v2
Bluefin v2 marks a significant leap forward in decentralized trading technology. This upgrade introduces several features:
Optimistic Trades with Sub-Second Speeds: Bluefin v2 introduces the concept of "optimistic trades," enabling lightning-fast transactions that take mere milliseconds to complete. This approach eliminates the need for crypto wallets, streamlining the trading process for users.
Spot and Cross-Margin Trading: Traders can now enjoy the flexibility of spot trading using Sui's on-chain orderbook. This addition enhances decentralization, transparency, and security while accommodating cross-margin trading for increased versatility.
Enhanced Privacy Features: Bluefin v2 introduces a privacy function that allows users to engage in trades without the necessity of a crypto wallet, adding an extra layer of security and anonymity.
The company's dedication to providing a seamless trading experience is evident in these features. Bluefin v2 aims to bridge the gap between decentralized and centralized exchanges, offering traders the best of both worlds.
While Bluefin v2 takes the spotlight, the original version, Bluefin v1, will continue to serve its purpose. Bluefin v1 enables users to trade perpetual swaps on the Ethereum scaling network Arbitrum, providing a robust alternative for traders seeking diverse options.
Enhanced Performance and Scalability
Bluefin's development couldn't have come at a more crucial time. Crypto trading volumes have experienced a significant downturn in the midst of a bear market. Decentralized exchanges (DEXs) have seen their weekly volumes drop to approximately $10 billion, compared to the staggering $60 billion recorded in the previous November, according to DefiLlama data.
Despite the rise of DEXs following the challenges faced by centralized platforms, such as FTX, the majority of trading activities remain concentrated on centralized exchanges due to their lower transaction costs and faster execution times.
Bluefin v2 is poised to address these challenges with its innovative approach to trade confirmation. By implementing "optimistic trade confirmations," Bluefin settles trades on its user interface before finalizing them on the blockchain. This process significantly reduces the time taken for trade execution. The platform's off-chain orderbook layer can swiftly transmit optimistic trade confirmations to users in approximately 30 milliseconds, followed by the finalization of the trade on-chain via smart contracts in about 480 milliseconds.
One of the key factors contributing to Bluefin v2's exceptional performance is the Sui network's parallel execution capability. Unlike traditional networks constrained by other applications and users, Sui's parallel execution ensures an exceptionally high success rate for transactions submitted on-chain. This feature further reinforces the reliability and efficiency of Bluefin's decentralized trading platform.
Bluefin's journey is supported by prominent investors such as Polychain Capital and leading trading firms like Susquehanna, Wintermute, GSR, and Wintermute. These strategic investments reflect the confidence of industry leaders in Bluefin's vision and potential to revolutionize the crypto trading landscape.
Wrapping up
In conclusion, Bluefin's v2 represents a significant milestone in the evolution of decentralized exchanges. Its innovative features, including sub-second trades and wallet-free trading, have the potential to reshape the crypto trading landscape in general and the realm of Sui's DEXs in particular. As the crypto market continues to evolve, Bluefin is at the forefront, delivering a decentralized trading experience that rivals its centralized counterparts. Stay tuned for more exciting developments from Bluefin as it continues to push the boundaries of what's possible in the world of crypto trading.
Be sure to check out Suipiens' website and social media channels to stay up-to-date on all things about Sui Blockchain!