A Beginner's Guide To Use Sui Wallet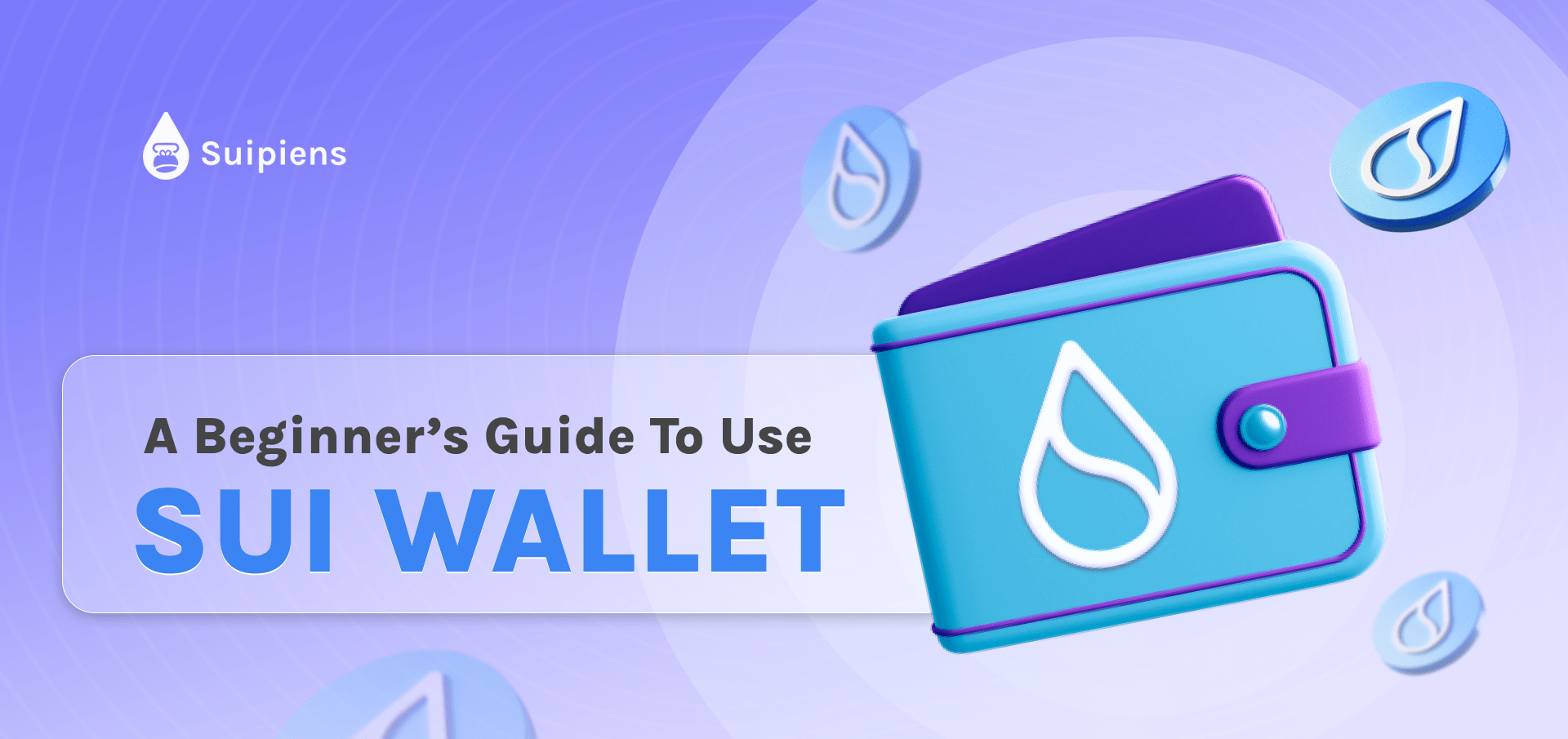 This article will provide you with all of the information you need regarding the Sui wallet and complete directions on how to download it.
Introduction
Are you a beginner when it comes to using Sui Wallet? Worry no more! In this guide, we'll walk through the steps necessary for setting up your wallet and learn about the features that come with it. We'll also discuss what is Sui Wallet and its unique features. So, read on to learn more about the world of cryptocurrency wallets and why Sui Wallet should be your go-to choice.
What Is Sui Wallet?
Simply, your tokens, NFTs, and other digital assets are stored, managed, and traded on the Sui Blockchain using the Sui crypto wallet. The Sui wallet ensures that you are the rightful owner of your digital assets and can serve as a middleman when interacting with the blockchain. Your Web3 journey on the Sui blockchain is simple and secure with Sui Wallet. The suite ensures no monitoring and is user-friendly, and everything is open-sourced.
What Can You Do With Sui Wallet Unique?
There are now a few things you can do using a Sui wallet.
Make and import a personalized Sui wallet
The process of setting up and importing a personalized Sui wallet is straightforward, yet important to understand before you proceed. First, you'll need to install the Sui Wallet app on your device. You can find the latest version of the wallet on the official website or download it from the Google Play Store or Apple App Store. Once your wallet has been created and secured, you will now be able to import an existing individualized Sui wallet into yours.
Complete control over SUI crypto transaction execution
With complete control over SUI crypto transaction execution, users are guaranteed to have a secure and efficient experience. Transactions are processed with the highest level of security, ensuring that no malicious activity can take place. The integrated blockchain technology provides an immutable record of all transactions, allowing for increased transparency and trustworthiness in the process.
Control your NFT on Sui Blockchain
With the Sui wallet, you can easily and securely manage your Non-Fungible Tokens (NFTs) on the Sui blockchain. You are in full control of your assets stored and can monitor their progress with the help of comprehensive insights from Sui's advanced analytics engine. Trade, store, and track all your NFTs with a single tool – Sui Wallet! From marketplaces to wallets, you can use our platform as your one-stop solution for managing your digital assets.
Connect to ALL Sui wallets with the Sui Wallet Kit for Sui Dapps
When this feature is revealed, information will be provided as soon as possible in the articles that follow.
Step-By-Step Guide To Create Sui Wallet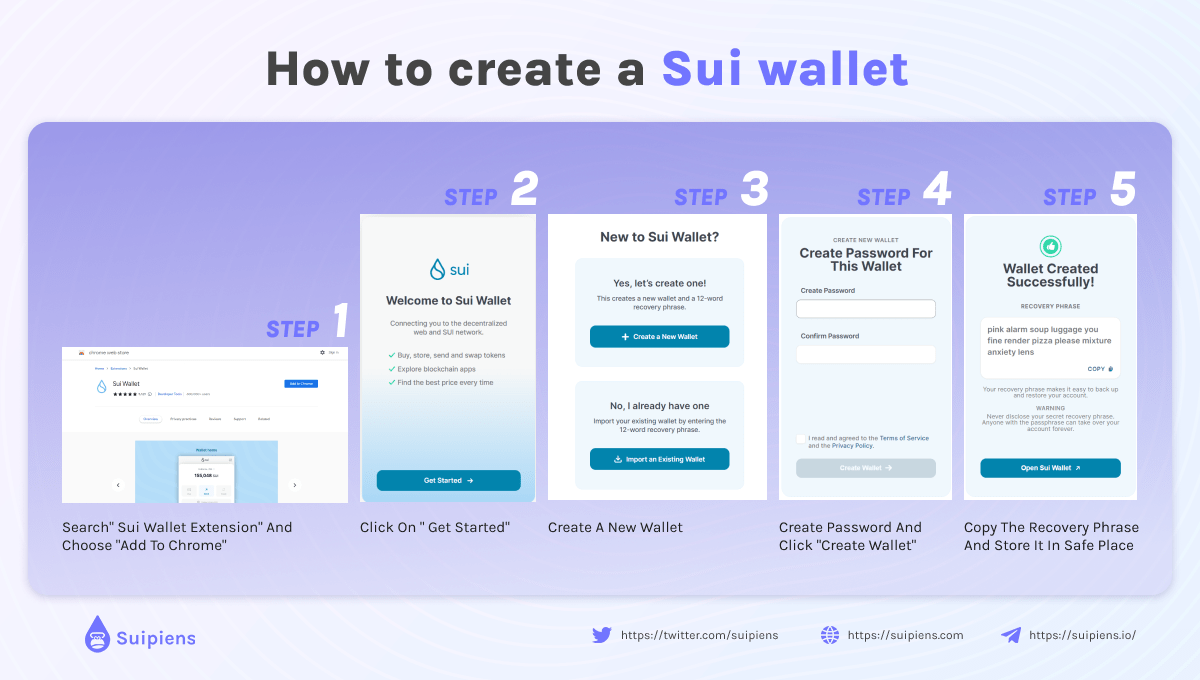 Step 1: Search "Sui Wallet Extension" and choose "Add To Chrome"
Go to Suiet official website to download.
Step 2. Click on "Get Started"
Step 3. Create a new wallet
Step 4. Create Password and click "Create Wallet"
Step 5. Copy the Recovery Phrase and store it in a safe place
Final Thought
Overall, the guide provides a comprehensive and beginner-friendly approach to using Sui Wallet. By following the steps in this guide, you will be able to set up your own Sui Wallet and use it to store digital assets securely. In addition, you will also learn what to do with the Sui wallet. We hope that this guide has been helpful in getting started with Sui Wallet.
Glass Wallet and Martian Wallet are another best excellent Sui Blockchain wallets that you should not overlook. Experiment now to determine which wallet is best for you!
Be sure to check out Suipiens website and social media channels to stay up-to-date on all things about Sui Blockchain!