Twitter Spaces Recap: Is Sui the Next Ethereum?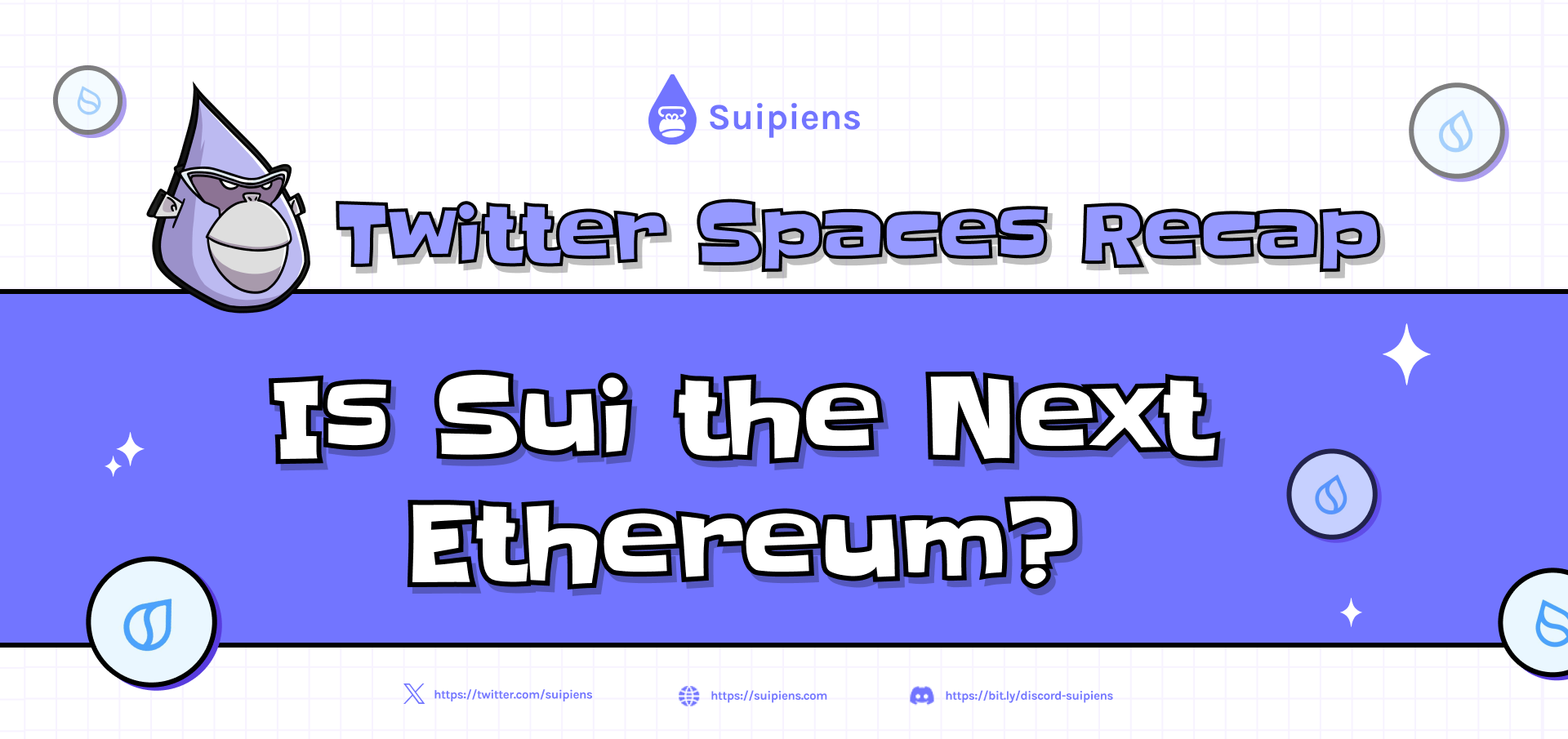 In a recent Twitter Spaces, Evan Cheng, the co-founder and CEO of Mysten Labs, provided a comprehensive perspective on various aspects of the Web3 ecosystem, blockchain adoption, and the crucial role of Asia and gaming within this domain.
In a recent Twitter Space with @coinage_media, Evan Cheng, the co-founder and CEO of Mysten Labs, provided a comprehensive perspective on various aspects of the Web3 ecosystem, blockchain adoption, and the crucial role of Asia and gaming within this domain. This recap delves into the key points covered in the conversation, shedding light on the world of blockchain and decentralized technologies.
You can watch the full Twitter Space here.
Speaker information:
Evan Cheng - Co-founder and CEO of Mysten Labs (https://twitter.com/EvanWeb3)
1/ Why Does Asia Play a Pivotal Role in Blockchain?
Evan Cheng underscored the pivotal role that Asia, particularly markets like Korea, Japan, and Southeast Asia, plays in the blockchain space. Asia has consistently been at the forefront of blockchain adoption, propelled by its early recognition of the technology's transformative potential. Specifically, the gaming industry in Asia has served as a pioneering force in adopting blockchain and understanding how to harness its potential effectively.
2/ Decentralization Challenges
Cheng acknowledged the significant challenges associated with achieving genuine decentralization in the blockchain sector. He emphasized that critics often scrutinize projects' decentralization efforts, especially in their nascent stages. This scrutiny highlights the importance of adhering to decentralization principles for long-term sustainability and trust within the community.
3/ Navigating Global Jurisdictions
Mysten Labs operates across various global jurisdictions, including Asia, Europe, and the United States. Each jurisdiction presents its unique regulatory environment and compliance requirements. Evan Cheng stressed the importance of adopting a nuanced approach to ensure compliance while staying true to the principles of decentralization and user empowerment.
4/ The U.S. in the Blockchain Space
The United States remains a significant player in the global blockchain adoption landscape. Its robust capital markets and dynamic startup ecosystem have contributed to its influence in the space. However, regulatory complexities have prompted some blockchain projects to explore opportunities outside the U.S. Nevertheless, Evan Cheng emphasized that the U.S. market remains crucial and is not to be overlooked.
5/ Predicting Web3 Adoption
Anticipating the exact timeline for widespread Web3 adoption remains a formidable challenge. The primary objective is to enhance user-friendliness, making blockchain products and services more accessible to mainstream consumers. Evan expressed his belief that within the next three to four years, Web3 products could seamlessly integrate into people's daily lives, marking a significant milestone in the technology's evolution.
6/ Web3 and Ownership
A fundamental pillar of Web3 is the promise of genuine asset ownership. This paradigm shift in digital asset ownership extends the life cycles of user engagement and intellectual property, fundamentally altering how we manage and value digital assets.
7/ Transitioning Away from Traditional Models
The allure of Web3 has led numerous individuals to pivot away from traditional media and technology companies. The appeal of greater autonomy, ownership, and creative freedom offered by Web3 has made it an attractive choice for builders and creators looking to shape the digital landscape on their terms.
8/ FTX and Mysten Labs
Evan Cheng elaborated on Mysten Labs' strategic acquisition of FTX's stake in their project. This move aimed to eliminate uncertainties and bolster Mysten Labs' position within the Web3 ecosystem. The challenges faced by FTX highlighted the growing confidence among investors and builders, signifying a shift toward taking blockchain projects more seriously.
9/ Attracting Builders to Web3
Mysten Labs actively fosters a thriving developer ecosystem by offering a differentiated model that addresses key developer pain points. Through the provision of essential tools, grant programs, and developer support initiatives, Mysten Labs aims to encourage innovation and growth among builders, fostering a community dedicated to shaping the future of blockchain.
10/ Security and Bug Bounties
Security stands as an overarching concern within the Web3 sphere. Bug bounty programs play a pivotal role in identifying and rectifying vulnerabilities, contributing to the overall security of blockchain projects. Evan Cheng stressed the importance of addressing security issues at a fundamental level, minimizing the risk of design flaws that could compromise the integrity of a project.
11/ Predictions for the Future
Evan Cheng shared a bold prediction for the upcoming year, foreseeing the emergence of groundbreaking Web3 projects that will drive massive consumer adoption. These projects are poised to transform perceptions of blockchain and asset ownership, attracting millions of users to the ecosystem and cementing Web3's position as a technological force to be reckoned with.
Be sure to check out Suipiens' website and social media channels to stay up-to-date on all things about Sui Blockchain!