Sui Transforms Crypto Security with 8-Word Mnemonic Format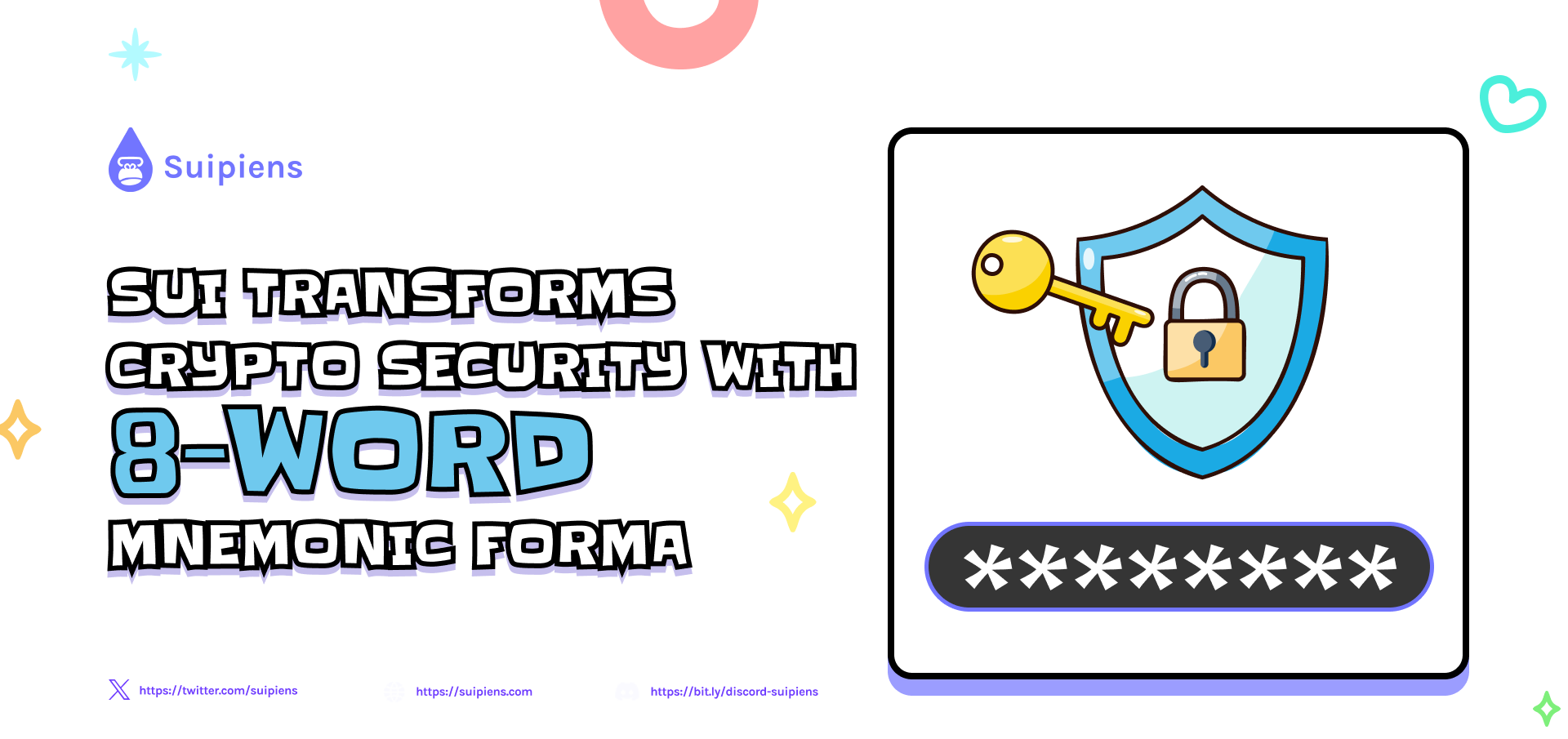 Sui Network co-founder teases the 8-word mnemonic format that redefines crypto security, ensuring enhanced protection and accessibility.
In a recent tweet from his own account, Kostas Chalkias, the co-founder of Sui Network, has introduced an ingenious solution that is set to transform the way users safeguard their digital assets. This pioneering development presents a compressed 8-word mnemonic format, promising heightened security without the burden of managing longer, traditional phrases.
Mnemonics, widely employed in the cryptography community, serve as a vital shield for securing sensitive information like secret keys and access to digital assets. They act as a gateway, granting direct access to the stored digital valuables. The introduction of this compressed format marks a significant leap forward in terms of user experience (UX), eliminating the need for lengthy memorization.
With an unwavering commitment to user convenience, Sui Network will be providing an Application Programming Interface (API) to facilitate seamless conversion between the conventional 12-word and the new 8-word mnemonic formats. This user-friendly feature ensures a smooth transition to a more streamlined format, enhancing accessibility for all users.
Kostas Chalkias further emphasized that the utility of the compressed mnemonic format isn't confined solely to cryptographic keys. In fact, it can be applied to crypto salts and various other types of secrets, widening its scope and relevance within the crypto sphere. This versatility amplifies the potential impact of this innovation on the broader landscape of digital asset protection.
While the initial excitement generated by this announcement is palpable within the crypto community, Kostas Chalkias stressed that the impending release will include a comprehensive suite of tools including algorithms, dictionaries, and APIs. These tools are meticulously crafted based on valuable user feedback, ensuring a refined and seamless adoption process for this wonderful solution.
Beyond the boundaries of this innovative development, Sui Network stands as a forefront Layer 1 blockchain and smart contract platform, engineered to make digital asset ownership swift, private, and secure for everyone. Sui's unique features, including its object-centric model based on the Move programming language, facilitate parallel execution, robust on-chain assets, and lightning-fast processing at a minimal cost. This infrastructure marks a remarkable stride in the realm of blockchain technology, fostering an environment ripe for creative exploration and user-friendly experiences.
As Sui Network gears up to introduce the compressed mnemonic format, concerns have surfaced regarding the potential impact of simplified mnemonic phrases on maintaining stringent security standards. However, Kostas Chalkias and the team at Sui Network are resolute in their commitment to upholding the highest security protocols while simultaneously enhancing the accessibility and usability of their innovative solution.
The forthcoming launch of the compressed mnemonic format is poised to redefine the dynamics of crypto security, underscoring Sui Network's unwavering dedication to community collaboration, innovation, and the continuous evolution of digital asset protection.
In essence, Sui's implementation of a condensed mnemonic format marks a new milestone in blockchain advancement, ensuring fortified security for digital assets and user-friendly accessibility. Sui's emphasis on inclusive development and responsive feedback exemplifies their commitment to fostering collaborative innovation within the community.
Be sure to check out Suipiens' website and social media channels to stay up-to-date on all things about Sui Blockchain!