Sui Blockchain's Fundraising Process
Sui Blockchain's fundraising process has generated a lot of attention by consistently setting records with sizable commitments from significant investment funds. For additional details on how the procedure went, continue reading.
Introduction
Sui Blockchain is one of the new layer-1 waves attracting a lot of interest from world-renowned investment funds. It also broke records by raising $336 million in only two investment rounds. It is one of the new, immature, but incredibly promising projects that claim to correct backlog mistakes in older Blockchains. That is also why investors are willing to pay large sums to collaborate on the development of this Blockchain. Let us delve deeper into why Sui Blockchain attracts investment funds and how it raises funds in this article.
Why Does Sui Blockchain Attract The Large Investment Funds?
Sui is a potential project since it makes a difference and fixes several flaws that have been in older Blockchains for a long time.
Sui Blockchain's unique points
Sui Blockchain uses the Move programming language, which was designed specifically for the creation of secure smart contracts. This is seen as a technique to address a number of security flaws and backlog attacks in Solidity, Ethereum's programming language, which has cost Ethereum developers thousands of dollars for a long time.
Furthermore, the Mempool problem in traditional blockchain architectures such as Ethereum and Bitcoin has been overcome thanks to the Sui blockchain's Narwhal & Tusk consensus mechanism, which isolates data transfer from transaction consensus. Translate. guarantees network security even if nodes are misled and corrupted.
On the other hand, it also impresses investment funds because TPS has a performance of up to 120,000 TPS. Sui also optimizes gas design to ensure low and steady gas charges and deliver the greatest user experience.
Scalability is one of Sui's strong points and is made possible by its capacity to manage concurrent transactions. Most blockchains now have a low throughput since transactions need to be structured, placed in a block, and then finalized. Sui differs in that it will divide data into distinct items and process them simultaneously.
Simple transactions will therefore not require consensus; instead, they will be carried out separately and in parallel. As a result, Sui may scale horizontally and linearly and network latency and throughput both reduce.
What Do Investment Funds Think About Sui Blockchain?
Investors view Sui Blockchain as a project with enormous potential. He Yi, the co-founder of Binance and director of Binance Labs, stated:
"We anticipate users should have no trouble using blockchain products. The network is still congested right now, though. Binance Labs will concentrate on funding infrastructure initiatives that offer creative solutions to this problem. A proof-of-stake blockchain that can grow network traffic horizontally is being developed by Mysten Labs. We anticipate that the team will be able to build the necessary infrastructure to speed up Web3 adoption."
The founder of hedge fund a16z, Andreessen Horowitz, stated that the Fund is aware that layer 1 blockchains must scale and evolve swiftly to meet demand. Blockchain is also being fully utilized by Sui founders. For web3, issues with scalability and programmability must be resolved. In other words, A16Z invests in Mysten Labs' knowledgeable and talented staff in addition to its products.
Overview Of Sui Blockchain's Fundraising Process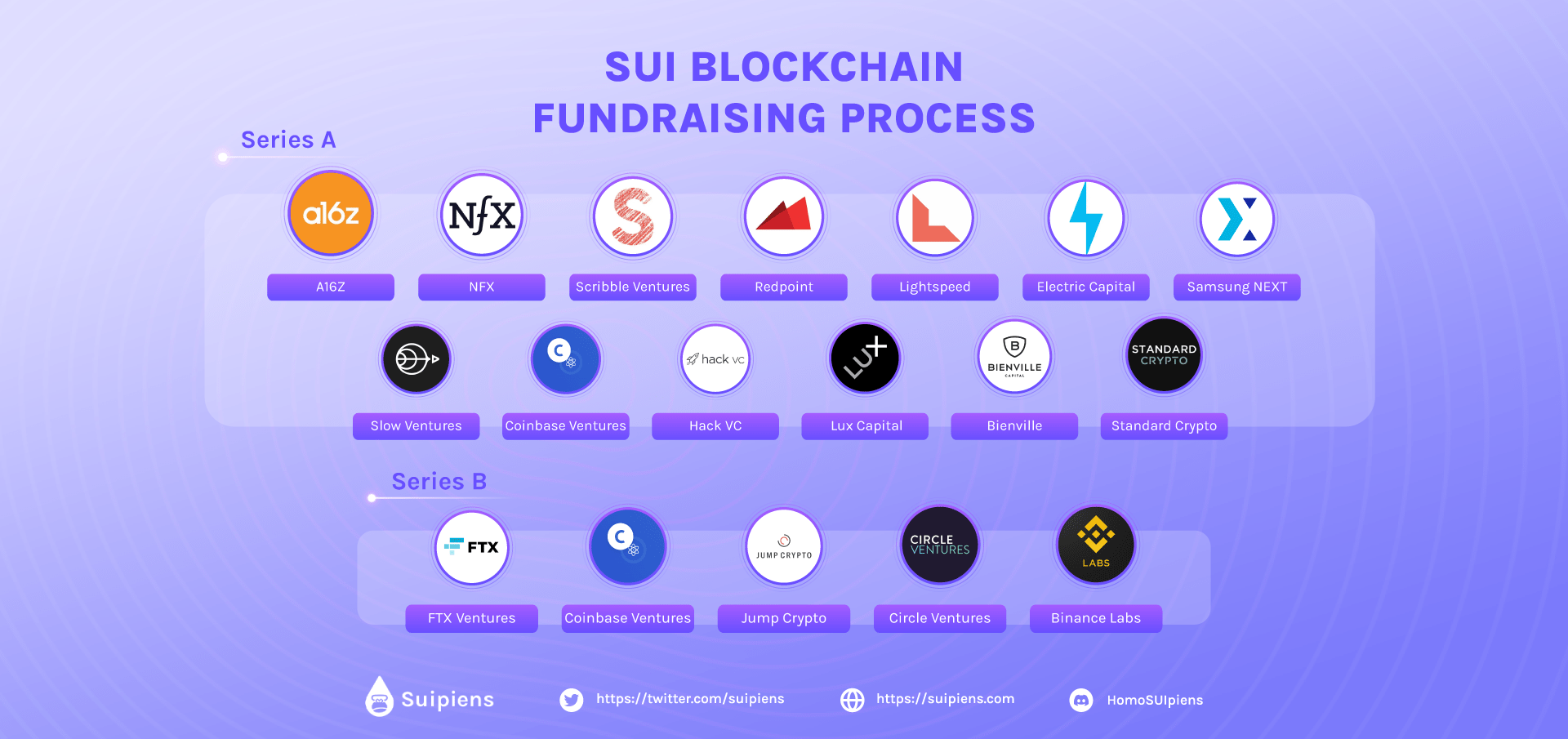 Through two series A and B, Sui Blockchain has raised $336 million from investment funds. Let's examine each series in more detail to comprehend how Sui Blockchain raises funds.
Series A
General information:
Announcement date: December 6, 2021
Amount raised: 36 million USD
Lead investor: a16z
Other investors: NFX, Scribble Ventures, Redpoint, Lightspeed Venture Partners, Slow Ventures, Standard Crypto, Electric Capital, Samsung NEXT, Coinbase Ventures…
Sui Blockchain announced the beginning of its first investment round on December 6, 2021. Just one day later, this termite Blockchain replied that they had gotten investment from numerous big investment funds, all of which were supervised by a16z. Along with many other outstanding funds and Sui investors, the project also involves Redpoint, Lightspeed, Coinbase Ventures, Electric Capital, Standard Crypto, NFX, Slow Ventures, Scribble Ventures, Samsung NEXT, Lux Capital, Bienville, Hack VC, and Elad Gil.
Up to 36 million USD were invested in the series' conclusion, a first-time record-breaking sum. Evan Cheng (CEO of Mysten Labs) said that the 36 million USD fundraising round headed by Andreessen Horowitz will be used to construct the backbone technologies needed for other blockchain and cryptocurrency-based businesses to supply the technology.
Series B
General information:
Announcement date: September 8, 2022
Amount raised: 300 million USD
Lead investor: FTX Ventures
Other investors: a16z, Jump Crypto, Apollo, Binance Labs, Franklin Templeton, Coinbase Ventures, Circle Ventures, Dentsu Ventures, Greenoaks Capital, Lightspeed Venture Partners, Sino Global, O'Leary Ventures,…
Just nine months after the first round's conclusion, on September 8, 2022, the second round was immediately initiated. According to reports, the company raised $300 million in the Series B fundraising round, which was led by FTX Ventures and included a number of venture capital organizations. Coinbase Ventures, Jump Crypto, Andreessen Horowitz's a16z, Circle Ventures, Binance Labs, and O'Leary Ventures are some other Series B investors.
Mysten Labs was valued at $2 billion thanks to this round of funding. According to Mysten Labs, the money will be used primarily in the Asia Pacific (APAC) area for ongoing core development and aggressive recruitment. Sui, the company's first offering and a blockchain described as secure and scalable to rival Ethereum and Solana is still in development but has the potential to grow tremendously in the future.
If you are interested in the Sui tokenomics, see more: Sui Foundation Announces Tokenomics.
Final Thought
After the two rounds of Sui Blockchain's Fundraising Process are complete, Sui has been successful in making a difference and earning the confidence of investment funds regarding its future possibilities. Mysten Labs will leverage the most recent capital to scale Sui even more. They also anticipate getting backing from prestigious investors and business associates that support their purpose. Despite the fact that creating an ideal blockchain is still challenging, let's strive for Sui's success in the near future!
Be sure to check out Suipiens' website and social media channels to stay up-to-date on all things about Sui Blockchain!