Sui Announced Permanent Testnet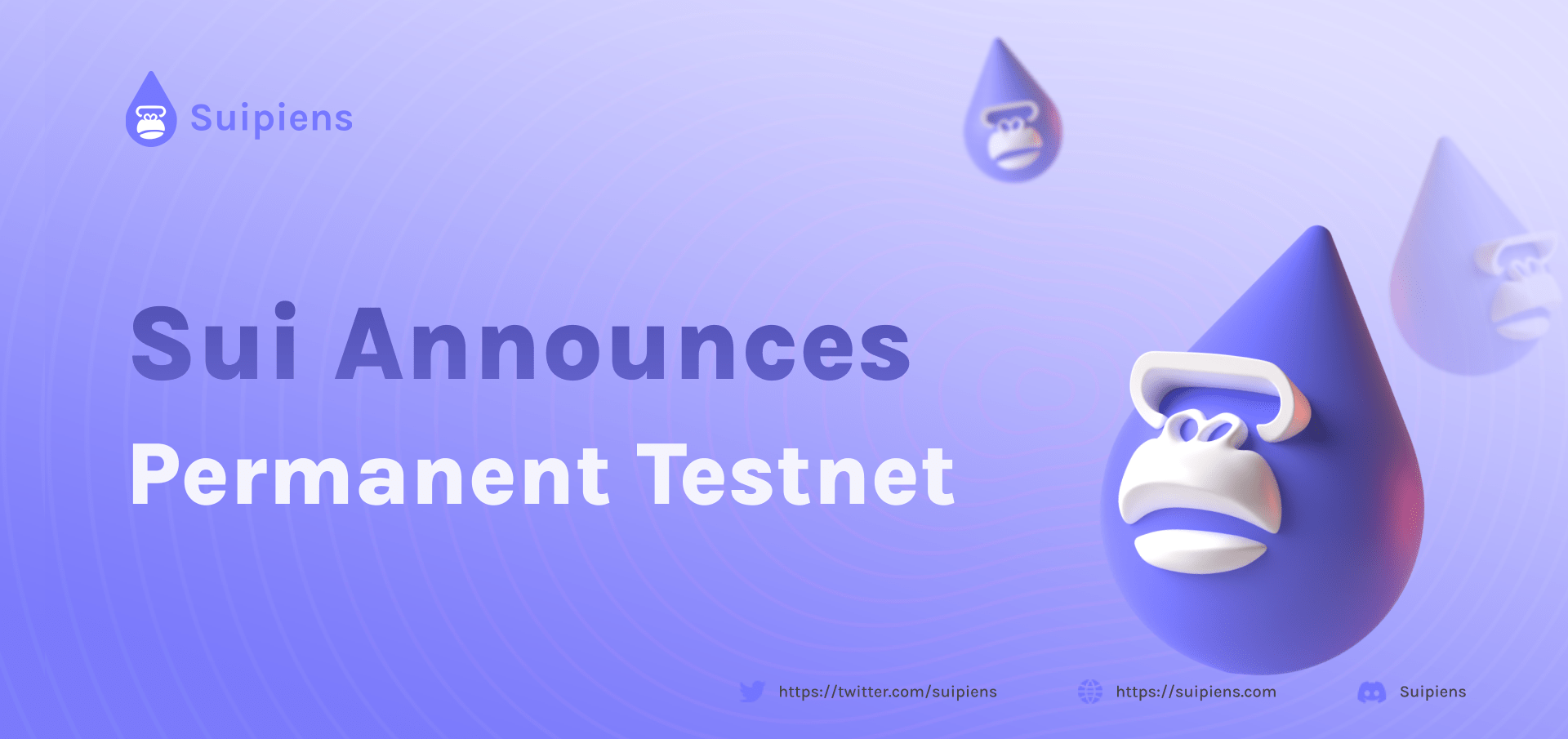 Join Sui's updated, permissionless testnet - now permanent! Experience new features on this decentralized network after Mainnet launch.
Sui, the popular blockchain platform, has just announced the arrival of its Permanent Testnet - a long-awaited addition to their decentralized and permissionless network. This new Testnet, unlike previous versions, will continue to run even after the Mainnet launch. With a host of significant feature updates, the Sui community can now experience the power of a permanent, decentralized network.
Core Network
The Core Network has made some upgrades to improve its performance and accessibility:
Dynamic validator set: New validators who meet the requirements can join the network, and active validators can leave at certain intervals. This makes the network more open and inclusive.
Protocol software and Sui framework upgrades: Testnet will no longer be wiped clean after each software update, and the community will be informed of any planned updates or wipes.
Full node restore from database snapshot: Node operators can now bring up a full node quickly using a checkpoint, rather than waiting for it to sync.
Addresses and signature upgrades: To prevent hash collisions, account addresses, object IDs, and transaction IDs have been increased from 20 bytes to 32 bytes. The default hash function is now Blake2b for better performance. Additionally, signatures are now applied over hash digests instead of serialized data, which makes it easier to use with hardware wallets.
Developer Experiences
The Sui developer platform has reached a milestone called Sui DevX 1.0. This includes a number of core features that were developed based on feedback from developers and builders throughout the Sui journey so far. The features are designed to enhance the developer experience and efficiency, while also enabling a decentralized Sui ecosystem that is not fragmented.
One of the core features is the Programmable Transaction Blocks, which allows developers to chain together a series of transactions to create a custom, atomic transaction block that is suited to their application needs. This enhances the versatility of the Sui Move programming model and simplifies gas coin management. Another feature is the Sponsored Transactions and gas station, which supports sponsored transactions and is now available for use with Sui's Permanent Testnet.
The Object Display Standard standardizes the off-chain display of objects of the same type using a set of named templates. This feature is now supported by Sui Explorer and Sui Wallet, as well as Sui APIs and Typescript/Rust SDKs. The Kiosk Standard is a powerful new primitive that supports listing an object for sale and enforcing creator-defined royalty policies when the object is sold. It fills two key gaps for those building collectibles and trading platforms on Sui.
The RPC Revamp includes more aggregation-based RPC get* methods, deprecation of JSON RPC batched requests in favor of MultiGet* methods, and deprecation of legacy RPC methods in favor of Programmable Transaction Blocks. The Move API now supports verifying Groth16 ZKP using both BN254 elliptic curve and BLS12-381, which enables privacy-preserving applications.
The Sui developer platform also features two granularity of timestamps, including a fine-grained Clock module that supports 2-3 second granularity for near real-time applications, and a coarse-grained Epoch Timestamps. Move Package Upgrade is another essential functionality for developers to update their Move contract and to pull in upgrades of dependent packages.
Developers are encouraged to use Devnet, Testnet, and the local environment for initial development and faster iterations. The sui-test-validator binary has been improved to aid with local development flow.
If you want to update more information of Sui permanent Testnet, see more: https://sui.io/resources-sui/announcing-permanent-testnet/
Wrapping Up
In conclusion, the announcement of Sui's Permanent Testnet is a significant step towards achieving a stable and reliable decentralized network. This announcement demonstrates Sui's commitment to creating an efficient and trustworthy ecosystem for its users. With this Permanent Testnet, developers and users can experiment with new features and functionalities without compromising the integrity of the main network. We look forward to seeing the innovative and creative ways that developers and users will utilize this Permanent Testnet to shape the future of Sui.
Before declaring the permanent testnet, Sui also provided the community with a report about Sui Testnet Wave 2, you can update Sui's latest recap at: Sui Testnet Wave 2 Recap (Part 3).