BaySwap - Ultimate Dex On Sui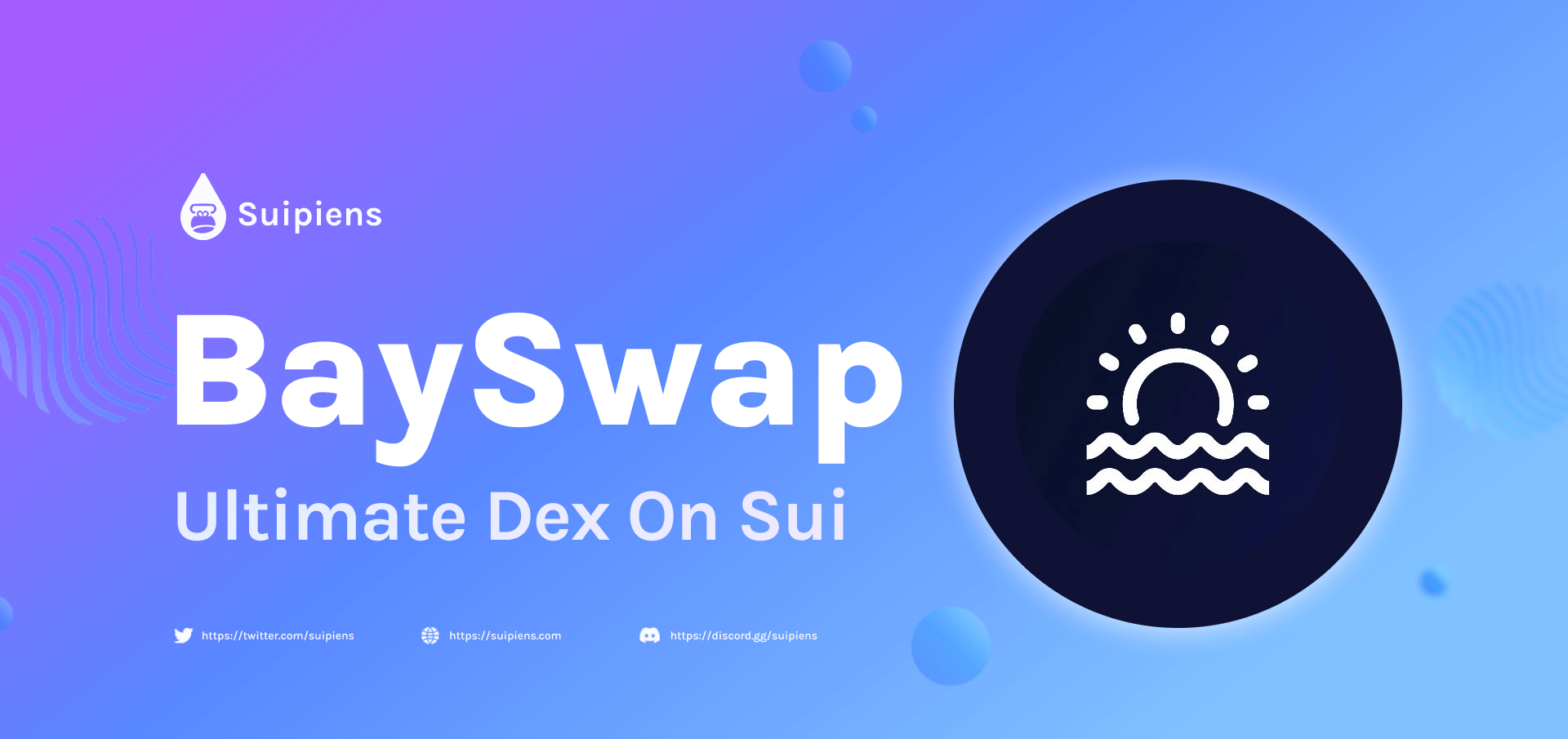 Join the decentralized revolution with BaySwap! Enjoy low fees, easy trading, and exciting features like yield farming and staking on SUI Network.
1. Introduction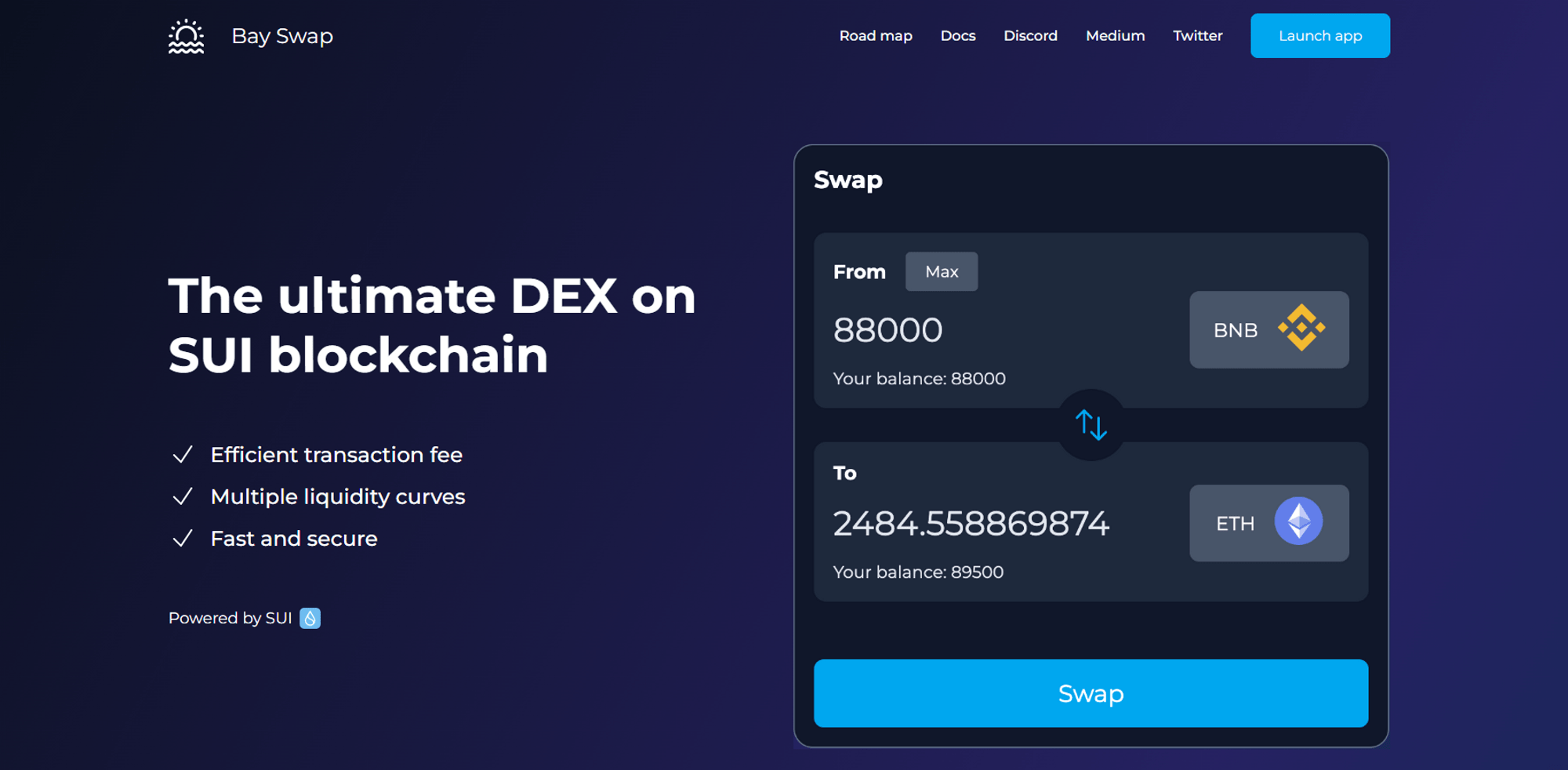 Bay Swap is one of the community-driven Decentralized Exchange Platforms based on SUI Network. It has the lowest fees trading, Easy UI/UX, Multiple Liquidity Curves, Yield Farming, Staking, and many more features to come before Mainnet.
2. Main features
2.1 Yield Farming
On the BaySwap platform, yield farming entails supplying liquidity for any pair and collecting LP Tokens in return. The prizes earned from LPs can be staked and withdrawn at any time; they are computed every second. All pending prizes are automatically sent when more LPs are added to a farm, and new rewards are awarded based on the increased LP total.
2.2 Launchpool
Anyone can list tokens on BaySwap without needing to provide KYC because it has no permissions.
2.3 Fast, secure, and friendly UX/UI
Thanks to being built on the Sui blockchain which is the fastest blockchain currently and uses the language Move.
On top of the Rust programming language, Move is a smart contract language that guarantees the security of Dapps on SUI. The UI/UX of Bay Swap makes it easy to swap your assets and engage with them.
2.4 Multiple Liquidity Curves
In order to maintain continuous liquidity and prevent high slippage for stablecoin swaps, BaySwap employs a number of liquidity curves, including a constant product formula and a stablecoin curve.
2.5 Efficient Transaction Fees
Having extensive experience in the creation of smart contracts, Bay Swap concentrates on cost reduction while ensuring accuracy. For everyone, Bay Swap offers a solution that is practically free.
3. Liquidity Bootstrapping Event
Liquidity Bootstrapping Event (LBP) is an innovative method of launching a new cryptocurrency token on a decentralized exchange. This method helps to ensure that the launch is fair for all investors and prevents large investors or bots from manipulating the price to gain an advantage over smaller investors.
The LBP works by adjusting the weight of the two tokens in the pool, rather than requiring a set ratio of 50:50 as in other liquidity pools. This allows for a high initial price with minimal up-front capital, and the programmatic adjusting of weight over time helps to slowly lower the price and elongate the price discovery period. This creates a fair and equitable environment for all participants to wait for the price they think is fair to buy at. By using LBPs, new projects can safeguard their reputation and gain a competitive edge in the market.
4. How Bay Swap is different from other DEXs?
Bay Swap is an innovative decentralized exchange that places a strong emphasis on community involvement and fair launch practices. By allocating 70% of Tokens to yield farming and 5.5% to DAO activities, Bay Swap encourages community participation and decision-making. In addition, the use of multiple liquidity curves and stablecoin features ensures that stablecoin swaps are executed with the lowest slippage possible. Perhaps most impressively, Bay Swap has pioneered the Liquidity Bootstrapping Event method to launch its $BWST tokens, providing a fair and equitable environment for all investors, regardless of their size or level of investment. By prioritizing fairness, transparency, and community involvement, Bay Swap is poised to make a significant impact in the decentralized exchange space.
5. Tokenomics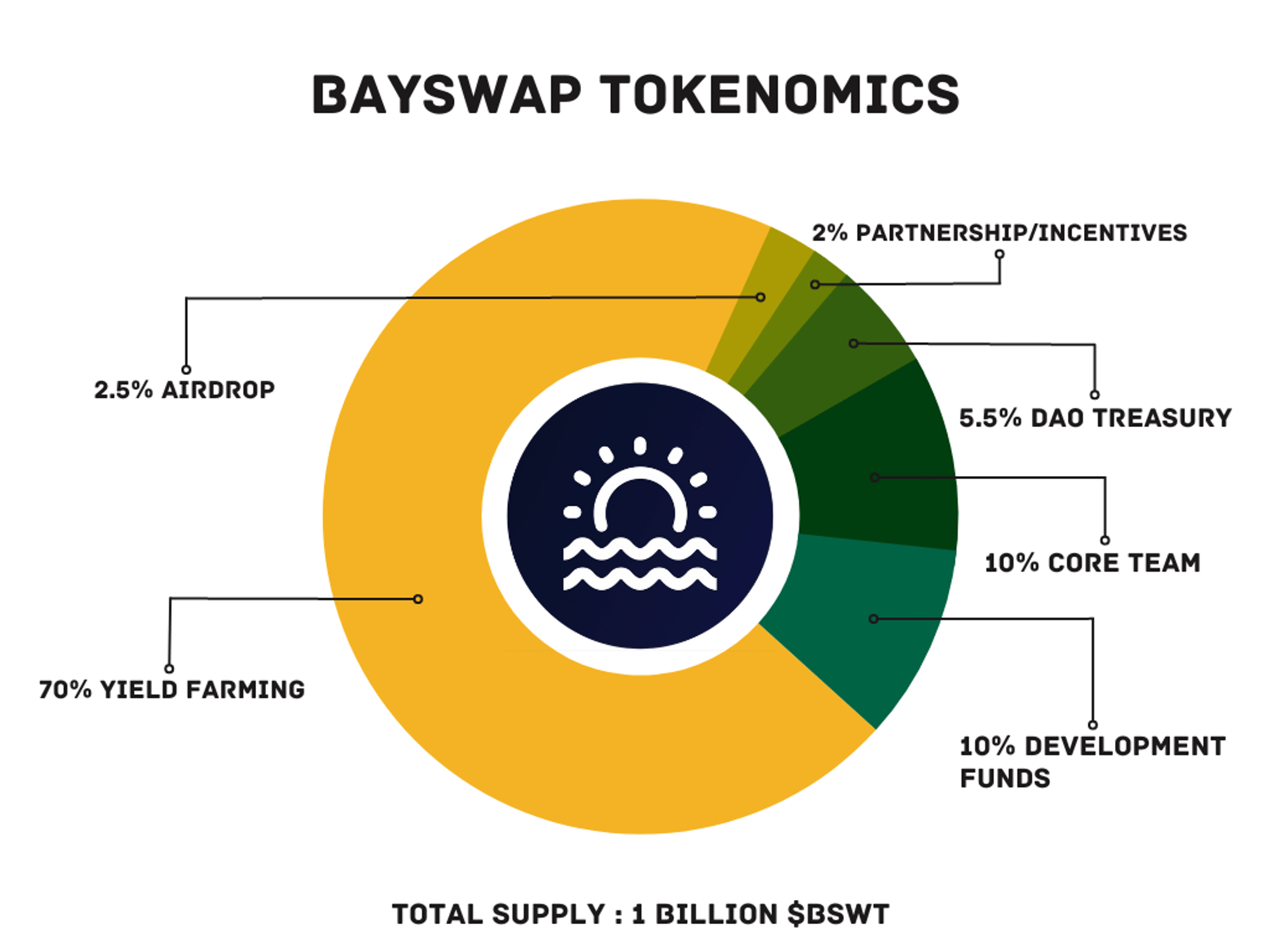 BaySwap team holds only 22% (including 2% for partners and incentive events)
78%  is held by the community, in there:
70% total supply = 700.000.000 $BSWT is minted through Yield Farming  activities
5.5% total supply = 55.000.000 $BSWT is minted from DAO activities (one of them is Liquidity Bootstrapping Event)
2.5% total supply = 25.000.000 $BSWT is minted for Airdrop events
6. Partners
BaySwap works with many of the key Sui partners to develop mutually beneficial partnerships for the community. There are many partners with big names like Gamers Cat Club,  Allspark, Ethos Wallet, Sui Bunnies, Sui Ecosystem, Suited Apes, and Spacecy Wallet, …
7. Roadmap
Q4 2022
Build Team
Build MVP (Minimum Viable Product)
Release the very first version
Q1 2023
Release Limit Order Book feature
Release Yield Farming/Staking
Audit contracts
TS, Rust SDK
Q2 2023
Build LBE-as-service
More partnerships
Build Android/iOS app
Mainnet (estimated, depends on the SUI team)
Q3 2023
Governance system
Lending/Perpetual
Multichain integration
More to come
8. Official links
9. Summary
Let's review important information about the BaySwap project:
Bay Swap is a decentralized exchange built on Sui with a focus on cost optimization & high transaction throughput.
Bay Swap is a community-first DEX, then the weight of the "only community-event" token is make up the majority. BaySwap team holds only 22% (including 2% for partners and incentive events)
For its members, Bay Swap has organized an airdrop event. To be eligible for the $BSWT Token airdrop at TGE, you must have the Bay OG role, OG Elite role, or at the very least the OATs.
⇒ Following the SUI Mainnet debut, Bay Swap will also launch its mainnet. SUI Mainnet Q2 and they have planned to launch their Mainnet when their network would become entirely stable. More Testnet waves are still to come before that.