Why Should You Attend Sui's Denver Builder House?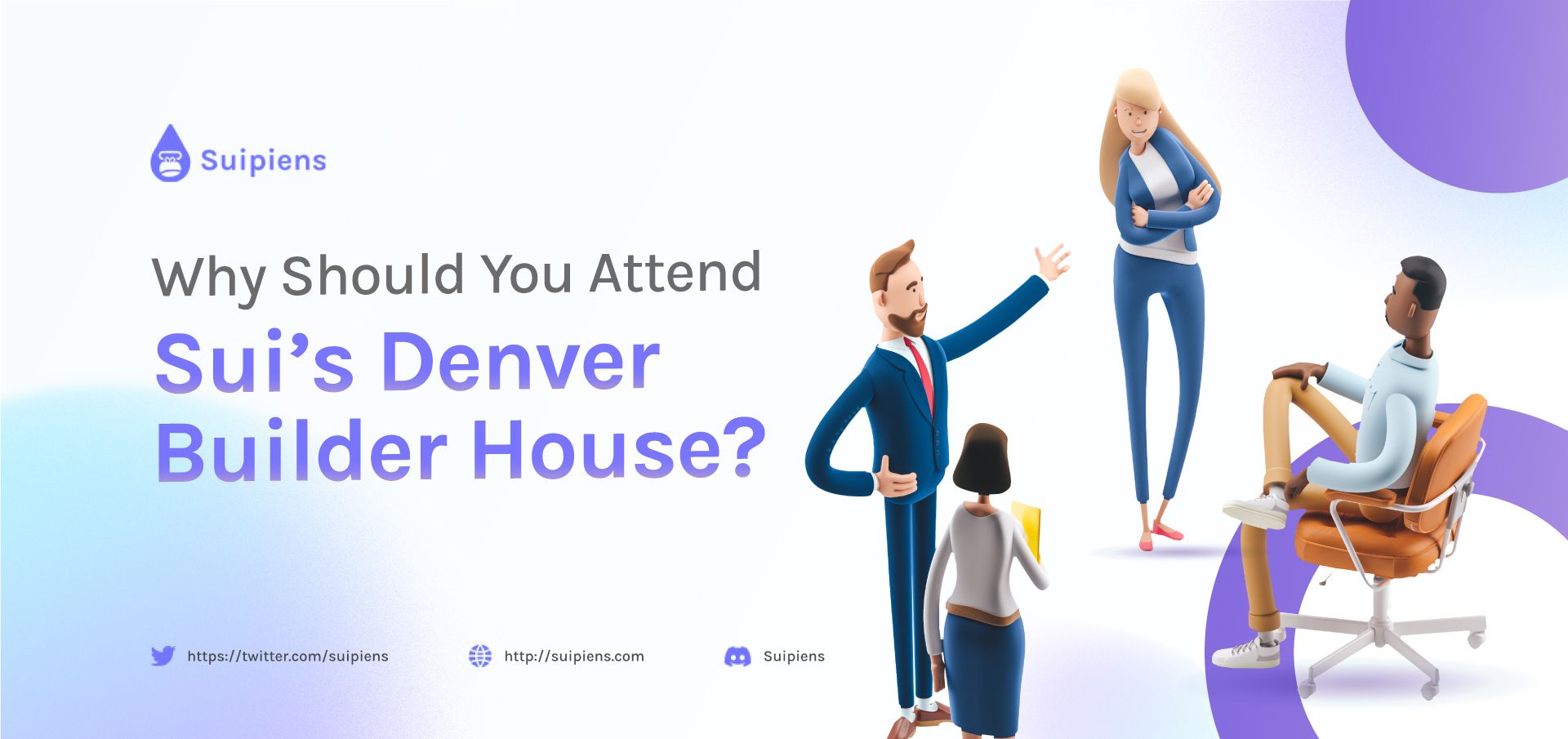 This post will explain the benefits of attending Sui's Denver Builder House, which will take place there from February 28 to March 2 in Denver!
The 2023 Sui Builder House World Tour, which promises many exciting things this year, was announced by Sui on December 15. Similar to Sui's Lisbon Builders in 2022, the 2023 globe tour offers the chance to interact with Sui builders worldwide and learn about the newest technologies and platform improvements. The first Builder House in 2023 will be held in Denver from February 28 to March 2 in accordance with the tour schedule. In the paragraphs that follow, we'll provide you with some intriguing justifications for why Sui's Denver Builder House might be a worthwhile event for everyone to attend, similar to the success of the Builder House edition of 2022.
Meet the Sui Team
The most significant figures from the Sui Blockchain, including the Sui Foundation and Mysten Labs, will be present at Denver Builder House. Sui's founders, core contributors, protocol designers, product managers, and developer relations engineers are all among them. You will have the chance to converse live with the Sui founders about the code that powers everything when you sign up for the Denver Builder House.
Attend Adeniyi Abiodun's Keynote
Attending will give you the chance to hear from Mysten Labs co-founder and CPO Adeniyi Abiodun in-depth on the Sui plan. Adeniyi will discuss launching Mysten Labs, his experience with Testnet Waves 1 and 2, and his predictions for the environment following the introduction of the Mainnet in his keynote address at Builder House. You can also run into Sui and other key figures from Mysten Labs in addition to Adeniyi.
Show Up For Kostas Chalkias' Keynote
Kostas maintains the highest level of security for transactions through the Sui network in his capacity as the principal cryptographer at Mysten Labs. Sui is able to use the finest industry encryption standards, secure key management, and reliable APIs because of Kostas' assistance. All security concerns on Sui will be covered in Kostas' talk, and having this knowledge will help you become more skilled.
Network Your Sui Community
The event enables the Sui community to actually come together with over 200 builders, investors, and thought leaders expected to participate. You will get the chance to interact with people you might not have otherwise encountered online, talk about projects, and get fresh suggestions for what you can develop on Sui.
You will be able to join in a wine party with the Sui community in addition to exchanging useful information throughout the event. At the farewell celebration, a cocktail party will be held. Additionally, there are other enjoyable activities like drinking, dancing, or simply spending time mingling with others. The Four Seasons Hotel will host the closing party, where you can enjoy DJs, champagne, and delectable food.
Capture the Flag
When you register for Denver Builder House, you will take part in the "Capture the Flag" competition. To test your coding and Sui Move expertise, you'll have to play a chess-style game against your fellow builders. You will be up against other accomplished programmers, and if you prevail, you'll receive awards and cool Sui swag.
Uplevel Your Skills
Sui Blockchain emerges as one of the most potential blockchains in existence today as a new network. Being at the cutting edge of decentralized network technology, you can expect to learn a lot from senior members of the founding and construction teams when you join the first Builder House. Sui. You will have a fantastic learning opportunity from the technical talks at the program as specialists explain clever code methods.
Wrapping Up
Beginning on February 28, Sui's Denver Builder House is expected to provide spectacular events. Don't miss it since this is the first event in 2023 that begins a potential world tour for Sui this year. Additionally, if you can't attend the event this time, make sure you don't miss any Builder House events by looking at the calendar for Sui's World Tour!
Sign up for updates about the Denver Builder House here
Be sure to check out Suipiens website and social media channels to stay up-to-date on all things about Sui Blockchain!
About Suipiens: Website | Twitter | Discord