Top 5 Communities For Tracking Sui Blockchain News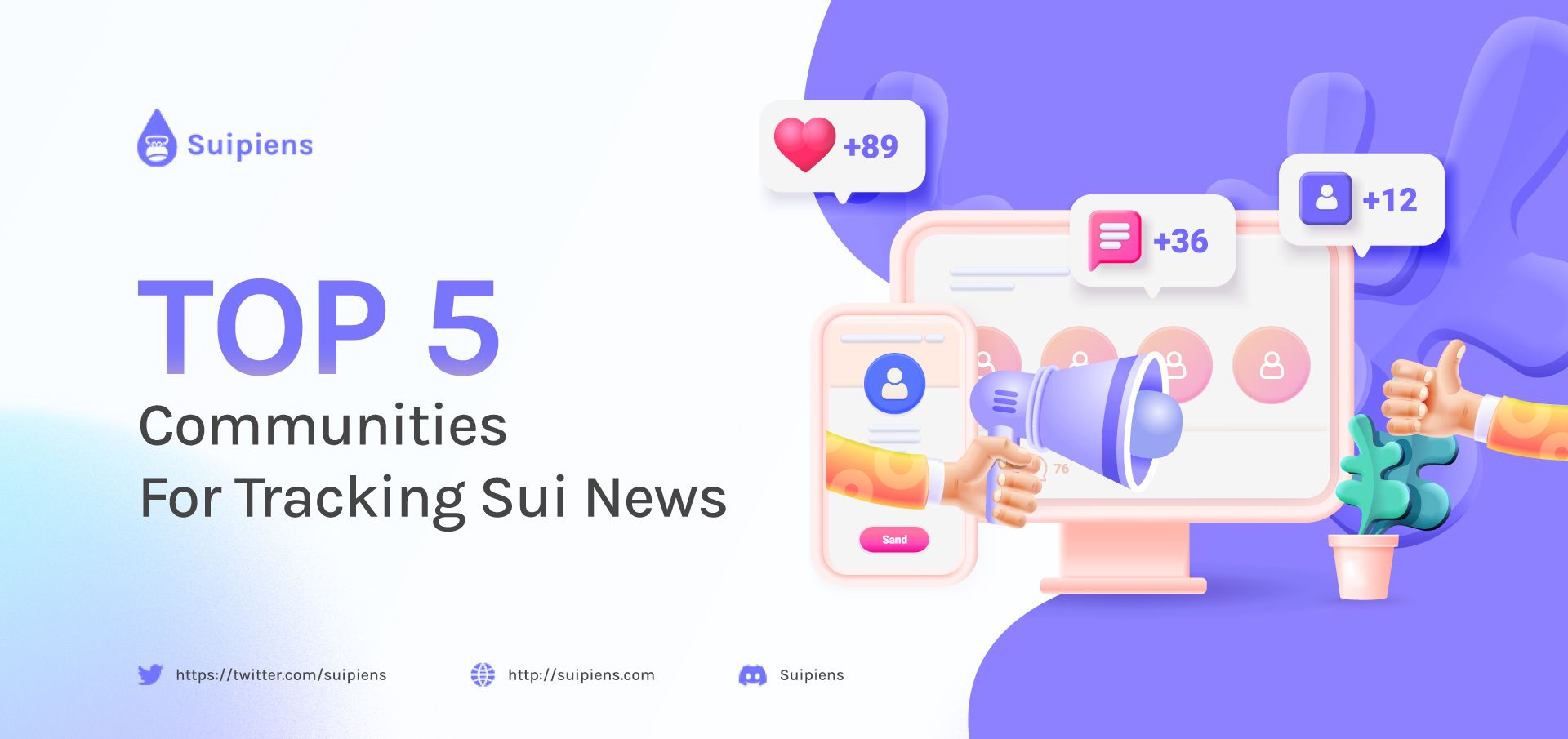 Our top 5 communities for tracking Sui Blockchain news will help you to stay up-to-date with updates from these blooming ecosystems!
Introduction
As the cryptocurrency world has become increasingly decentralized and globalized, news related to Sui blockchain projects have been difficult to keep track of. With so many different sources from which users can obtain information about blockchain initiatives, it is often hard for followers to figure out where the best information can be found. To help alleviate this challenge, we've compiled a list of the top 5 communities for tracking Sui blockchain news - giving readers an easy way to stay up-to-date with updates from these blooming ecosystems!
Top 5 Communities For Tracking Sui Blockchain News
Newcomers will be able to easily obtain the information by constantly updating the most recent data on a blockchain. Hence, our guide to Sui Blockchain will supply you with the most popular Sui Blockchain communities for you to swiftly update the newest news on this Blockchain.
Sui Global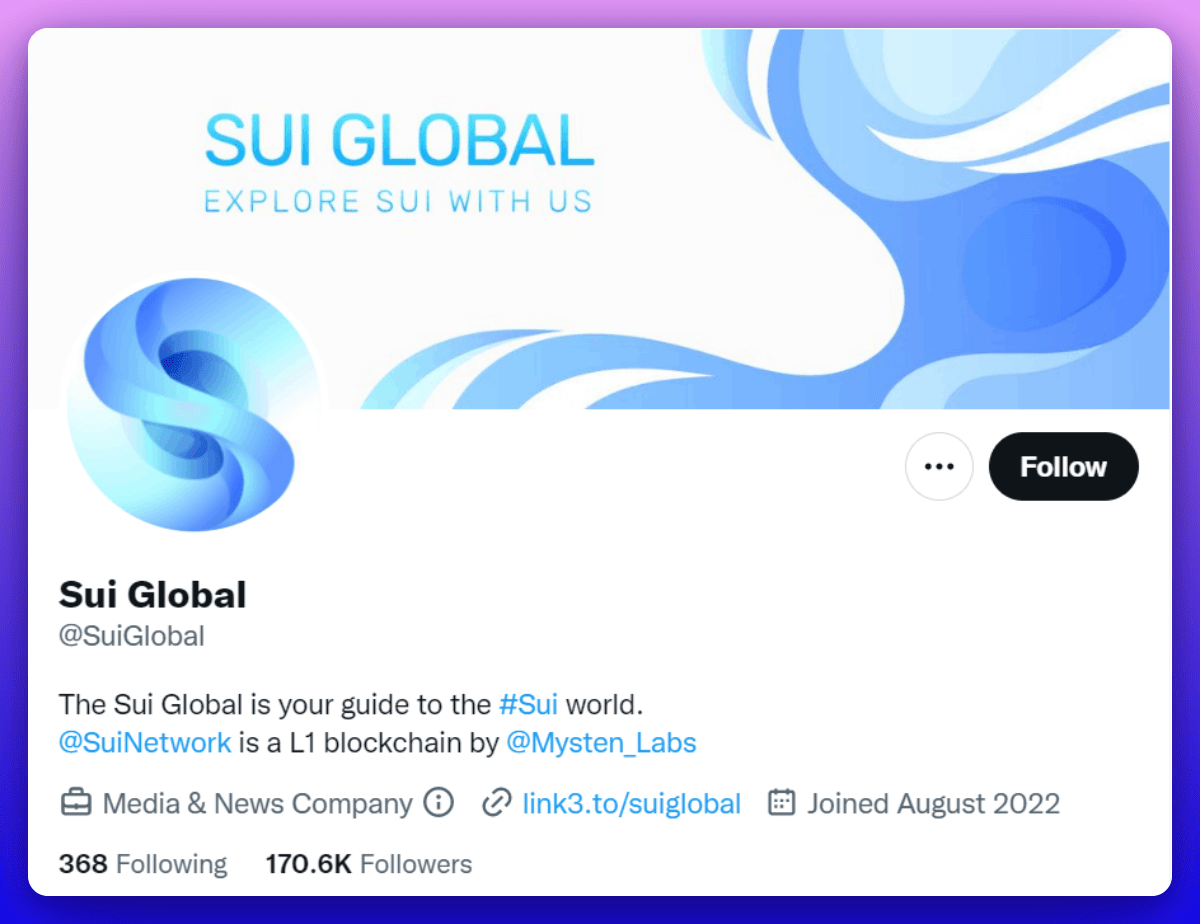 With more than 170,000 followers, this is currently the Twitter account with the greatest community for following Sui news. Sui Global is a community that promotes Sui projects and works to increase public awareness of the Sui blockchain. Sui Global is committed to advancing the Sui platform, expanding the community, and assisting both ongoing and upcoming initiatives that are based on the Sui blockchain. The goal of Sui Global is to enhance interactions among users, projects, and projects themselves inside the Sui Ecosystem. At the same time, it offers people from all over the world access to crucial details on every project being built at Sui in a single location.
Official Sui Global's channels: Twitter | Discord | Website
Sui ecosystem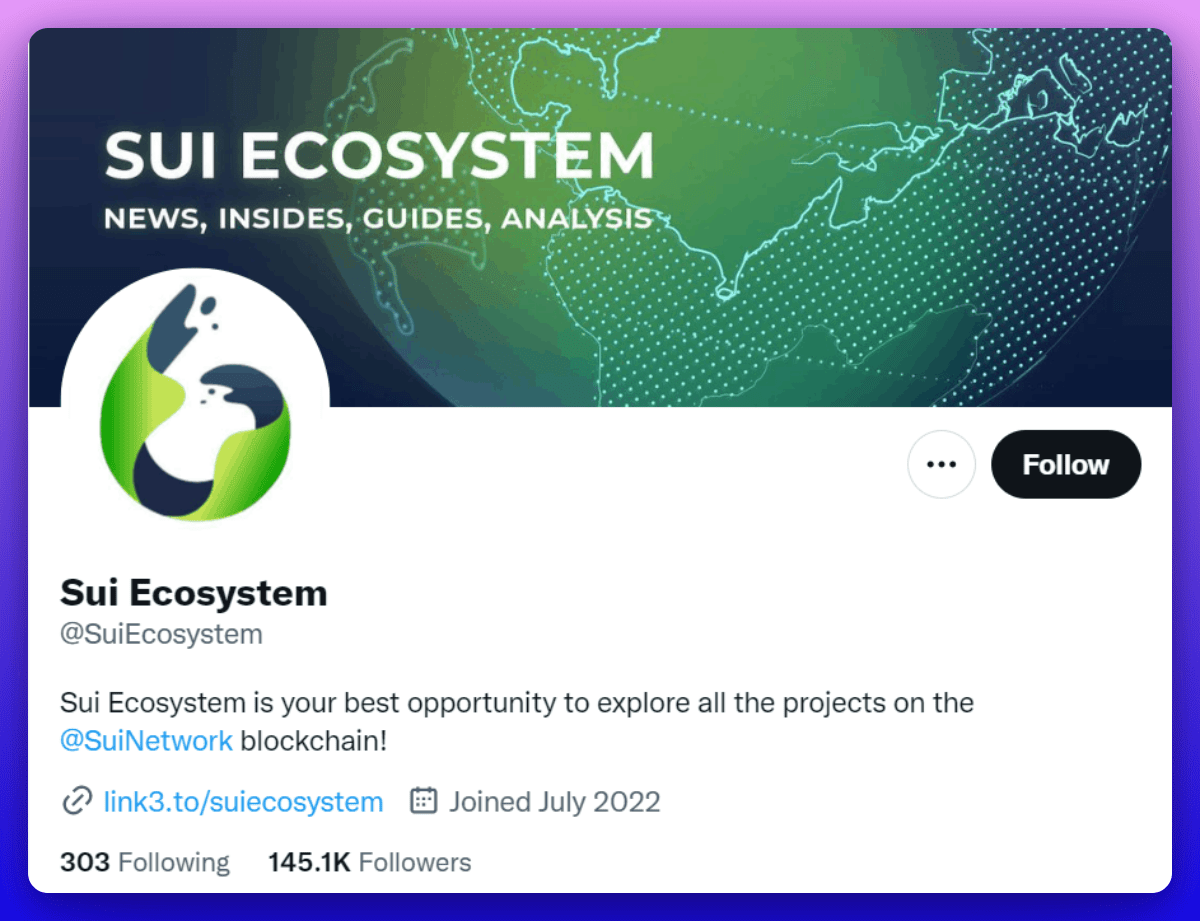 Sui Ecosystem will be the option not to be missed if you're looking for a fast and accurate source of information on Sui Blockchain. With more than 145,000 followers on Twitter, this group is sizable. In order to reach its objective of 1 billion users on the Sui blockchain, Sui Ecosystem promotes projects built on Sui. By using the Sui Ecosystem's channel system, you may stay current on this blockchain's news while also gaining deeper knowledge through analysis of particular games, NFT initiatives, or Dexs on Sui.
Official Sui Ecosystem's channels: Twitter | Discord | Website
Sui Daily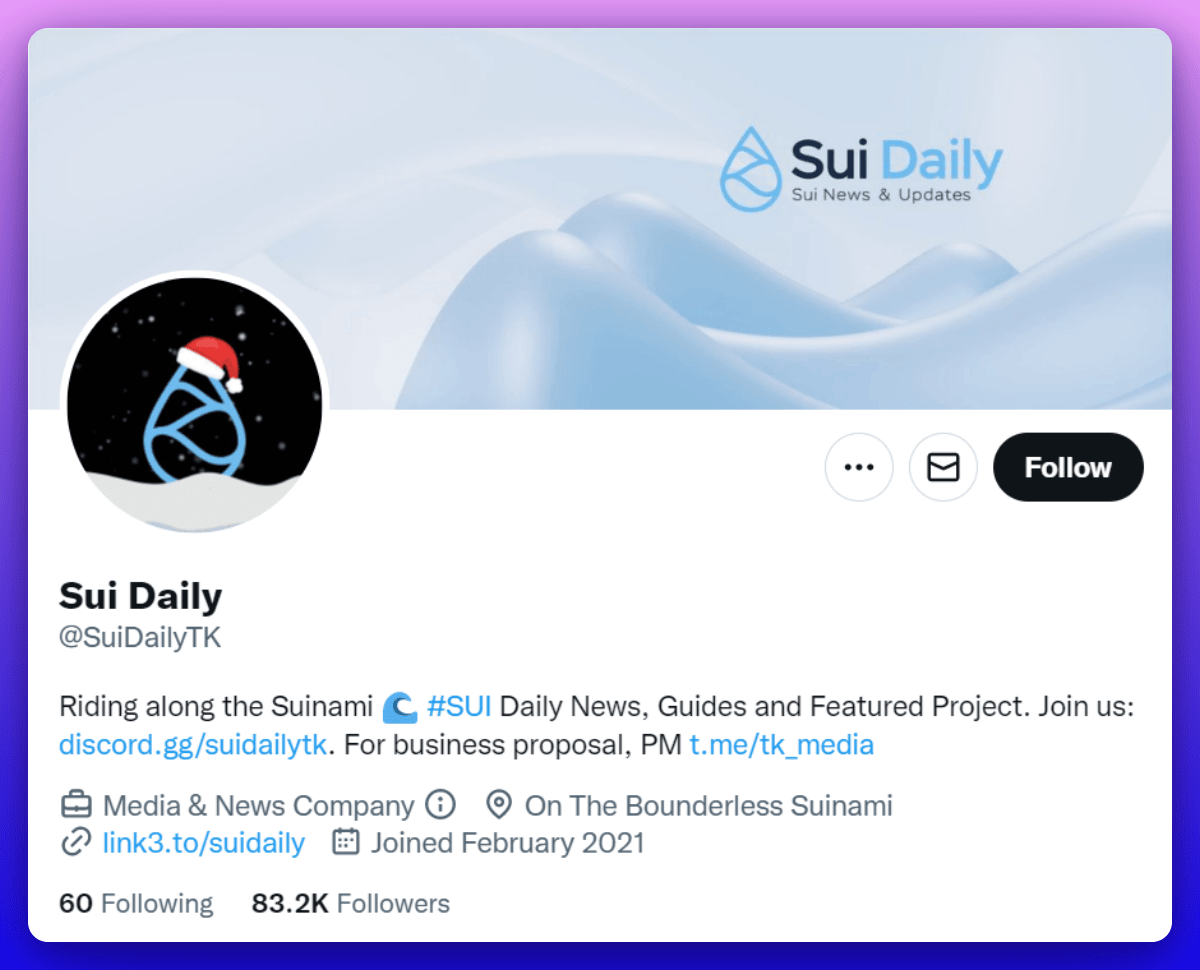 A news site for you to start your day quickly, why not? Sui Daily may be all you need. Sui Daily is the perfect platform for exploring Suinami. With Sui Daily, you can stay up to date on all the latest news from SUI News, get reliable and accurate guides to help you find your way around Sunami, and explore our featured Project. In actuality, Sui Daily's objectives extend beyond the Sui network. Additionally, it is an excellent platform for informing their followers of the newest initiatives and news in the ever-evolving cryptocurrency industry.
Official Sui Daily's channels: Twitter | Discord
Sui Corner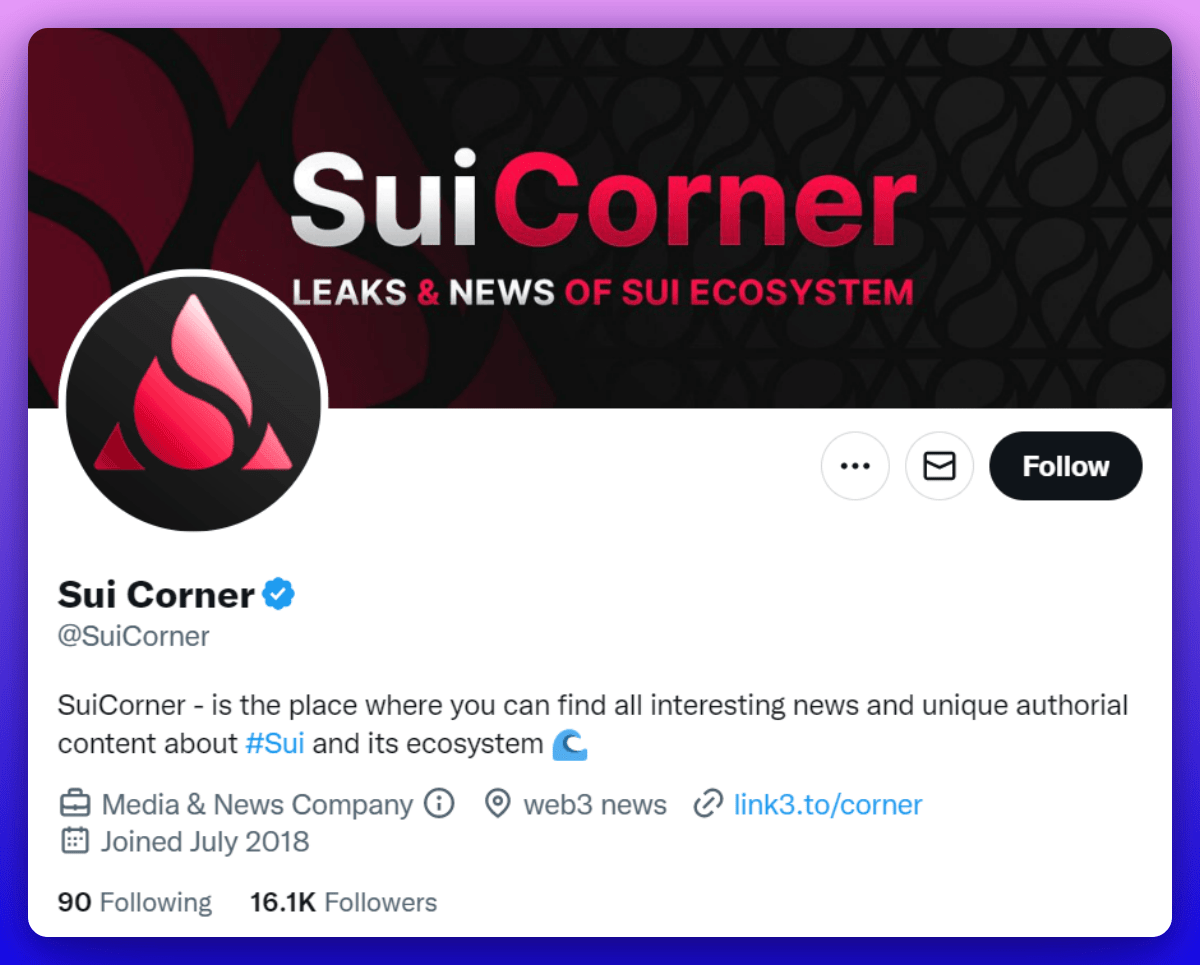 SuiCorner is the place to be for all Sui blockchain enthusiasts. Here, you can find a wealth of interesting news, updates, and authorial content related to Sui blockchain and its ever-evolving ecosystem. SuiCorner promises to provide readers with up-to-date information on Sui's projects, developers, applications and more. Its mission is to become a one-stop source of Sui-related content – from the latest developments in Sui's technology and infrastructure to insightful articles about the many featured projects built on the Sui ecosystem. Besides, Sui Corner frequently plans fascinating AMAs for the Sui community.
Official Sui Insight's channels: Twitter | Mirror
Suipiens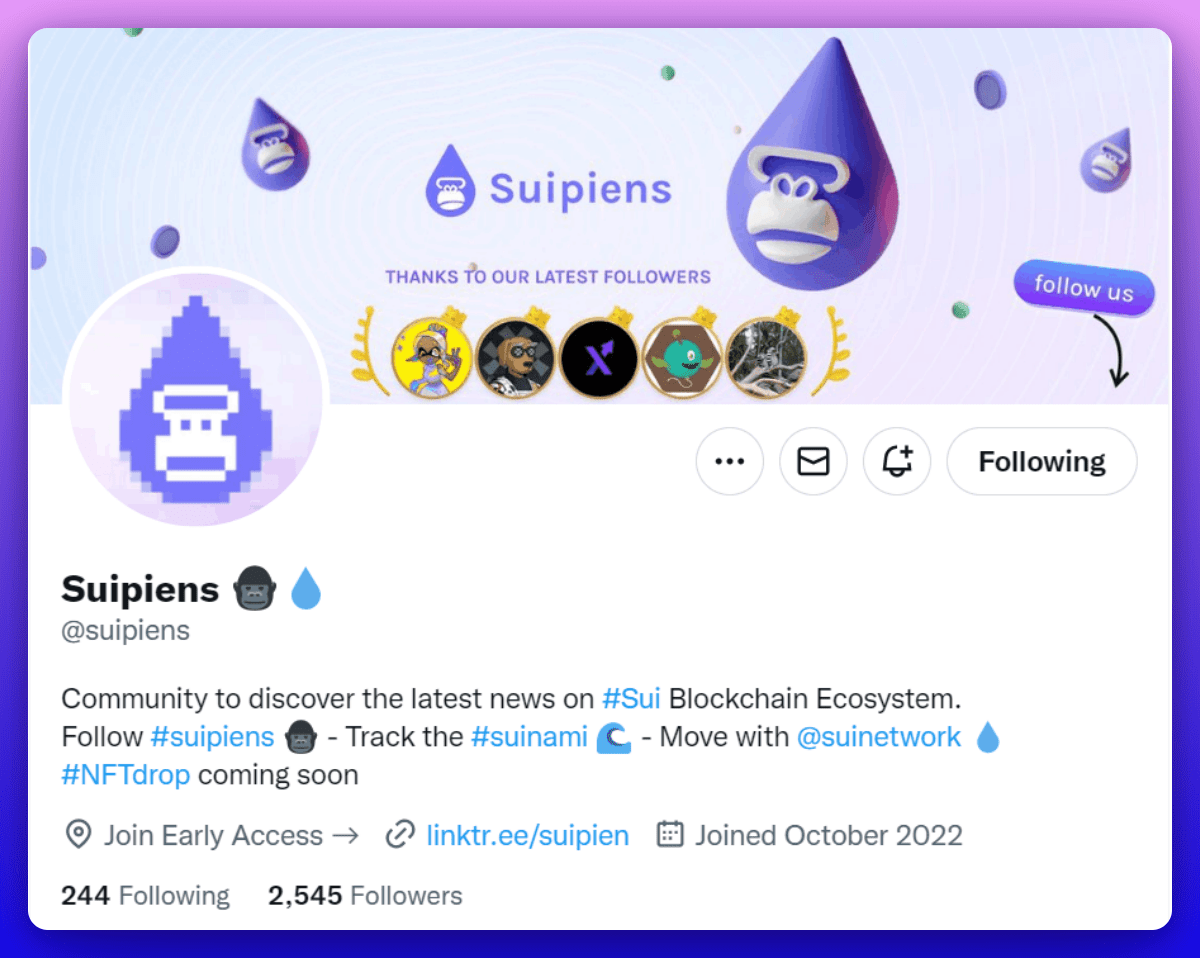 The Suipiens provides you with a one-stop-shop for all of your blockchain news, analysis and insights. Our channel system allows you to stay up to date on the latest developments, while also providing in-depth information on key topics such as DeFi, Metaverse, NFT to web3 running on the Sui Network. By subscribing to our channels, you can get timely notifications about changes, updates, and new advancements in the world of blockchain technology. Suipiens team works hard to provide quality content that is both informative and easy to understand. Although it was created later than other information sites, it is gradually winning the hearts of the Sui community with its quick, comprehensive information and extremely interesting events.
Official Suipiens's channels: Twitter | Discord | Website
Final Thought
As Sui Blockchain continues to make tech headlines around the world, having close connections with these top five communities can help you stay ahead of any important Sui news. Through regular updates, these groups can help you uncover the latest developments in the Sui blockchain space. Follow them today to get reliable news and analysis on Sui Blockchain and join the ever-growing blockchain revolution!
Be sure to check out Suipiens website and social media channels to stay up-to-date on all things about Sui Blockchain!
Official links about Suipiens: Website | Twitter | Discord