Sui Network Will Officially Launch Mainnet On May 3rd!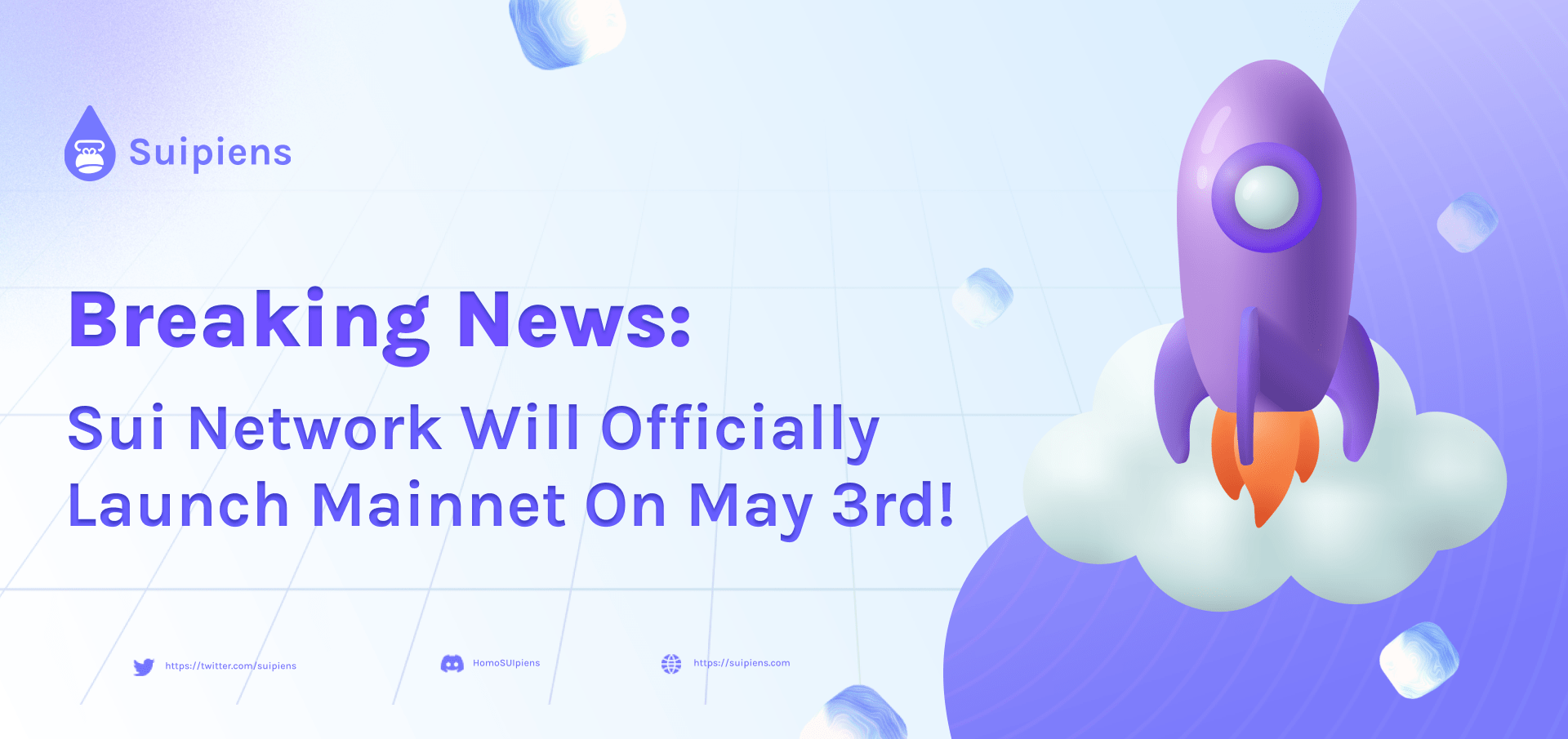 Sui, a leading platform in the blockchain space, has closed its Mainnet deployment schedule. Stay tuned for groundbreaking updates!
Early this morning, April 20th, an official announcement was made regarding the launch date of Sui Network's Mainnet. As per the announcement, the highly anticipated launch is scheduled for May 3, 2023. This launch marks a significant milestone for Sui Network, as it has been eagerly anticipated by the blockchain community. This exciting news has generated a buzz within the blockchain industry, and stakeholders are eagerly waiting to witness the innovative features that Sui Network will bring to the table.
Sui Network's discord channel revealed some important information for users:
340,000 accounts are eligible for participation in the upcoming event, provided that they have joined Discord Sui before February 1, 2023.
The number of accounts meeting the requirements to join the whitelist and purchase IDO is limited to 180,000, excluding bots and duplicate IDs.
The following information is crucial and requires users' attention:
Sui will randomly and fairly filter out the whitelist based on token allocation rate and share it with exchanges.
Sui has estimated that if every user on the whitelist buys the maximum amount of tokens allocated, the total number of participants will be approximately 96,000.
If there are unsold tokens due to issues such as KYC errors, the project will revise the list until all tokens are sold out.
The Sui Foundation will send an email containing exchange information to users who have been whitelisted starting from April 20, with the exact timing depending on their time zone.
Note: The email sent by Sui Foundation will not contain any links or requests for users to provide their personal information. It is recommended that users exercise caution to avoid fraudulent or fake emails.
The previous buzz around Sui was due to its mainnet launch and the release of its tokens. The project has remained faithful to its promises and confirmations by deciding not to airdrop tokens. Instead, they will offer a presale of 594 million SUI, which is expected to generate approximately $49.32 million in revenue.
SUI will be available for sale on launchpads of OKX, Bybit, and KuCoin exchanges. To receive tokens, users can register through a lottery ticket mechanism.
Therefore, there are two distinct methods to obtain SUI tokens:
Public Sale: Accessible to all users on OKX and KuCoin exchanges at a price of 0.1 USD/SUI.
Whitelist Sale: Exclusively for users possessing Champion and Supporter role labels, offered at a discounted price of 0.03 USD/SUI as compared to the public sale.
See more: Sui announces token sales on Bybit, Kucoin, and OKX
Be sure to check out Suipiens' website and social media channels to stay up-to-date on all things about Sui Blockchain!
Official links about Suipiens: Website | Twitter | Discord