Sui Delegation Program: Great Chance for the Validator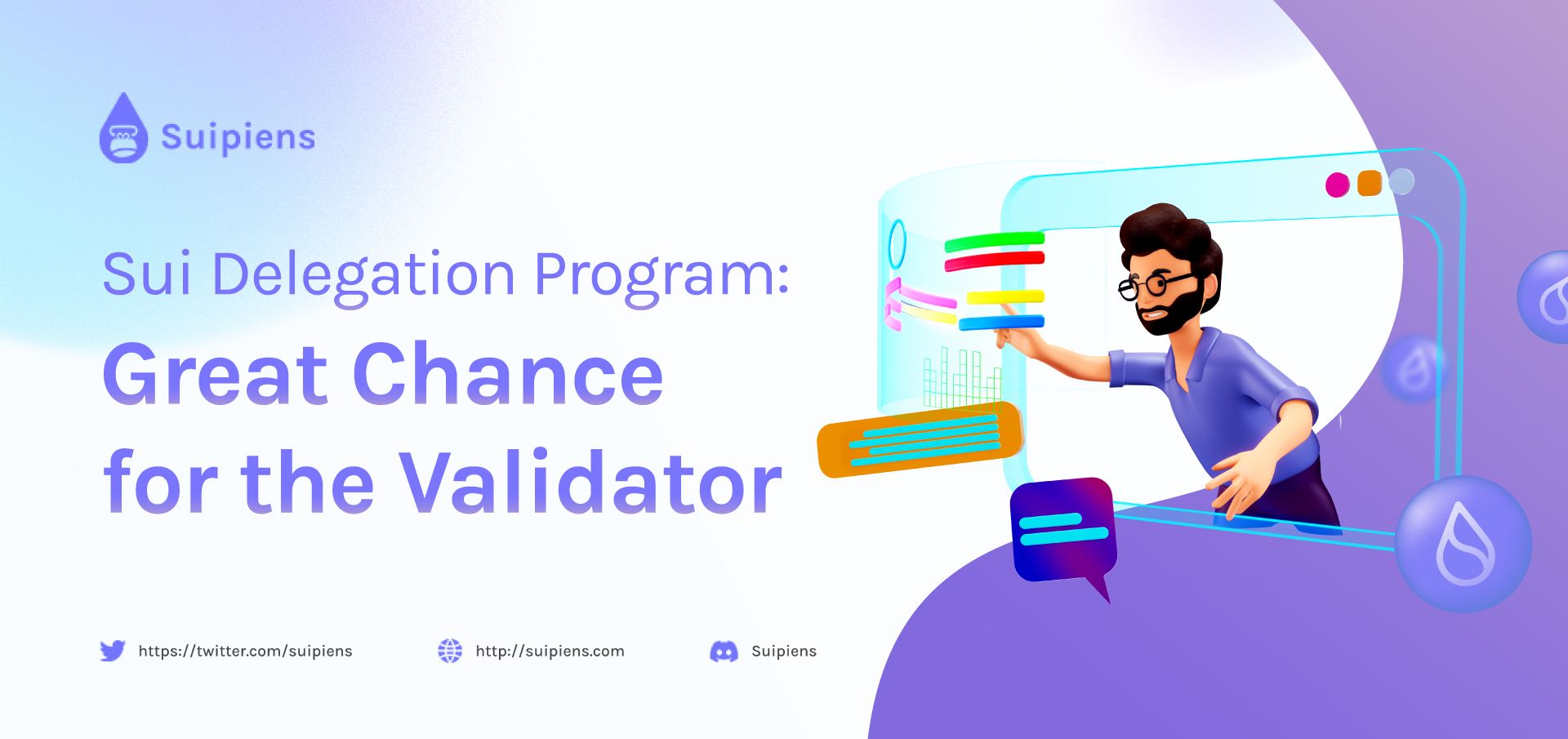 Those in the community that wish to operate validators will be able to do so through the SUI Delegation program by registering an authorized SUI tokenomics from the Sui Foundation.
Support Decentralization And The Sui Community
Those in the community that wish to operate validators will be able to do so through the SUI Delegation program by registering an authorized SUI token from the Sui Foundation. The Sui Foundation encourages community members to take part in Sui Network activities and views this program as a crucial step in the decentralization of the organization.
At the start of the Mainnet, the Sui Foundation will have the most SUI tokens, and it intends to utilize this money to support its initiatives to expand the Sui Network. Let's examine the value of Sui's decentralization before delving into the Delegation program.
What Is Decentralization?
Permissionless participation is critical to Sui's decentralization ideology. Through the use of the Delegated Proof-of-Stake method, Sui is able to:
Any validator candidate who has a sufficient stake may participate.
Any SUI tokenomics owner has the ability to order one or more validators to affect Sui's activities.
Since there will always be more token holders than validators, permission is a crucial element that enables each Sui user to vote on how the Sui Network is run. Validator Sui is entitled to a share bonus based on performance and has voting rights equivalent to the number of authorized shares.
Simply, a validator who performs poorly will receive a lower stake reward per SUI unit staked than a validator who performs well. Because SUI holders will assign exploit validators to work more effectively, if a validator performs poorly, it will be negatively impacted by fewer staking rewards today and fewer staking rewards in the future.
The stake can be moved to another validator if the current one breaks down. Additionally, Sui can be really decentralized even if the majority of users don't use validators, much to how democracies can function admirably with a small number of political parties.
In contrast to off-chain democratic systems, on-chain staking delegation offers important advantages. Contrary to the huge restrictions set by mainstream parties traditional values have to face, even small segments of the Sui community can be represented because validator participation is permissionless and voting rights are proportional to stake.
Furthermore, an adaptable voting system is made possible by openness and continuing network activity. Validators' daily decision-making is limited to ensuring accurate and efficient network operations. This method is substantially more responsive than voting systems based on lesser speeds thanks to short-term stake authorization, which includes the threat of quick stake withdrawal and re-authorization to another validator. In the long run, the majority of the approved stake effectively controls the authorization decisions that combine the validator's options and the future of Sui.
The key to Sui's decentralization, in addition to permissionless participation, is that $SUI holders always have enough candidates to delegate, with at least a handful acceptable for each Sui community member. Threats of delegating stake transfers encourage validators to perform effectively and in accordance with shareholder interests. If there aren't any validators who represent the opinions of any Sui community members, anyone can join and take part as a new validator by entering without permission.
Foundation Delegated SUI Stake
Sui's object-centric design enables the validator to grow horizontally, such that it can process more transactions by adding cores or workers. As a result, Sui's throughput can increase to match community demands, which is crucial for enabling wider web3 usage. The cost of maintaining the validator will rise as traffic does, however, as a result of this.
The Sui Foundation is adamant that the Sui validator's startup costs are not a deterrent to operating them as previously said; Sui needs to build the largest validator pool feasible so that Sui users have a good selection. Sui is supported by a sizable portion of the community, but it's possible that they lack the funds or resources necessary to raise the necessary stakes to launch operations. This is a market failure or adverse effect, as these community validators are excellent for decentralizing Sui and Sui operations, to use economic terminology.
The Sui Foundation is announcing the purpose of this program to permit small community organizations to purchase authorized stakes and operate on Sui in order to address this market failure. The Sui Foundation is devoted to decentralization, and this will ensure Sui stays community-led, even if the Foundation is still refining the specifics of this program, including the application procedure and prerequisites.
See more: What is Sui Foundation? Overview Of the Developer Grant Program
Final Thought
Sui Foundation is dedicated to a stringent set of values, including interaction with the community, transparency, and openness. The SUI Authorization Program is a crucial turning point in this project. Sui hopes that this program is another step in the direction of a just, open, and decentralized future. She will always look forward to her community. Watch this space for future updates on this program!
Be sure to check out Suipiens website and social media channels to stay up-to-date on all things about Sui Blockchain!
Official links about Suipiens: Website | Twitter | Discord