Ethos Wallet Raised $4.2M In Seed Round Led By Gumi Cryptos And Boldstart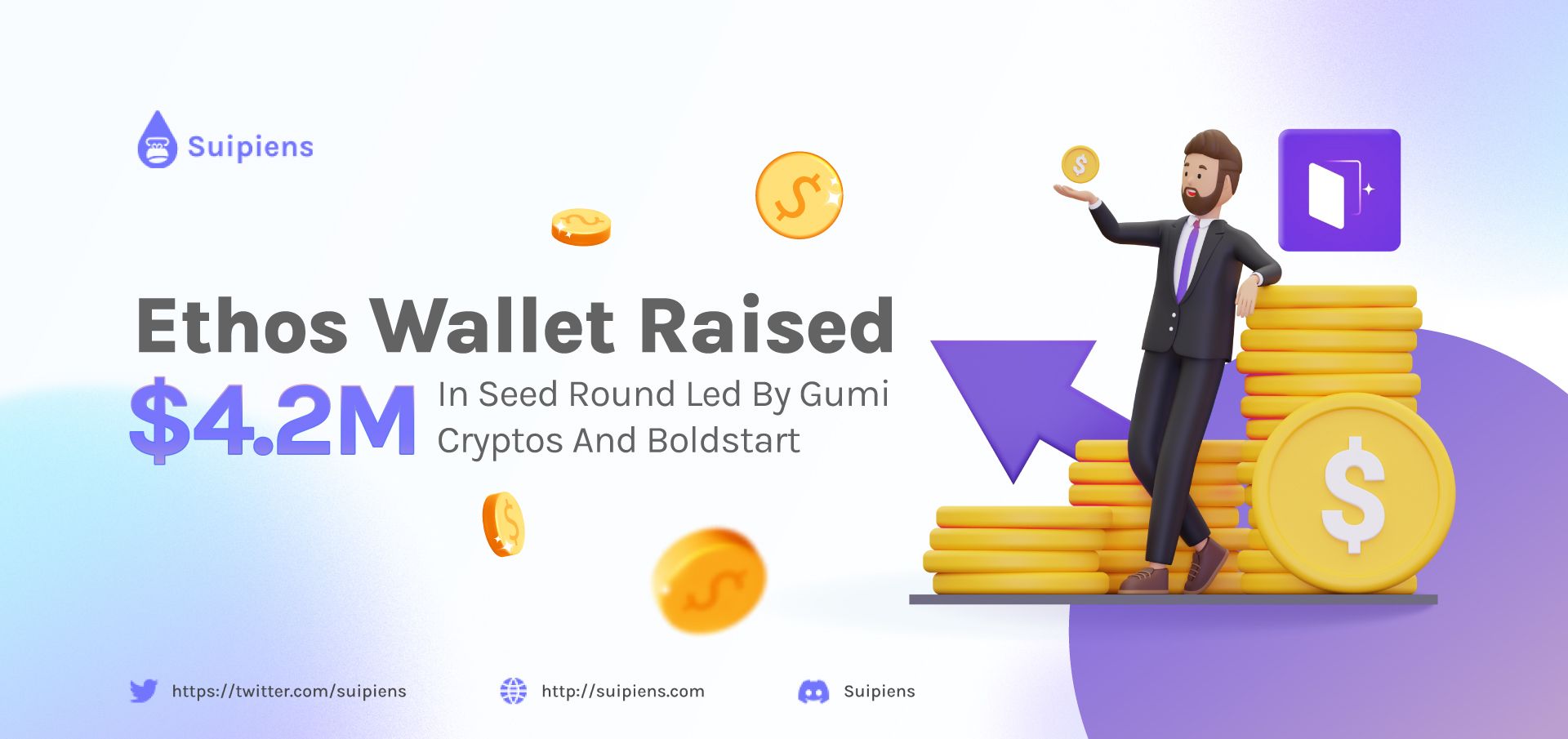 Sui Blockchain-based Ethos Wallet has raised $4.2 million in a Seed fundraising round led by Boldstart Ventures and gumi Cryptos Capital.
What Is The Sui-Based Ethos Wallet?
Ethos Wallet, one of the first programs to operate on Sui's Devnet, was introduced in July 2022. Ethos is a wallet that has been redesigned to serve as a user's hub on the Sui blockchain. Ethos' goal is to make it easy and seamless for web3 users to store digital assets, as well as to find and interact with decentralized applications.
In addition to creating cryptocurrency wallets, Ethos Wallet also creates a number of easy blockchain games like Sui 8192, Checkers, and Chess that let users experience and engage with the Sui blockchain.
If you are a beginner and need additional information on using Ethos wallet, read this post right away:: Guide To Ethos Wallet
Ethos Wallet Raised $4.2M In Seed Round
The development team of the Sui blockchain's cryptocurrency wallet, Ethos Wallet, declared on January 26th that they had successfully raised $4.2 million in a seed round. Two investment funds, Boldstart Ventures, and Gumi Cryptos Capital took the lead in this round of investing. Additionally, Mysten Labs, the Sui blockchain development team, and a number of well-known individual investors in the cryptocurrency market took part in Ethos Wallet's seed round.
Nadia Eldeib, CEO of Ethos Wallet, was quoted in the news as saying: "When we first set our sights on developing a wallet on the Sui blockchain, it became our mission to evolve what a crypto wallet is. Currently, they are viewed as a place to store crypto assets, however, they have the capability to do much more. With Ethos, we're working on developing, discovering, and interacting with blockchain-based applications and to make those interactions safer and easier to use."
What is the aim of Ethos Wallet after the seed round?
According to the press release published on Thursday 16th January 2023, this round of funding enables them to hire more people, continue to develop new wallet features, and focus on finding and integrating with Sui blockchain applications as well as building infrastructure for cryptocurrency wallets.
See more: Boldstart and gumi Cryptos Capital Co-Lead Seed Round in Ethos, Sui Blockchain's First Experiential Digital Asset Wallet
Users and prospective investors presently place a high value on the Ethos Wallet project. Building a user-friendly and experience-driven infrastructure for developers and consumers in the Sui ecosystem is the main goal of the investors' collaboration with Ethos. Let's anticipate the wonderful benefits that Ethos Wallet will offer users in the future!
Be sure to check out Suipiens website and social media channels to stay up-to-date on all things about Sui Blockchain!
Official links about Ethos Wallet: Website |  Twitter